Tomatoes cooked in coconut and yogurt gravy, simple and comforting Kerala veggie dish…
I'd already posted the recipes for making 4 types of pulissery: Pumpkin, Cucumber, Mango and Pineapple. Now, it's obvious that pulissery can be made with so many ingredients. My most favorite among these is Mango pulissery, the sweetness from the ripe mangoes and the sourness from the yogurt makes this pulissery finger licking delicious.
Pulissery is a popular Kerala vegetarian side dish that's served with rice. It's also one of the dishes served in Sadya. For making pulissery, first the main veggie or fruit that's being used is cooked, grated coconut along with some spices are crushed together and added to the cooked veggies. Towards the end of cooking, yogurt is added which gives the sourness to this dish.
As much a I love non-veg Kerala dishes, I adore veggie dishes as well. There are a variety of veggie dishes in Kerala cuisine and I love most of them. I don't make Kerala veggie dishes that often, but on the days I make them I eat till I drop. Last weekend, I'd made a Kerala veggie platter: Tomato pulissery, Tindora or Kovakka Thoran, Spicy potato fry and brown rice. I was so excited and when I started eating each of these dishes, I felt a real comfort in my mouth. Yes, Kerala dishes are so humble and comforting.
Simple Vegetarian Platter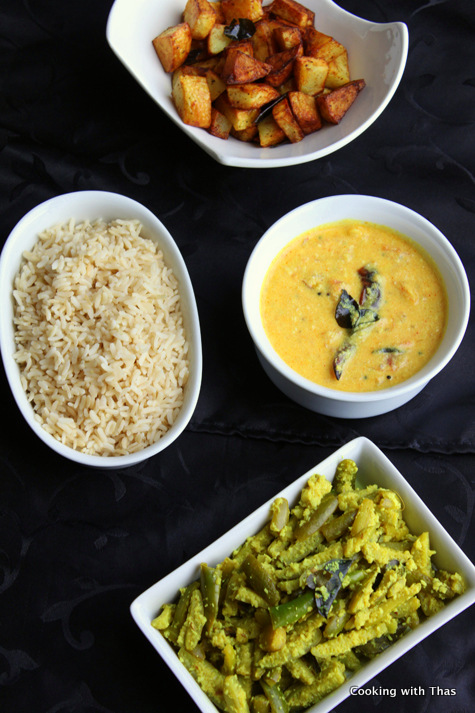 Sharing the recipe for making a very simple and comforting Tomato Puliserry, pour this over rice and add a splash of pickle, combine well and enjoy it.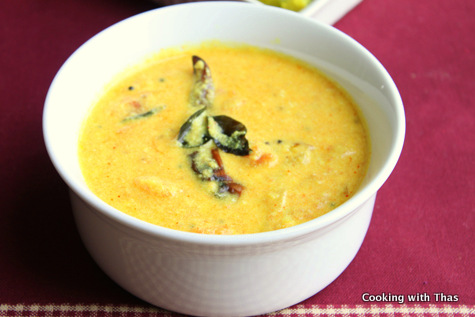 Preparation Pictures
Easy Tomato Pulissery Recipe - Tomato in Coconut and Yogurt Gravy
Ingredients
To grind
Coconut, grated- ½ cup
Garlic, chopped- 1 large clove
Cumin seeds- ½ tsp
Turmeric powder- ¼ tsp
Small onion or shallots- 2 small onions or 1 medium sized shallot
Water- ¼ cup
While cooking
Coconut oil- 1 tbsp
Mustard seeds- 1 tsp
Red dry whole chili- 2
Curry leaves- 1 sprig
Small onion or shallots, chopped- 6 small onions or 2 large shallots
Tomato-large, chopped- 2
Chili powder- ½ to 1 tsp
Yogurt- ¼ cup
Salt- to taste
Instructions
In a blender or food processor, grind the above mentioned ingredients "to grind" to a coarse paste. Keep aside.
Place a saucepan over medium heat, add coconut oil. Let it turn hot.
Add mustard seeds, let it splutter.
Add red dry chili, curry leaves, saute for a second.
Add small onions, season with salt, saute for a minute till translucent.
Add tomatoes, cook covered till tomatoes are slightly mashed up but not over cooked.
Add the coarsely ground coconut mixture, combine well and let cook for 3 to 4 minutes.
Add chili powder, cook for a minute.
Taste and add more salt if needed.
Remove the saucepan from the heat.
Add yogurt and combine well till yogurt has well combined.
Keep covered for a few minutes.
Serve this as a side dish along with rice.
Notes
Don't add yogurt with the heat turned on, heat will curdle the yogurt.