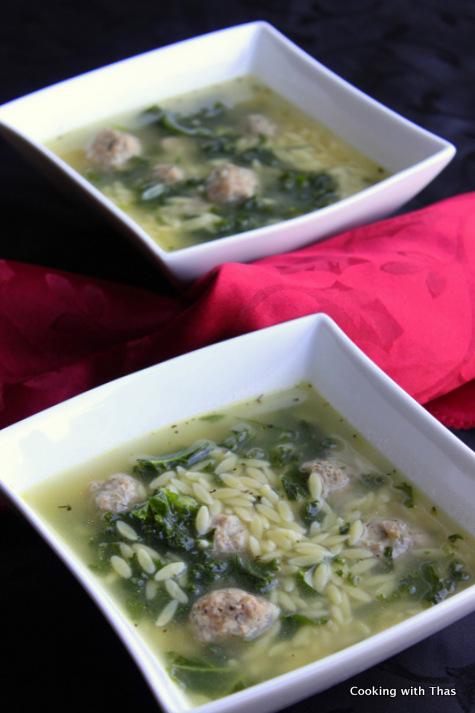 Meatballs, chicken stock, greens and orzo pasta are married into this soup; delicious and nourishing soup. A perfect soup for the soul…
This is an Italian American soup, popular in America and is served at most Italian restaurants here. I'd this soup a few weeks ago at an Italian restaurant, I instantly fell for it and enjoyed every sip of it with a Mmmm sound. That was the first time I tried this soup, I tasted every bit of it and understood the ingredients in it. Guess what was going in my mind? Of course, to recreate this soup in my kitchen.
This soup has a perfect blend of meatballs, greens and orzo (or any tiny pasta). A bowl of this soup will energize you and make your tastebuds dance. However, you wouldn't be satisfied with just one bowl, you will need more. Without a doubt, this is a complete soup and goes along well with dinner rolls or baguette.
I used kale leaves, you could use spinach or endive instead.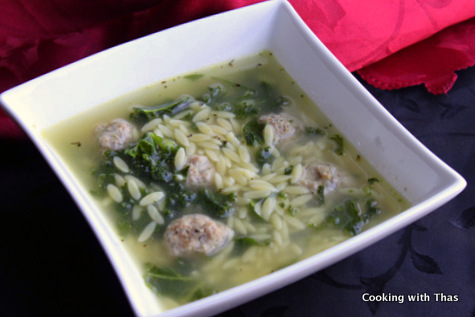 Preparation Pictures
Easy Italian Wedding Soup
Ingredients
For making meatballs
Ground chicken or beef- ½ lb
Ground pepper- ¼ tsp
Italian seasoning- 1½ tsp
Onion, chopped small- ½ of a medium sized onion
Breadcrumbs- ¼ cup
Parmesan cheese- ¼ cup (optional)
Parsley, chopped- 1 handful
Salt- a few pinches
For making Soup
Chicken stock, low-sodium- 8 cups
Kale or spinach chopped small- 1½ cups
Orzo or pearl pasta- ¾ cup
Italian seasoning- 1 tsp
Ground pepper- a few pinches
Salt- to taste
Parmesan cheese, grated- to top the soup
Instructions
In a large bowl, combine all the ingredients to make the meat balls.
You could use either ground beef or chicken or a combination of both.
Make very small balls out of the meatball mixture, around 25 to 30 small balls. Keep aside. (Any leftover meatball mixture can be made into patties, grill or bake it).
Pour the chicken stock into a large soup pot and place over medium heat, let the stock come to a slight boil.
Gently drop the meatballs and cook covered for 8 minutes, or till meatballs are cooked through.
Add the chopped kale leaves or spinach. Cook covered for a couple of minutes.
Add orzo or pearl pasta, cook covered for 7 to 8 minutes till pasta turns tender, these pastas cook very fast.
Add Italian seasoning and ground pepper.
Taste and add more salt if needed.
Lower the heat and let the soup simmer for 3 to 5 minutes.
Serve into a soup bowl, if needed sprinkle with grated parmesan cheese and enjoy every sip of it.