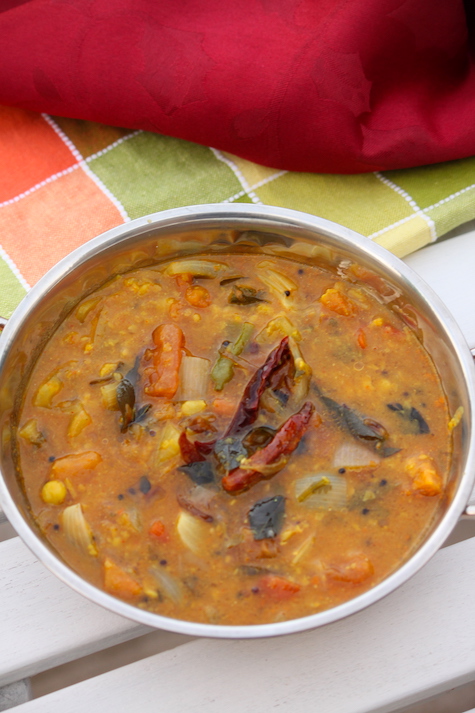 Flavorful and delicious Chana Dal and Tomato Sambar made in the Instant Pot…
Sambar is a popular South Indian vegetarian curry served with rice, dosa, idli, etc. It's made with cooked lentil and mixed veggies, seasoned with aromatic spices and tamarind extract is added that imparts the slightly tangy taste.
There are several variations of the Sambar recipe. Either Toor dal, Chana dal or Mung dal can be used. Different kinds of mixed vegetables can be used or can be made with shallots, tomatoes, etc. The spice mix used can be made differently as well. So many different ways to make Sambar.
In this recipe, I have used chana dal. Chana dal is a hard lentil, hence requires 20 minutes of pressure cooking in the IP if not soaked in water. I didn't soak the chana dal in water. I have used shallots and tomatoes. For making this sambar aromatic and flavorful, I've used the spice mix that my mom used to make. Cumin seeds and fenugreek seeds are roasted and ground into a fine powder, added 1 tsp while making sambar along with other spices.
Turned out super delicious, I served the sambar along with rice and Medu vada.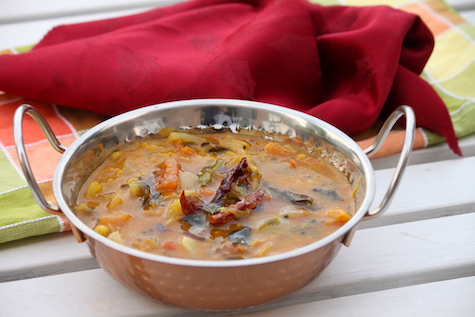 Cooking Video
Instant Pot Chana Dal & Tomato Sambar- Instant Pot Best Tasting Sambar- Vegetarian Lentil Curry
Ingredients
Fresh Tamarind extract- ½ cup (soak 2 inch slice tamarind in ½ cup lukewarm water)
For Cooking Chana Dal
Chana Dal- ½ cup
Garlic, sliced- 2 cloves
Green chilies, chopped- 2
Curry leaves- 1 sprig
Turmeric powder- ½ tsp
Chili powder- ½ tsp
Salt- 1 tsp
Water- 1½ cups
For making the Ground Spice
Cumin seeds- 1 tbsp
Fenugreek seeds- 1 tsp
For Cooking Sambar
Shallots, chopped- 3
Tomatoes, chopped- 2
Prepared Cumin-Fenugreek powder- 1 tsp
Chili powder- 1 tsp
Coriander powder- 1 tbsp
Tamarind extract- ½ cup
Water- 1 cup
Asafoetida powder- ¼ tsp
Salt- ½ tsp
Cilantro, chopped- 2 handfuls
For making Tempering
Ghee or Oil- 1 tbsp
Mustard seeds- 1 tsp
Shallots, chopped small- 1 tbsp
Dried red chilies- 3
Curry leaves- 1 sprig
Instructions
Prep Work
Firstly, let's make the gorund cumin-fenugreek.
Place a non-stick pan over medium heat, add cumin seeds & fenugreek seeds.
Roast till aromatic for 3 to 4 minutes.
Remove the pan from the heat, let cool down.
In a spice grinder, grind till fine powder; keep aside.
We will be adding 1 tsp of this spice. Remaining spice can be stored in an air-tight container.
In a bowl, add 2 inch slice fresh tamarind; add ½ cup luke warm water. Let soak for 5 minutes.
After 5 minutes, squeeze tamarind in water and release the juice. Strain the extract and discard the skin. Keep aside.
Cooking Sambar
Turn on the Instant Pot.
To the stainless steel pot, add all the ingredients for cooking chana dal.
Close the pot with the lid.
Select pressure cook mode. Set time to 20 minutes, at high pressure.
After 20 minutes of pressure cooking, do a quick pressure release.
Open the lid.
Combine the cooked chana dal.
Turn on Saute mode, Medium Temperature.
Add shallots and tomatoes. Cook for 3 minutes.
Add 1 tsp of ground cumin-fenugreek.
Add chili powder, coriander powder, asafoetida, tamarind extract, salt and 1 cup water. Combine well.
Cook for a few minutes.
Add chopped cilantro, combine well.
Remove the stainless steel pot from the main pot, keep covered.
Making Tempering
Heat a non-stick pan.
Add ghee or oil, let turn hot.
Add mustard seeds, let splutter.
Add shallots, saute till golden.
Add dried red chilies and curry leaves, saute for a few seconds.
Pour the tempering onto the cooked sambar.
Keep covered for a few minutes.
Serve the sambar along with rice, dosa, idli, medu vada, etc.