Musakka is a popular Mediterranean dish in which roasted or fried eggplant, peppers, tomatoes are slow cooked; it resembles to a stew or a casserole…
Musakka is made differently in different countries. In Turkey, it is made into a stew. While in Greece, eggplant and cooked meat are layered, topped with a white sauce and baked.
I've had Musakka at a Mediterranean restaurant and loved it, it was eaten with pita bread. This is a very flavorful and healthy vegetarian dish and can be served with rice or pita bread. Eggplants can be roasted in the oven or fried, which is then cooked along with onion, peppers and tomatoes. Chick peas can also be added to make this dish even more hearty and flavorful.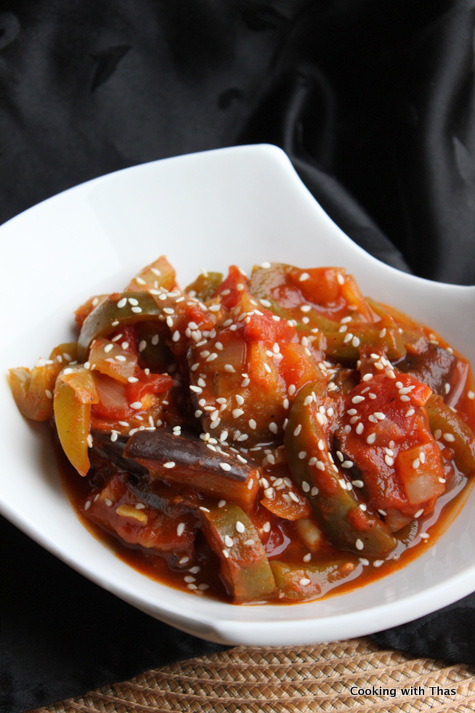 Making Musakka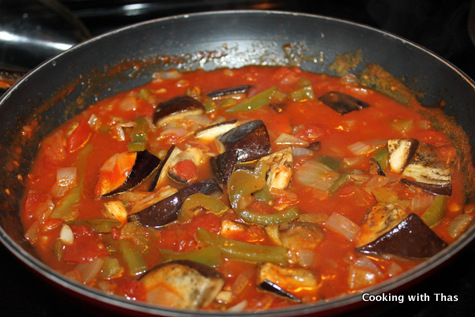 Musakka - Turkish Eggplant and Tomato Stew
Ingredients
Eggplant, cubed into large pieces- 1 large American eggplant or 4 Japanese eggplants
Onion, chopped- 1, large
Garlic, chopped- 2 large cloves
Green pepper, cut into 2 inch wedges- 1
Red pepper, cut into 2 inch wedges- 1
Tomatoes, diced- 1 large can or 3 large fresh tomatoes
Tomato paste- 4 tbsp
Paprika- 2 tsp
Ground cumin- 1 tsp
Ground pepper- ½ to 1 tsp
Salt- to taste
Olive oil- 4 tbsp
Parsley, chopped- ¼ cup
Sesame seeds- to garnish
Instructions
Preheat oven to 375 F.
Cube the eggplants, season with ground pepper and salt, drizzle 2 tbsp olive oil and spread it on a baking sheet lined with aluminum foil.
Bake the eggplants for 30 minutes till it's tender and light golden in color. Don't bake till mushy.
Or you could pan fry the cubed eggplants in little oil till it turns tender and golden in color.
Place a large wide pan over medium heat, add 2 tbsp olive oil.
Add onion, season with salt and ground pepper, saute for a couple of minutes.
Add garlic and cook till onions turn translucent.
Add the peppers, cook covered for a few minutes.
Add tomatoes, cook covered for a few minutes.
Add tomato paste, paprika, ground cumin and salt to taste, combine well.
Add ¾ cup water, combine well
Cook covered for some more time.
Add the roasted eggplant and cook covered for 15 to 20 minutes till the gravy thickens.
Taste and add more ground pepper and salt if needed.
Add parsley leaves and cook for a minute.
Remove the pan from the heat and keep it covered.
Serve into a bowl, sprinkle sesame seeds over it.
This can be eaten along with rice or pita bread.
Notes
You could even add chick peas.

Eggplants can also be pan fried till it turns slightly tender.