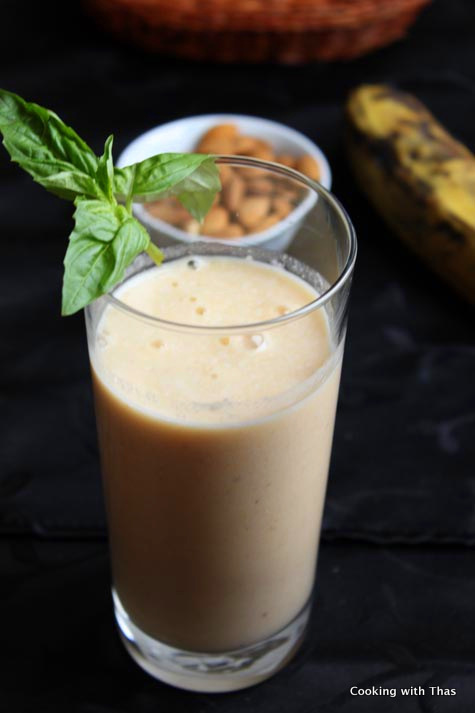 Healthiest smoothie made out of plantain and almonds…
I hail from the land of plantains, that explains why I can hardly resist them. I am so glad that plantain is available at almost all stores in my city. Though plantain belongs to banana family, plantains are much more healthier and have more health benefits than bananas. Plantain is abundantly found in my hometown and so we make a lot of snacks/dishes with it. Thinking of plantain, so many dishes flashes through my mind: starting from the most popular Pazhampori or plantain fritters, Unnakaya or fried stuffed plantain, Kayipola or steamed plantain, ghee roasted plantain etc etc, the list is endless…
The other day I had very ripe plantains that had been sitting on the kitchen counter for a few days. I wanted to make something different out of it and absolutely not the regular dishes. Since the plantains were very ripe I felt it would make a great smoothie. Well, I didn't want to just add milk to it and make a smoothie. I wanted something else added to it too. That's when almonds made a grand entry. Plantain Almond smoothie was made in no time. Good part was that I didn't have to add sugar as the ripe plantains imparted the needed sweetness. Now, that's what I call a healthy smoothie.
Both plantains and almonds have amazing health benefits, so you can enjoy this smoothie quite often. Do I need to say anything about almonds: the nutritional powerhouse???
For more recipes using plantain, click here.

Plantain Almond Smoothie - Healthy Breakfast smoothie
Ingredients
Plantain, ripe- 1
Almonds, de-skinned or blanched- 30
Chilled milk, skim or whole- 1½ cups
Instructions
If using skinned almonds, soak the almonds in warm water for 30 minutes. Peel off the skin. Or use blanched almonds.
Cut the plantain vertically, remove the black seeds in it using a knife. Slice the plantain.
In a blender jar, combine the plantain, almonds and milk, blend o a smoothie.
Pour into a tall glass, if needed add ice cubes.
Ripe plantain will impart the needed sugar for this smoothie, if you need more sugar add a few tablespoons of honey or agave nectar.
Enjoy this healthy smoothie for breakfast.