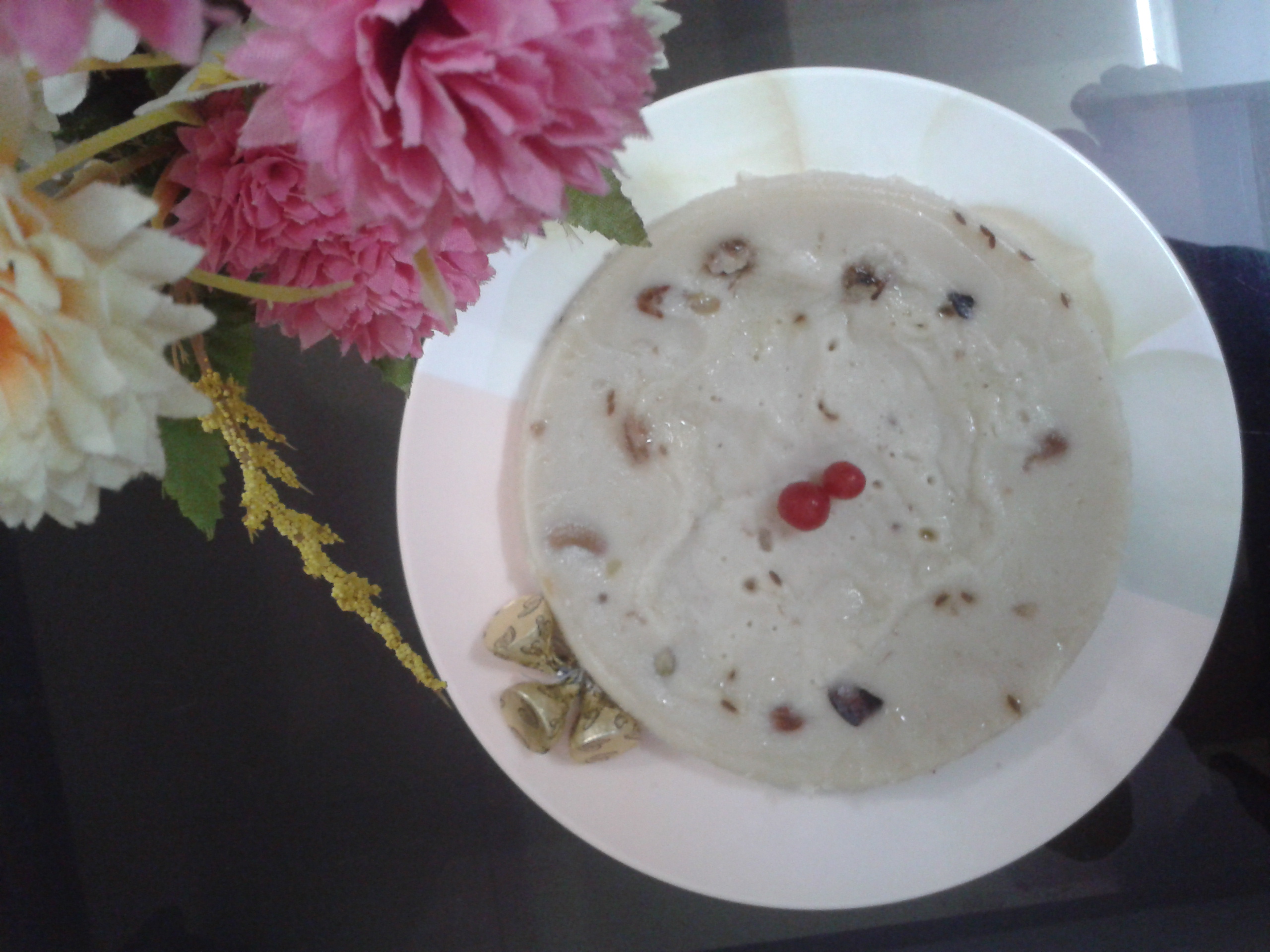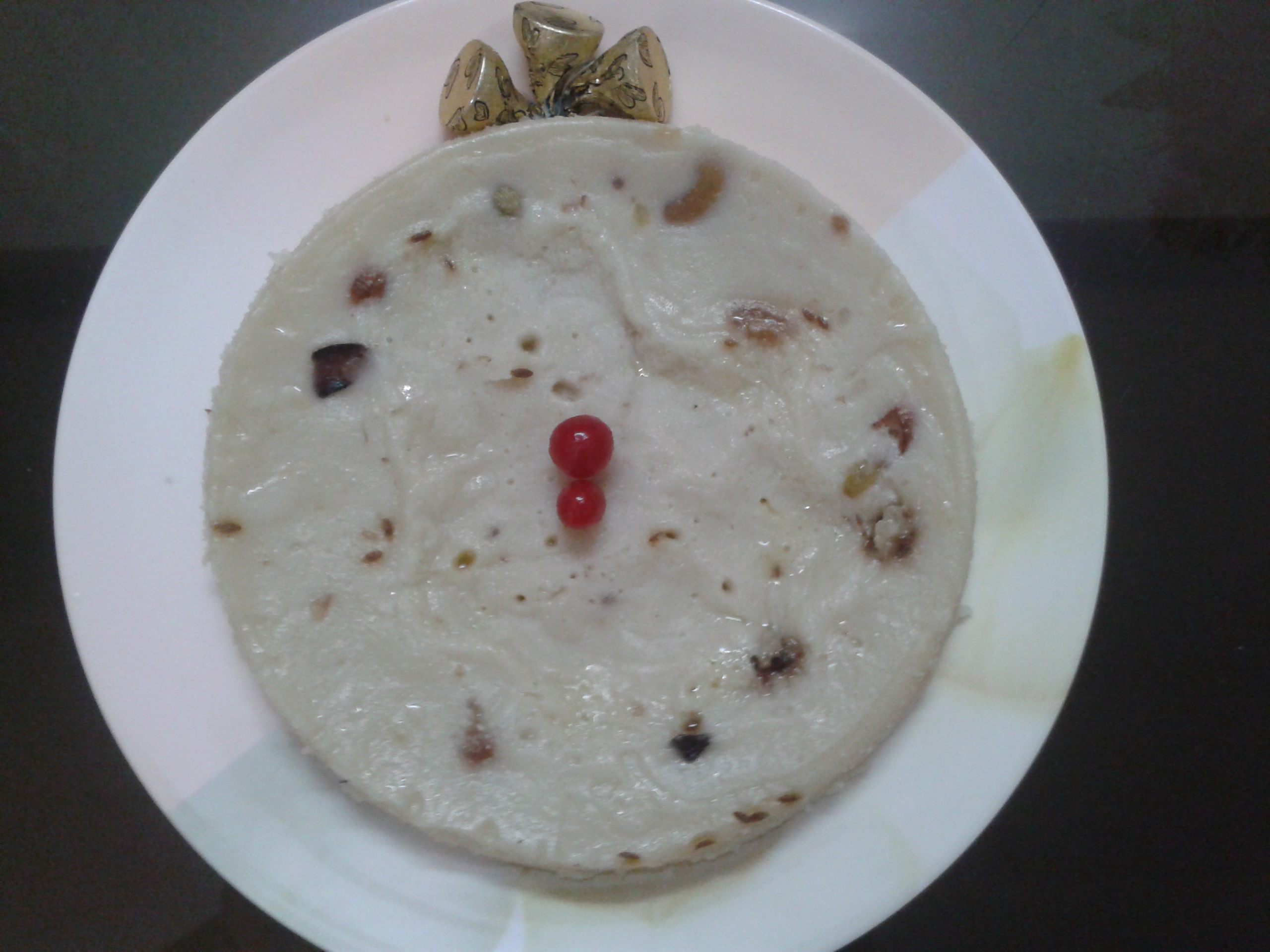 Kinnathappam
Kinnathappam is a sweet dish infact a traditional dessert which is very familiar to keralites..Itz really an inevitable dish for my family for an iftar eve..Thanx to our thasneen who gave me an oppurtunity to showcase my budding interest in culinary art..
Recipe type:
authentic/ traditional dessert
Ingredients
Basmati rice (good quality) – 1 cup
Water - 2 cups
Eggs - 2
Thick coconut milk – 2 cups
Sugar – 1 cup
Salt – a pinch
Cashews - 10 (split into two halves)
Raisins - 2 teaspoon
Fried coconut pieces - 2 teaspoon
Cardamom powder – ¼ teaspoon
Cumin seeds - ½ teaspoon
Ghee/oil – 1 teaspoon (for greasing)
Instructions
Wash the rice well and soak it in water for 4 to 5 hours.
Drain the rice well and grind it to a fine paste using the required amount of water ( I used 2 cups).
Next step is to extract the thick coconut milk and beat the eggs well.
Now add thick coconut milk, beaten eggs, sugar, salt and cardamom powder and blend it well.
Add the above mixture to the rice batter and mix it well.
Now it's time to check the consistency of batter. The batter should neither be thick nor very loose. If it is very thick, make it some more loose adding water. If it is very loose, Then you can make it some more thick by blending the batter with all purpose flour/ maida.
Strain the prepared batter using muslin cloth or cheese cloth at least twice. Make sure your batter should be lump free.
Roast the cashews and raisins in ghee.
Add roasted cashew nuts, raisins, cumin seeds and fried small coconut pieces (if you have. I didn't add) to the batter and mix well
Heat water in a steamer. You can use pressure cooker also.
Now grease the vessel using ghee or oil. I used a steel plate. Just heat the steel plate before greasing for 7 to 8 seconds.
Pour the batter into the greased vessel filling up to 1½ inch height of the steel plate.
Close the steel plate using an aluminum foil and place the steel plate inside the steamer.
Steam till done (for 25 to 30 minutes).
Take the steel plate out of the steamer after done and let it cool for some time.
Cut it into desired shapes.
Notes
Grind in a grinder than a mixie/mixer so that the kinnathappam will turn soft.

Grind the soaked rice without any lumbs.

Don't forget to use a muslin cloth or cheese cloth otherwise if some particles may
retain, the soft texture of kinnathappam may decrease.

If you are using a cooker then place a ring/ steel plate at the bottom and then place
the pan containing kinnathappam batter on top of it. Close the cooker but do not
place weight on it. Let the steam pass through the nozzle.

Add water which will last for 40 minutes in cooker.

Serve chill which will make it taste better.