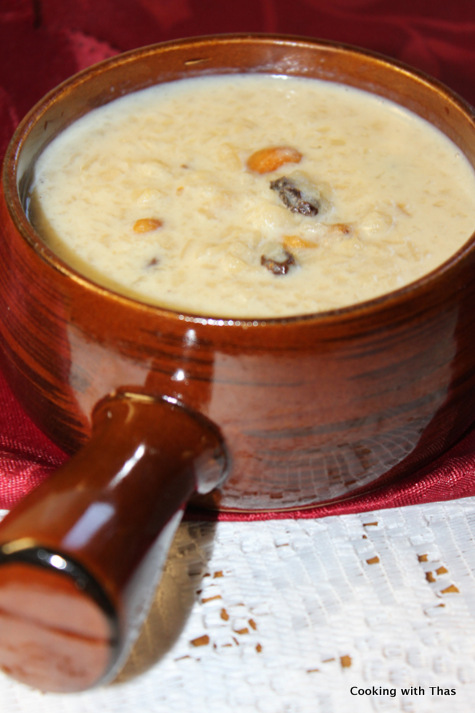 Rice flakes cooked in sweetened milk, a quick and easy to make dessert that will sweeten up your tastebuds…
Lately, I've been having frequent sweet cravings. I'm just wondering, is it the changing season or is it my changing hormones??? Wish I could fall for the cravings and indulge in sweets every time I get the craving. In such situations, I try to whip up something in my kitchen rather than getting from the stores or bakeries.
One of the desserts or sweet dishes that I like to make is Payasam. It's easy to make and different kinds of ingredients can be added. Payasam is a popular dessert in Kerala cuisine, and is served with Sadya. Payasam is basically sweetened milk combined with vermicelli or rice flakes or rice or broken wheat or lentils, variety of ingredients can be added. The most common one being the vermicelli payasam.
I'd tried making a few kinds of payasam: carrot payasam, oats and dried nuts payasam etc.
So, this time I wanted to try rice flakes payasam. The preparation method is quite similar to making other payasams, only difference is in the main ingredient added to the sweetened milk. Rice flakes when cooked in milk gets tender and will thicken up the milk, imparts a creamy and rich texture as well.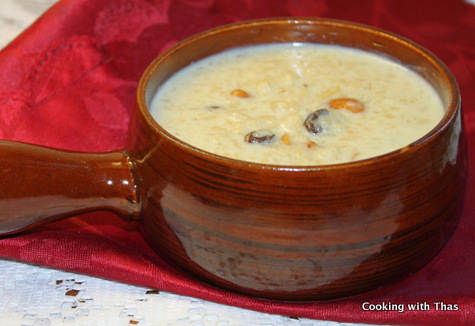 Aval Payasam - Rice Flakes in Sweetened Milk
Ingredients
Rice flakes- ¾ cup ( white or brown rice flakes)
Milk- 2 cups
Sweetened condensed milk- 2 tbsp
Jaggery- 3 inch slice ( or use 2 to 3 tbsp more condensed milk according to your needs)
Raisins- 2 tbsp
Cashew nuts- 2 tbsp
Crushed whole cardamom- 1 (or use 2 pinches of ground cardamom)
Ghee- 2 tbsp
Instructions
Place a wide saucepan over medium heat, add 1 tbsp ghee.
Add cashew nuts, roast till golden in color, keep aside on a plate.
Add raisins, fry till it puffs up, remove from the pan and keep aside.
Add the remaining 1 tbsp ghee to the same pan.
Add rice flakes and roast it for 2 to 3 minutes. Keep aside.
To the same pan, add milk, condensed milk and jaggery, let it come to a slight boil.
Add the crushed cardamom or ground cardamom to the milk, let the milk simmer for a few minutes.
Add the roasted rice flakes, combine well and cook till rice flakes turn tender and the milk thickens a bit, for about 5 minutes.
If the milk has turned too thick, you could add ¼ cup more of hot milk to thin it down.
Finally, add roasted cashew nuts and raisins, combine well.
Remove the pan from the heat and keep covered for a few minutes.
You could serve this slightly warm or chilled.
Notes
If you don't have jaggery, add 2 to 3 tbsp of sweetened condensed milk or according to your sweet needs.