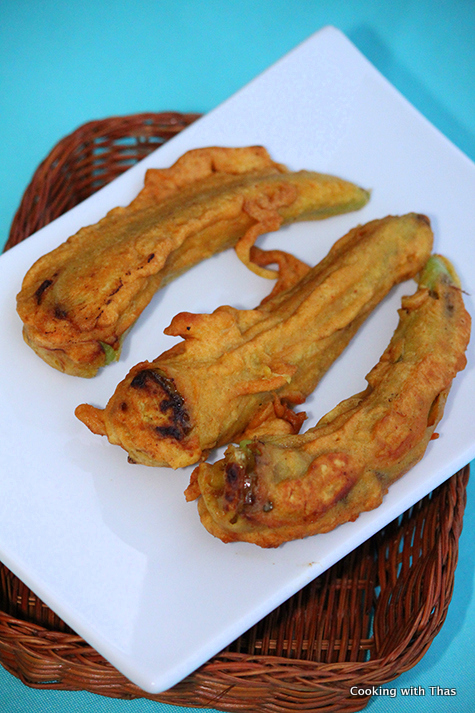 Banana peppers or Mulagu bhaji stuffed with chicken masala, perfect evening snack on a rainy day…
It's hard to believe it's Summer, the rain that started in Spring hasn't slowed down yet. We've been getting rain at least twice a week, no complaints whatsoever as I'm enjoying rain like never before. I used to dislike rain as the sight of rain made me depressed, lazy and triggered the craving for fried snacks. However, I am seeing a change in myself, I've started liking rain now but I still crave for fried snacks.
Today, I woke up to the sound of pouring rain, it was magical. I did spend some time watching the rain and the serenity, everything was rain kissed and looked spectacular. I clicked pictures of the rain kissed flowers in my garden. I wanted to go for a walk in the woods, just on time one of my dear friends messaged me asking me if I wanted to go for a walk. She did read my mind and we went for a walk, chatted away to glory, enjoyed the rain, the breeze and the rain kissed Nature. Being with the Nature always make me happy and cheerful.
Rain kissed Flowers and backyard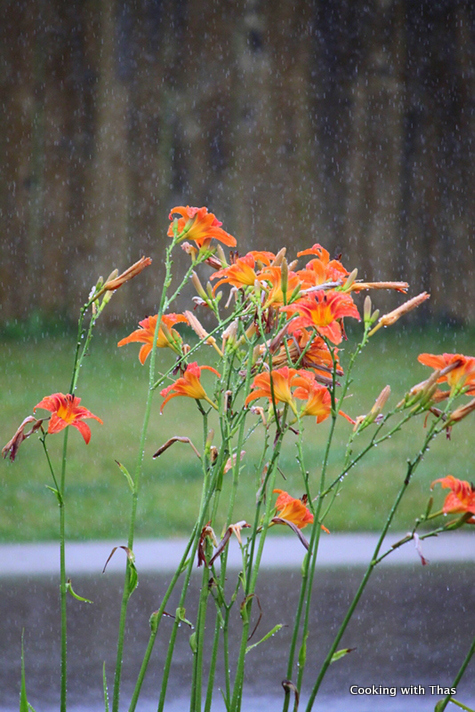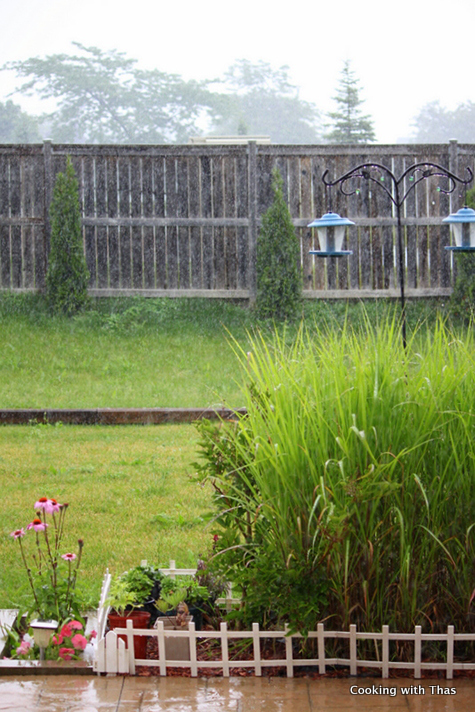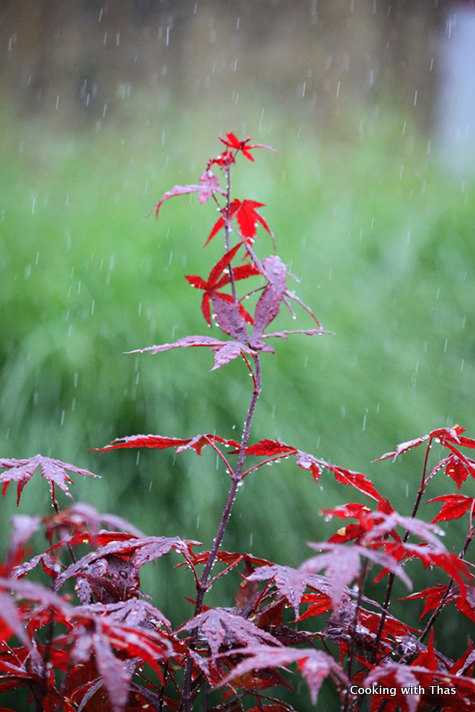 The whole day it kept pouring and pouring. In the evening, I went and looked at my veggie garden and I saw banana peppers ready to be harvested. That reminded me of the perfect South Indian snack on a rainy day- Mulaku Bhaji or banana pepper fritters. Making mulaku bhaji with the banana peppers from my own garden excited me and I couldn't resist the temptation.
I was all set to make the mulaku bhaji, right on time I was struck by the idea of stuffing the banana peppers with chicken masala. Now, that's what I am talking about! I patted myself on my back and focused on stuffing the banana peppers with the chicken masala.
I loved it and my hard core non-veg Man loved it even more as he got to taste the chicken stuffed in the banana peppers.
Recipe for making regular Mulagu Bhaji or Banana pepper Fritters, click here.
Preparation Pictures
Banana peppers in my garden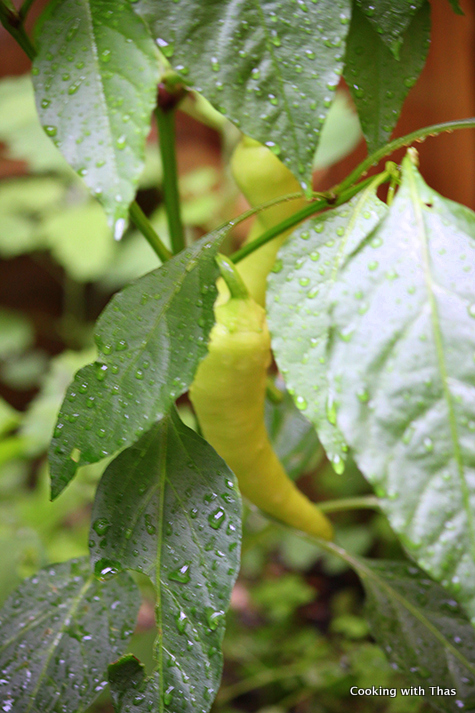 Homegrown Banana Peppers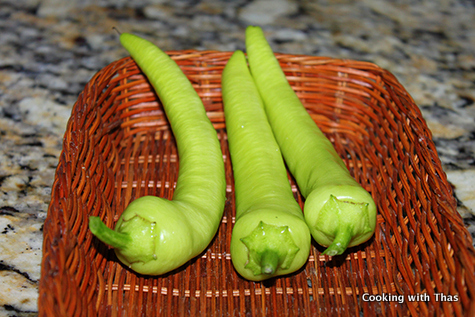 Gram flour batter 
Chicken Masala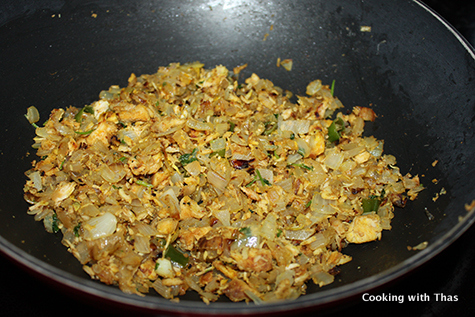 Stuffed Banana peppers
Frying
Chicken Stuffed Banana Peppers- Chicken Stuffed Mulaku Bhaji
Ingredients
To marinate Chicken
Chicken Breasts, diced small- 1
Chili powder- 1 tsp
Turmeric powder- ⅛ tsp
Coriander powder- 1 tsp
Salt- to taste
For making Chicken Masala
Oil- 1 tbsp
Onion, chopped small- 2
Ginger-garlic paste- ½ tbsp
Green chili, chopped- 1
Garam masala- ½ tsp
Salt- to taste
Cilantro, chopped- 2 handfuls
For making batter
Gram flour- 1 cup
Chili powder- ½ to 1 tsp (based on your needs)
Ground cumin- ½ tsp
Coriander powder- ½ tsp
Turmeric powder- 2 pinches
Salt- to taste
Water- ½ cup + 2 tbsp (to make a not so thick not so thin batter)
Other ingredients
Banana peppers- 5 or more
Oil- to deep fry
Instructions
Making chicken Masala
Combine the chicken with all the ingredients mentioned 'for marinating chicken'.
Place a saucepan over medium heat, add the chicken to the pan and cook covered till chicken has cooked well and the water has dried off. Let cool down and shred the chicken using your hands or a wooden spoon. Keep aside.
Place a pan over medium heat, add oil.
Add chopped onion, season with salt and cook till translucent.
Add ginger-garlic paste and green chilies, combine well and cook till onions turn golden brown.
Add the cooked and shredded chicken along with garam masala, combine well.
Taste and add more salt if needed.
Add chopped cilantro, mix well and cook for a few seconds.
Remove the pan from the heat and keep covered.
Making the batter
In a large bowl, combine all the ingredients 'for making the batter'.
Add water little by little till you get a medium constituency batter- not too thick nor too thin.
Stuffing the banana peppers
Remove the top stem part of banana peppers about 1 inch. Remove all the seeds from the inside and create a hollow space in it.
Stuff the chicken masala into the peppers. You won't be able to stuff a lot, depends on the size of the peppers.
Heat a frying pan with enough oil for deep frying.
Dip the stuffed peppers in the gram flour batter, coat evenly and coat well on the top part of the peppers.
Place the peppers submerged in oil and deep fry till golden brown in colour.
Transfer to a paper towel.
Serve with ketchup or hot sauce.