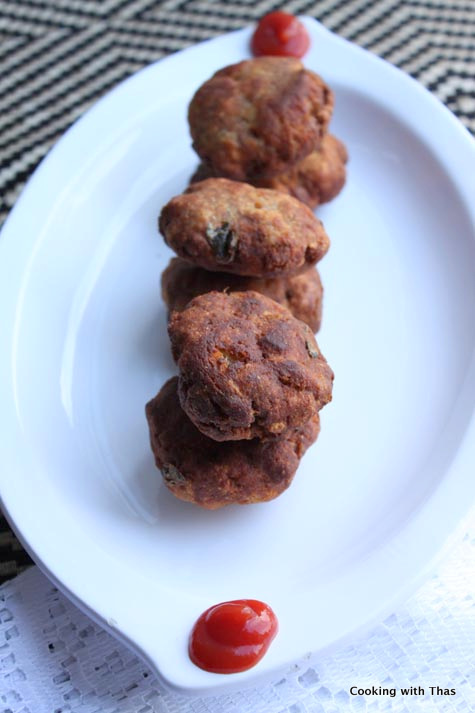 Crunchy  delicious bread pakoras…
If you are happy and you know it, clap your hands. I am clapping my hands, if you are happy clap your hands too. Finally, much awaited vacation is here, I am having a week long holidays. Today was one of the busiest days ever at work, vacation means lots of work before holidays and more work after that as well. However, it was all worth it as one whole week is ahead of me to chill and grill.
The other day, I wanted to make a snack and I could only find bread that was sitting on the island. One of my favorite bread dishes is French toast. Sliced bread dipped in beaten egg and sugar, then roasted in ghee or butter tastes so much better than anything else. I was instantly hit by the thought of making french toast, then I deviated my mind to make something different. That's when I thought of making these bread pakoras. Just like making onion or Ulli vada or pakoras, I sliced the bread and combined with gram flour and some spices, deep fried it. Crunchy, crispy bread pakorsas were ready in no time.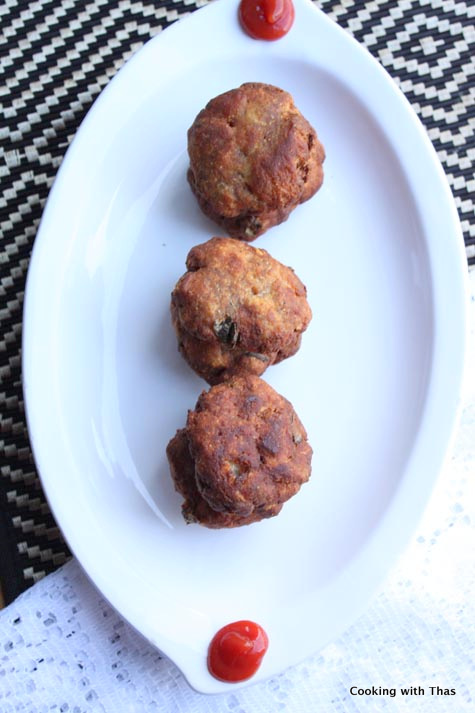 Bread Cutlet or Bread Pakora
Ingredients
Bread, toasted and chopped small- 6 slices
Gram flour or Chick pea flour or Besan- ½ cup
Kashmiri red chili powder- ¾ tsp
Green chili, chopped- 1
Ginger-garlic paste- ½ tbsp
Cumin powder- ½ tsp
Coriander powder- 1½ tsp
Garam masala- ½ tsp
Curry leaves- 1 sprig
Salt- to taste
Water- 3 tbsp
Oil- enough for deep frying
Instructions
Toast the bread slices in a toaster or in a panini maker or on a hot pan till it gets crispy and golden.
Using a sharp knife, slice the bread to small pieces.
In a bowl, combine the sliced bread along with all the above mentioned ingredients except oil.
Add only very little water to bind the bread and gram flour, don't make it watery.
Make small balls out of the bread-flour mixture, flatten it on the palm of your hand, keep aside.
Place a frying pan over medium heat, add enough oil for deep frying.
Drop the rolled/flattened bread mix into the hot oil, fry till it turns golden brown.
Transfer to a kitchen paper towel.
Serve warm with tomato ketchup or any hot sauce or salad.