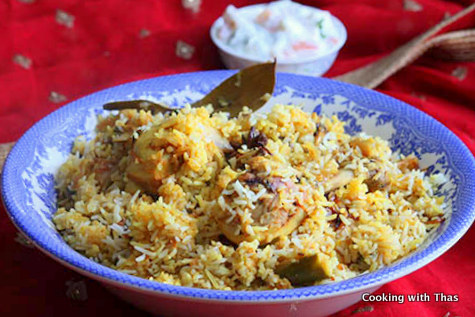 Hyderabadi Chicken Dum biryani- irresistibly delicious…
I am back after a much needed 2 weeks vacation. We went on an awesome Caribbean cruise and roamed around 4 amazing islands. Of all the vacations I have had in the past, this one was way too relaxing as we didn't have to worry about anything. The cruise literally had everything and the hospitality of the crew members was beyond our expectations. Towards the end of my vacation, I was filled with gratitude and awe for all the crew members who worked hard day and night to make all the passengers happy.
If I start talking about the food on the cruise, I would just go on and on. There were so many restaurants and they all offered incredible variety of food. I just indulged in the food and yes a couple of pounds did tag along with me. That's what vacation is all about, right?
And the best part was I was totally unplugged from the internet and I least cared about checking Facebook or my blog or my cooking page. I felt great and rejuvenated being away from the hustle and bustle of social media.
Getting back to reality and daily routine was not that easy. Also, due to the weather change (from 30 degrees C to -15 degrees C) I fell sick. I'm gently getting into the groove. It's been more than 2 weeks since I've updated my blog, so thought I would post a recipe today.
While browsing through my food album, I made a pause at the Hyderabadi Dum Biryani folder and kept looking at the pictures and wished if someone could make this for me right now.
You all know how much I adore biryani. For me, any celebration is incomplete without biryani. Also, biryani will turn an ordinary day into an extraordinary one. I've already posted the recipe for making so many kinds of biryani. One biryani that I wanted to make for so long is this Hyderabadi Dum biryani. This biryani is one of the popular biryanis in India. The preparation method is quite different from the other kinds.  The word Dum means 'cooked with steam'.
In this biryani, marinated chicken and half cooked rice are cooked together in one pot. That means, you have to do less work, doesn't involve sautéing of the onions and making the chicken masala. Marinate the chicken and spread on the pot as the bottom layer, spread half cooked basmati rice and other garnishing over the chicken; cook covered over low heat for 30 minutes and the biryani will be ready in no time to dig in.
In most popular Biryani corners in india, they follow the traditional cooking method. Mostly, this biryani is cooked outdoors. A huge vessel will be used for making the biryani (biryani pot), the pot after layering the meat and the rice is covered with its lid and the sides are sealed with dough. Hot charcoal is then spread on top of the lid and also fired from underneath. This ensures slow cooking and the flavors and aromas are sealed inside the pot. It's quite fascinating to see them cook this biryani.
However, following traditional method in our kitchen is not that easy so let's follow this easy method. I was a bit worried if the chicken on the bottom of the pot would get burned. To prevent that, the pot was placed over a hot tawa or cast iron skillet and then cooked over low heat. Turned out great and tasted delish.
For more Biryani recipes, click here
Preparation Pictures
Marinated chicken
Half cooked basmati rice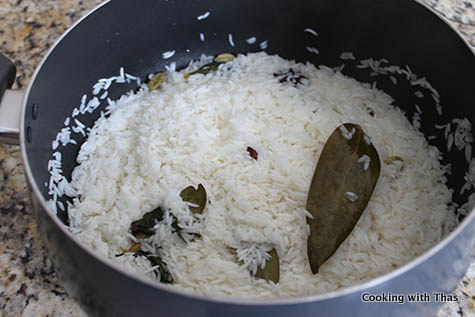 Marinated Chicken spread as first layer
Spread half cooked rice over chicken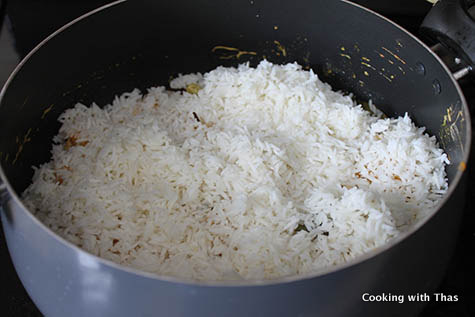 Layer with other ingredients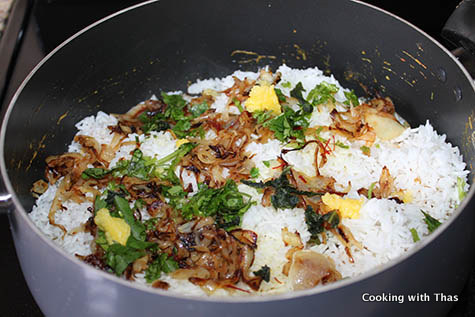 After 30 minutes of cooking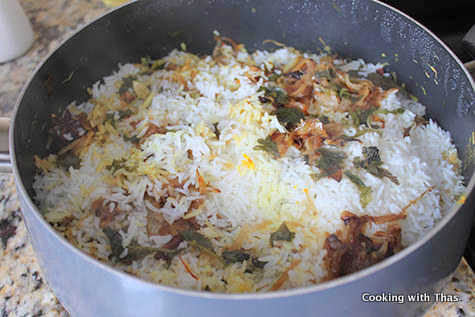 Hyderabadi Chicken Dum Biryani Recipe
Ingredients
For marinating chicken
Chicken legs or bone-in pieces- 8
Green chilies, chopped- 3
Ginger-garlic paste- 1½ tbsp
Chili powder- 2½ tsp (or more if you need it to be spicy)
Turmeric powder- ¼ tsp
Coriander powder- 2½ tsp
Garam masala- 1½ tsp
Cilantro, chopped- ½ cup
Mint leaves, chopped- 8 leaves
Lemon juice- 2 tbsp
Yogurt or curd- ¾ cup
Salt- to taste
For cooking Basmati Rice
Basmati rice- 2 cups
Whole cloves- 3
Whole cardamom- 3
Star Anise seed- 1 (optional)
Cumin seeds- ½ tsp
Bay leaves- 3
Mint leaves, chopped- 4
Oil- 1 tbsp
Lemon juice- 1 tbsp
Salt- to taste
Water- 4½ cups
Other ingredients
Onions, sliced thin and long- 2 (Fried in 2 tbsp oil+ 2 tbsp ghee)
Ghee Roasted cashew nuts- ¼ cup
Cilantro, chopped- ¼ cup
Mint leaves, chopped- 10 leaves
Saffron- ½ tsp soaked in 3 tbsp water
Oil- 2 tbsp
Ghee- 2 tbsp
Instructions
In a bowl, combine the chicken along with the above mentioned ingredients 'for marinating chicken'. Cover the bowl with a plastic wrap and refrigerate for 3 hours or overnight the better.
In a large saucepan, combine the rinsed basmati rice along with all the ingredients mentioned 'for cooking rice'.
Place the saucepan over medium heat and cook covered for 15 minutes until the rice has half cooked. Do not completely cook the rice. To check, place one rice on your finger and squish it, it should be slightly crisp.
Drain the water and keep the half cooked rice aside.
Soak the saffron in 3 tbsp water, keep aside for 10 minutes.
In a frying pan, add 2 tbsp oil + 2 tbsp ghee and fry the onions until they turn golden brown in color. Transfer to a plate lined with kitchen paper towel.
In the same pan, roast the cashew nuts. If there is no oil left on the pan, add ½ tbsp ghee and roast them. Keep aside.
In a large non-stick wide pan/pot, add 2 tbsp oil and spread the marinated chicken pieces on the pan.
Cook the chicken over high heat for 3 minutes.
Reduce the heat to low.
Spread half of the rice over the marinated chicken, drizzle 1 tbsp ghee over the rice, sprinkle half of the fried onion, cashew nuts, cilantro, mint leaves and half of the soaked saffron water over the rice.
Again spread the remaining rice, 1 tbsp ghee, remaining fried onions, cashew nuts, cilantro, mint leaves and saffron.
Cover the pan tightly with aluminum foil and then cover with its lid.
Place a tawa or flat cast iron skillet on the stove and let it turn hot.
Place the pan with biryani ingredients over the tawa or cast iron skillet and cook over low heat for 25 to 30 minutes. If the biryani pot is placed on direct heat chicken might get burned.
After 30 minutes of cooking, turn off the heat and remove the pot from the tawa. Without opening the lid, Keep aside for 15 minutes.
Uncover after 15 minutes, combine the rice along with the chicken.
Serve warm on a plate and enjoy with raita, pappad and pickle.
Notes
Add more chili powder to make this biryani spicy.

You could even add 1 tbsp of store-bought chicken masala powder to the chicken and let marinate, enhances the taste.