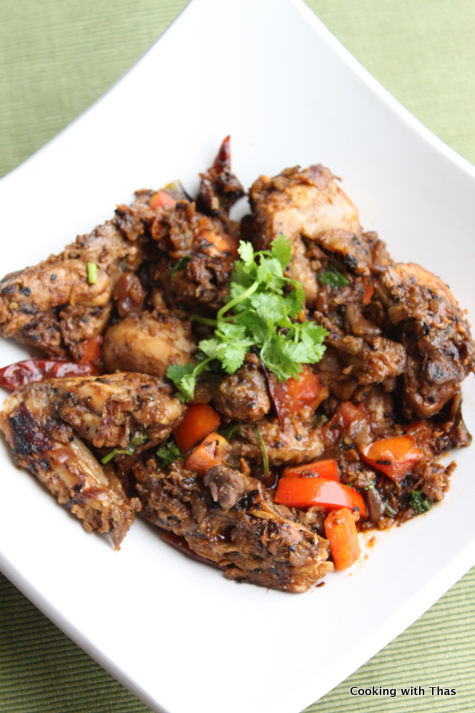 Chicken and tamarind, together they excite our taste buds…
I've never thought that I would combine chicken and tamarind paste together, now I am glad that I did it finally as that combination was delicious. One of the notions at least in my family was chicken wouldn't get along with tamarind and so I didn't bother to try it. However, while making fish curries tamarind is a must which actually make the fishy curries taste better.
When I told my mom how I combined chicken and tamarind together she went "ewww", then I had to convince her that it wasn't a bad combination instead it was a very delicious one. This is more like a dry dish in which the chicken marinated in the tamarind sauce is coked and then browned well. Not at all a complicated recipe and tastes unbelievably yummy.
This dish belongs to Balti cuisine which is popular in Birmingham, England. It is believed that Balti dishes were originated from Pakistan and Kashmir and then it was spread to Britain. That explains the use of a lot of Indian spices and ingredients in Balti cuisine.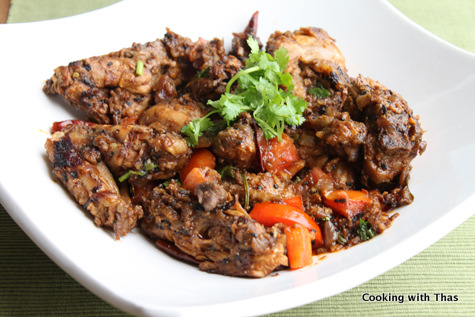 Preparation Pictures
Cooking Chicken
Cooked chicken with thickened gravy
After adding tomatoes
Recipe courtesy: Rafi Fernandez

Balti Chicken in Tamarind Sauce
Ingredients
For making the tamarind sauce
Tomato ketchup- 4tbsp
Fresh tamarind- 3 inch slice soaked in 4 tbsp water
Chili powder- 1½ tsp
Salt- to taste
Grated ginger- 1½ tsp
Garlic, crushed- 1½ tsp
Grated coconut- 2 tbsp
Sesame seeds, black- 2 tbsp
Ground cumin- 1 tsp
Ground coriander- 1½ tsp
While cooking
Chicken pieces, bone-in- 8 pieces
Oil- 4 tbsp
Cury leaves- 1 sprig
Onion, minced- 1 small
Dried red chilies- 3
Fenugreek seeds- 1 tsp
Tomatoes, chopped- 1, large
Cilantro, chopped- 2 handfuls
Ground pepper- for spice if needed
Instructions
If using fresh tamarind, soak 3 inch slice in 4 tbsp warm water for a few minutes.
Squeeze the tamarind in water to release all the juice from it, drain the juice and discard the skin.
If using concentrated tamarind paste, use around 2 tsp or according to your needs.
In a bowl, combine all the above mentioned ingredients to make the tamarind sauce.
Add the sauce to the chicken pieces, spread it over chicken and let marinate for 15 minutes.
Place a wok over medium heat, add oil.
Add curry leaves, onion, dried red chilies and fenugreek seeds, stir fry for a few minutes.
Add the marinated chicken along with the sauce, keep stirring as you add the chicken.
Cover the pan with a lid and cook till the chicken has cooked well.
Open the lid, cook over high heat and let the gravy thicken and chicken turns slightly browned. Oil will start to separate from the sauce.
Add chopped tomatoes, stir fry for a couple of minutes. Don't over cook the tomatoes.
Add chopped cilantro, stir fry for a minute.
Taste and add more salt or ground pepper if needed.
Remove the pan from the heat and transfer to a bowl.
Serve with chapati, roti, naan, pita bread or even bread.
Notes
Use bone-in chicken for better taste.