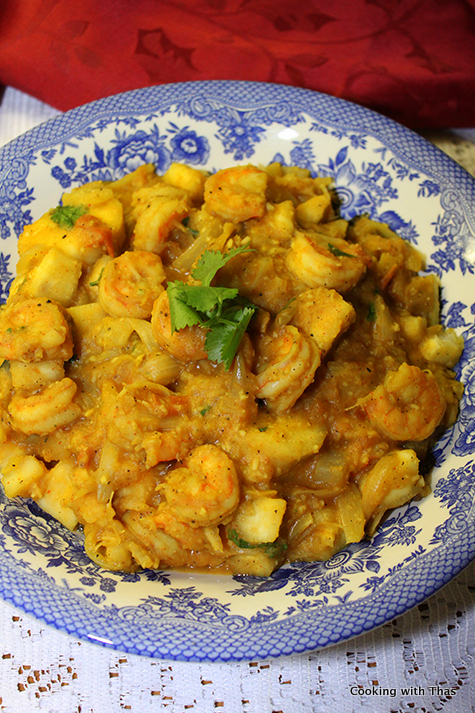 Shrimp roast and boiled tapioca (cassava) combined together and made into an incredible dish…
Tapioca (Cassava) or Kappa (in Malayalam) is a staple food in South India, especially Kerala. In fact, Tapioca is a common root vegetable in many Asian countries and South America. It's a starchy root vegetable quite similar to potato but the raw tapioca is much harder in texture than potato. When boiled, it gets tender and softer. Tapioca is either boiled or fried.
One of the common ways of serving tapioca in South India is by boiling it and then dipped with a spicy sauce or stir fried with the tempering (mustard seeds, dry red chili and curry leaves). Now, you could find tapioca being made into many fancy dishes and is often seen on the menu of many fine South Indian restaurants.
The most delicious combination in Kerala is boiled tapioca or mashed tapioca along with fish curry. Tapioca can also be combined with chicken or beef curries. This makes a delicious one pot meal.
The other day, I combined shrimp masala and boiled tapioca together and then poured seasoned coconut paste and cooked them together. This recipe is similar to making one of my favorite dishes: Chakkoli or Thakkidi or kunji Pathal.
Other Delicious Tapioca Dishes
Recipe for making Kappa Puzhukku or tapioca in ground coconut paste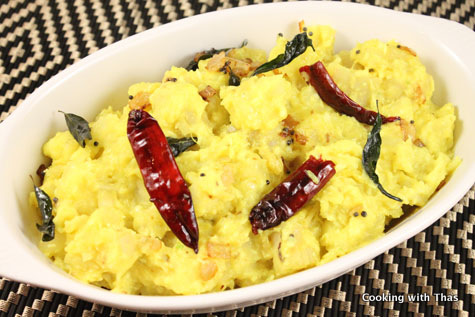 Recipe for making Kappa or Tapioca with Chicken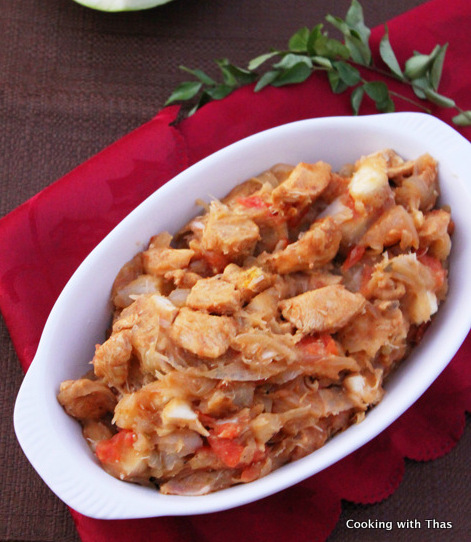 Recipe for making Tapioca Fish Biryani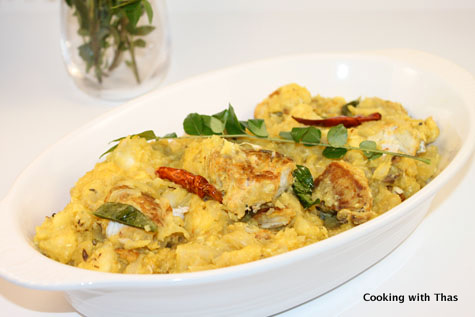 Recipe for making Tapioca stir fry with spicy tamarind sauce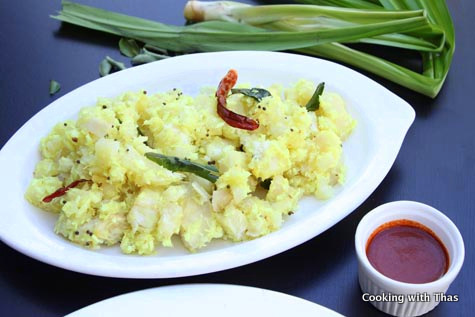 Shrimp Tapioca Masala Cooking video
Shrimp Tapioca Masala
This was one delicious one pot dish, starchy tapioca, shrimp and coconut made this dish taste amazing.
Preparation Pictures
Making Shrimp Roast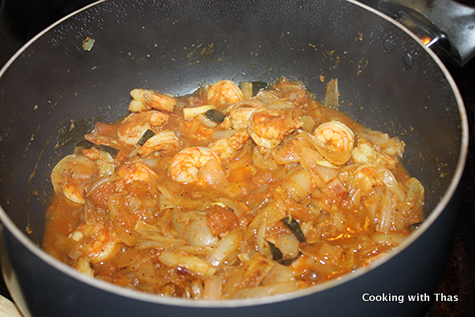 Adding Boiled tapioca to shrimp roast
After adding coconut paste
Shrimp Tapioca Masala - Shrimp Kappa Masala
Ingredients
Tapioca or Cassava, cut into rounds- 3
For making coconut paste
Grated coconut- 1 cup
Water- 3/ 4 cup
Whole Cinnamon- 1 inch slice
Fennel powder- 1 3/ 4 tsp
Turmeric powder- 1/ 4 tsp
For making Shrimp Roast
Coconut oil or vegetable oil- 2 tbsp
Onion, sliced thin- 4
Ginger-Garlic paste- 1 tbsp
Tomato, chopped- 2
Curry leaves- 1 sprig
Chili powder- 1 tsp
Coriander powder- 2 tsp
Garam Masala- 1/ 2 tsp
Turmeric powder- 1/ 8 tsp
Shrimp, deveined and shelled- 25
Water- 1/ 4 cup
Cilantro, chopped- 2 handfuls
Salt- to taste
Instructions
Peel off the tapioca skin (use a peeler instead of knife) and cut into rounds.
Fill ¾ th of a large pot with water and place over medium high heat, let the water come to a rolling boil.
Season with salt and add the cut tapiocas into the water and cook till they turn tender and soft.
Do not over cook till they are mashed up.
Drain the water and keep aside the cooked tapiocas.
In a blender, grind all the ingredients mentioned above 'for making coconut paste' into a smooth paste. Keep aside.
Place a large pot over medium heat, add oil.
Add onion, season with salt and saute till onions turn translucent.
Add ginger-garlic paste, saute for 3 minutes.
Add curry leaves and tomatoes, cook till tomatoes are mashed up.
Add chili powder, coriander powder, garam masala and turmeric powder. Combine well and cook for a minute.
Add shrimp, combine well and cook covered for a few minutes till the shrimp has cooked well.
If the mixture turns dry, add ¼ cup water and cook covered.
After the shrimp has cooked, uncover the pot and add the boiled tapioca into the shrimp masala.
Combine the tapioca along with the shrimp masala.
Pour the ground coconut paste, season with enough salt and combine well.
Taste and add more salt if needed. If you need more spice, add more chili powder accordingly.
Cook covered for a few minutes till the raw smell of the coconut goes away.
Open the pot, give everything a stir, if the mixture is watery cook uncovered for 3 minutes till the mixture has thickened.
Sprinkle cilantro over and cook for a few seconds.
Remove the pot from the heat and keep covered for a few minutes.
Serve warm on a plate and enjoy.