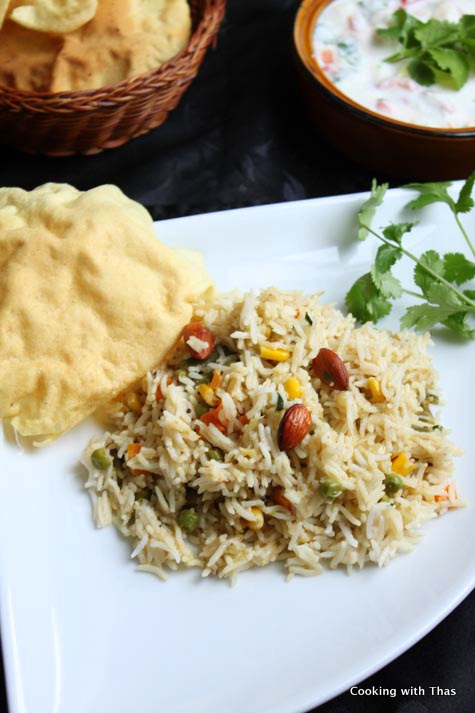 This is my all time favorite vegetable biryani as it's my mom's recipe…
I cannot think or not yet ready to try another vegetable biryani recipe as I cannot get over with the taste of this one. I seldom make veggie biryani as my man is a hard core non-veg 😛 To satisfy him I always have to make some non-veg dishes to accompany with the veggie dishes. The other day, I didn't have any meat in my freezer and so I went with veggie biryani. I did see a frown on my hubby's face so I also made fried king fish for him which put a smile on his face. Look at those fried king fish, yum!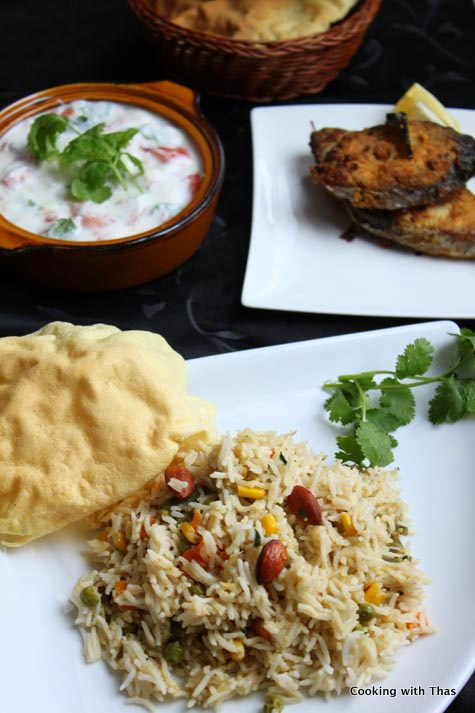 If you are someone who makes non-veg biryani often, then you would know how easy it is to make veggie biryani. We don't have to deal with the meat nor with the marination and frying part as well. Veggie biryani can be made in a breeze, if you have a pressure cooker it's much more easier as you just have to put all the veggies into the cooker and cook them, after that combine the veggie masala with the cooked basmati rice, garnish with raisins/nuts/fried onions etc.
I had frozen mixed veggies in my freezer so I used those for making the veggie masala, that made my work much more easier. Without much effort, I made this delicious and finger liking biryani. Served with yogurt raita and pappad.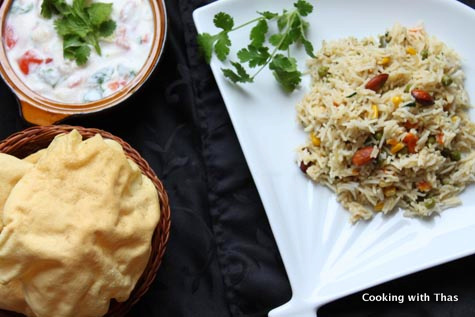 Easy Vegetable Biryani
Ingredients
To grind coarsely
Ginger, chopped- 2 inch
Garlic- 3 cloves
Cardamom- 2
Cloves- 2
Cinnamon- 2 inch
Whole pepper corns- ½ tsp
Making Vegetable Masala
Oil- 1 tbsp
Ghee or clarified butter- 1 tbsp
Onions, cut long and thin - 2, large
Curry leaves- 1 sprig (optional)
Mixed veggies, cut small- 2 cups (carrot, beans, peas, corn, potato)
Chili powder- ¼ tbsp
fennel powder- ½ tbsp
Cilantro, chopped- 2 handful
Salt- to taste
Coconut milk- ¼ cup
Making rice
Basmati rice- 2 cups
Water- 3½ cups
Salt- to taste
Ghee- 2 tbsp
Other ingredients
Saffron- 2 pinches, soaked in 1 tbsp water
Almonds or cashew nuts roasted in ghee- ¼ cup
Ghee, melted- 2 tbsp
Instructions
Cook the basmati rice in a rice cooker along with water, salt and ghee. Keep aside the cooked basmati rice.
Coarsely grind the above mentioned ingredients "to grind coarsely" in a blender. Keep aside.
Place a pressure cooker over medium heat, add oil and ghee, let it turn hot.
Add onions and a little salt, curry leaves, saute till translucent.
Add the coarsely ground mix, saute till aromatic.
Saute till the onions turn golden in color.
Add mixed veggies, combine well and cook for a couple of minutes.
Add chili powder and fennel powder, combine well.
Add coconut milk, combine well.
Add cilantro, combine well.
Add salt to taste.
Cover the cooker and cook till 2 whistles.
Let the pressure subside and open the cooker.
If the veggie mixture is watery, cook over high heat till the gravy thickens. Don't make into a dry mixture, there should be some water in the veggies.
Add the cooked basmati rice into a large wide pan, add the veggie masala over the rice, combine well into the rice.
Drizzle ghee over the rice.
Garnish with saffron and roasted almonds.
If you want you could even add fried onions, this will enhance the taste of the biryani.
Cover the biryani for some time.
Serve along with yogurt raita and pappadam or lentil wafers.