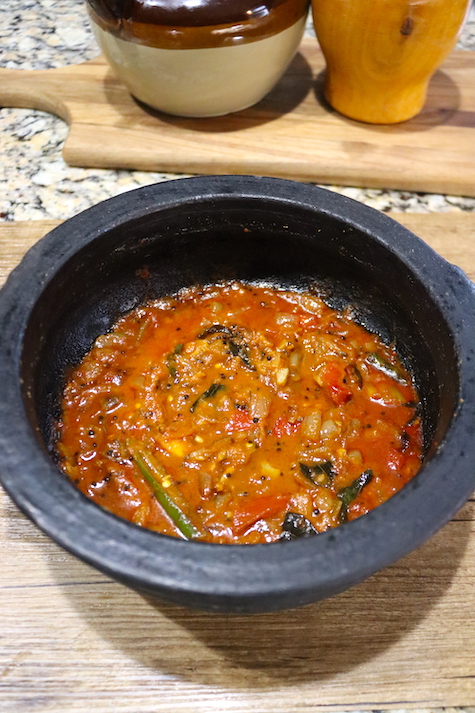 Tomato curry, perfect vegetarian side dish…
Tomato curry is a versatile dish that can be enjoyed with various accompaniments like rice, naan bread, roti, or chapati. It can be made with or without meat, making it suitable for vegetarians and non-vegetarians alike.
The other day when I made the Malabar-style fish curry, first had to make a tomato base gravy I had a taste of it & the gravy tasted so good even without adding the fish. It's like a perfect vegetarian curry, can be enjoyed with rice or chapati.
Try this easy-to-make tomato curry, it's finger-licking delish.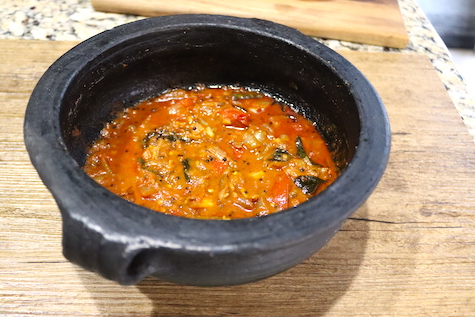 Delicious & Easy To Make Tomato Curry | Kerala Recipe
Ingredients
Coconut oil- 2 tbsp
Mustard seeds- 1 tsp
Cumin seeds- 1 tsp
Fennel seeds- 1 tsp
Shallots, chopped- 3 (or add 1 onion, chopped)
Curry leaves- 1 sprig
Green chilies, halved- 2
Ginger-garlic paste- 1 tbsp
Tomato, chopped- 2
Kashmiri chili powder- 2 tsp (for more spice add 1 tsp regular hot chili powder & 1 tsp Kashmiri chili)
Turmeric powder- ¼ tsp
Cumin powder- 1 tsp
Coriander powder- 2 tsp
Salt- 1½ tsp
Tamarind juice- ½ cup (2-inch slice fresh tamarind soaked in ½ cup warm water)
Instructions
In a bowl, soak 2-inch slice fresh tamarind in ½ cup lukewarm water for 10 minutes. After 10 minutes, squeeze the tamarind in water to extract the juice, strain the juice & discard the skin. Keep it aside.
Place a clay pan or saucepan over medium heat.
If placing the clay pan over the glass top cooktop, keep a trivet on the cooktop & then place the clay pan over the trivet, this way clay pan wouldn't crack.
To the hot clay pan, add coconut oil, let turn hot.
Add mustard seeds, let splutter.
Add cumin & fennel seeds, saute for a few seconds; don't burn the seeds.
Don't skip adding fennel seeds, imparts a nice aroma to this curry.
Add chopped shallots or you can add 1 onion chopped. Season with 1 tsp salt.
Saute for 2 minutes.
Add curry leaves, green chilies & ginger-garlic paste or grated ginger-garlic.
Saute till onions turn golden in color.
Add tomato chopped, saute for 2 minutes.
Add all the spices- Kashmiri chili, turmeric, cumin, coriander powder & ½ tsp salt.
For more spice, you can add 1 tsp regular hot chili powder & 1 tsp Kashmiri chili powder.
Combine well, add ½ cup tamarind juice & cook for 2 minutes.
Let the gravy come to a slight boil.
Serve in a bowl, enjoy as a side dish with rice or chapati.