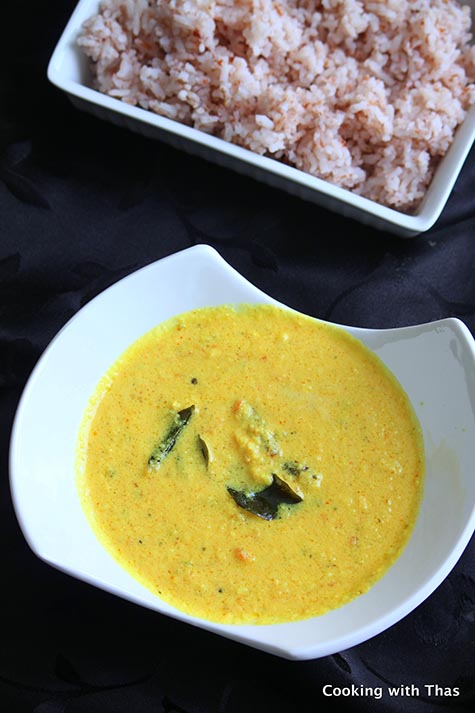 Coconut and yogurt combined together and made into a curry, poured over rice and enjoyed along with fish curry- now, that's a typical Kerala style meal.
We all know that Rice is a staple food in South India. In most South Indian houses, rice will be served for lunch along with fish or chicken or veg curries, veg stir fries, etc. One of my favorite Kerala-style meals is rosematta rice or red rice served with spicy fish curry, to ease out the spiciness of the fish curry either coconut or yogurt curry will be served with it. Combine everything and gobble up, the thought of this meal itself makes my mouth water. Tastes delicious and is truly a comfort food.
Last weekend, I made Kerala-style lunch: rosematta rice, fish curry and kale thoran or stir fry. What's missing here? Yes, the Ozhichu curry or the curry to go with fish curry. I made a simple curry with coconut & yogurt, cooked the curry in a saucepan along with the tempering. I loved this curry so much that I kept drinking it till it was finished. That content feeling!!!
Fish curry recipes
Coconut-Yogurt Curry- Ozhichu Curry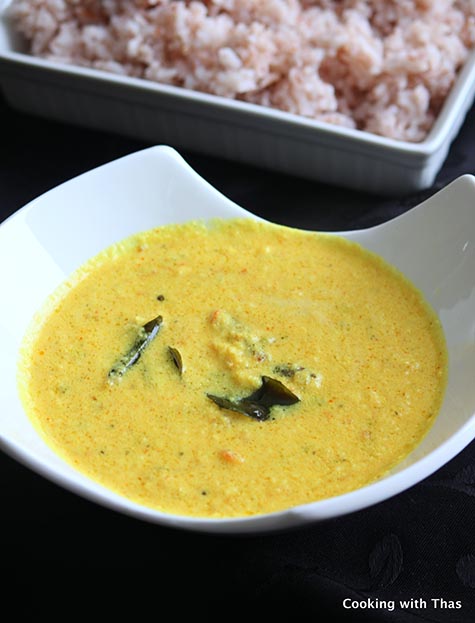 Coconut Yogurt Curry- Ozhichu Curry Recipe
Ingredients
To grind
Grated coconut- ½ cup
Cumin seeds- 1 tsp
Fenugreek seeds- ½ tsp
Green chilies- 2
Curry leaves- 5 leaves
Turmeric powder- ½ tsp
Water- ½ cup
While cooking the curry
Oil- 1 tbsp
Mustard seeds- 1 tsp
Whole dried red chilies- 2, halved
Curry leaves- 1 sprig
Yogurt, thick- ½ cup
Salt- 1 to 1½ tsp
Instructions
To a blender jar, add all the above-mentioned ingredients "to grind", grind till smooth.
Place a claypan or saucepan over medium heat, add oil. Let the oil turn hot.
Add mustard seeds, let splutter.
Add dried red chilies and curry leaves, saute for a few seconds.
Pour the ground coconut mixture & combine well.
Rinse the blender jar with ½ cup water and add the water to the pan.
Season with 1 tsp salt.
Cook for a few minutes.
In a bowl, take thick yogurt & using a whisk or fork beat the yogurt well. Don't skip beating the yogurt.
Take the pan off the heat before adding yogurt, else yogurt will curdle if added to the hot coconut gravy.
Add the beaten yogurt & combine well.
After adding the yogurt don't have to cook any further.
Have a taste and if you need more salt, add accordingly.
This curry is poured over the rice along with fish curry in Kerala.
Enjoy!