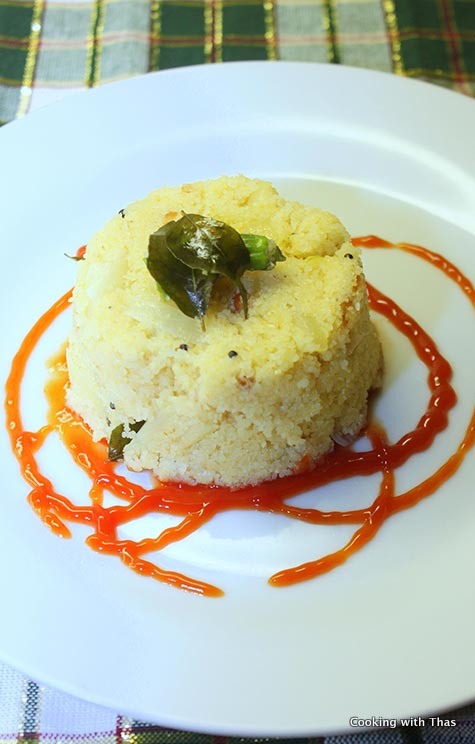 Rava or Semolina Upma is a popular breakfast in South India, and can be made in just a matter of minutes…
If you love rava or semolina or sooji and want to whip up something real quick out of it, you gotta try this recipe. This is a savoury upma with the addition of very few ingredients, the tempering added (mustard seeds/chana dal/urad dal and curry leaves) gives a nice aroma and taste to this upma.
If you are using unroasted semolina, you need to roast the semolina in a pan till aromatic. Or buy the roasted upma that's sold in most Indian stores. Even though this is a savoury version, traditional way of enjoying this upma is by sprinkling a few teaspoons of sugar over the upma just before you gobble up. The sweetness from the sugar makes this savoury upma taste incredible. So, do try with and without sugar and let your taste buds feel the difference.
There are different variations of upma, you could add nuts, veggies, eggs or even meat to this upma.
Here is the recipe for making Vegetable Upma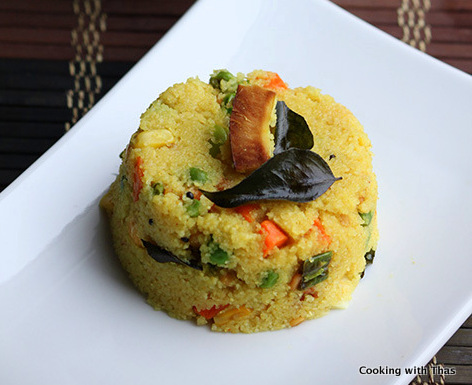 Basic Rava Upma Recipe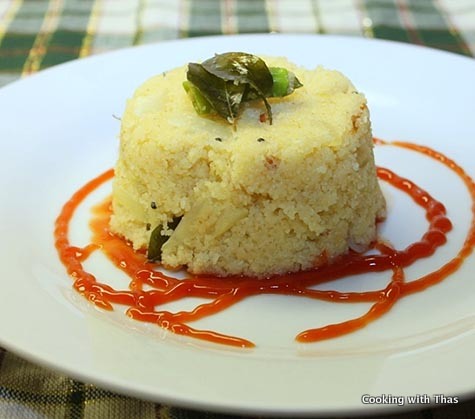 Rava Upma Recipe- How to make Upma- Quick Breakfast
Ingredients
Oil- 1 tbsp
Mustard seeds- ½ tsp
Chana dal- 1 tsp
Urad dal- ½ tsp
Curry leaves- 1 sprig
Onion, chopped- 1
Green chilies, chopped- 2 (or add dried red chilies after roasting dals)
Ginger, minced- 1 inch slice
Water- 2 cups
Semolina or Rava, roasted- 1 cup
Salt- 1 tsp
Sugar- ⅛ tsp
Ghee- 1 tsp
Instructions
If using unroasted semolina: roast the semolina in a pan along with 1 tbsp ghee for a few minutes, do not let the color of the semolina change. Or use store bought roasted semolina.
Place a wide non-stick pan over medium heat, let the pan turn hot.
Add oil, let oil turn hot.
Add mustard seeds, let splutter.
Add chana dal & urad dal, saute & let the dals turn golden brown in color.
Add curry leaves, saute for a few seconds.
Add chopped onion, season with ½ tsp salt and cook till onions turn translucent.
Add green chilies and minced ginger, saute for a couple of minutes.
Add water, 1 tsp ghee, ½ tsp salt and sugar, let water come to a boil.
Add semolina and combine well.
Keep stirring and let the semolina absorb all the water.
Lower the heat and cover the pan for 3 minutes.
Remove the pan from the heat.
Upma should be served immediately, while serving sprinkle some sugar over the upma and enjoy.
Notes
You could even serve this upma with chutney or sambar.