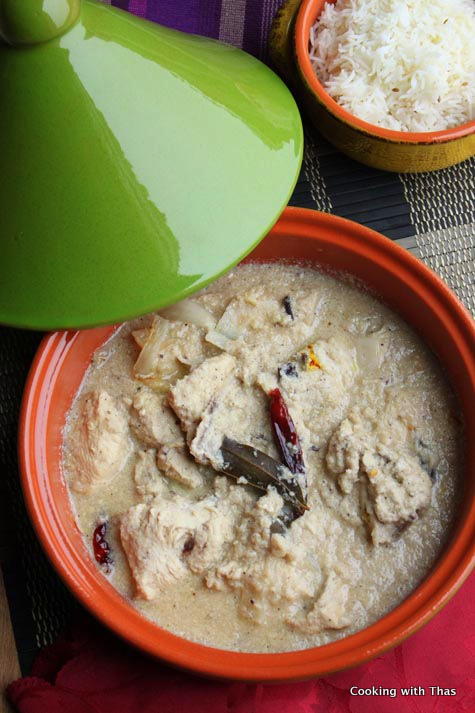 Chicken simmered in onion-almond paste and flavored up with saffron, so rich and amazingly delicious…
Mughlai cuisine is one of my favorite cuisines: the mesmerizing aroma, the tantalizing flavors and the exquisite dishes, it's irresistible and I go wild. Most of the North Indian dishes fall into this category, Mughlai cuisine is influenced by the Persian cuisine. The flavors used in this cuisine are delicate, rich and exotic.
I'd tried a few Mughlai dishes in my kitchen, each time I make those dishes I stand still inhaling the aroma that spreads out while cooking those dishes. One of the ingredients that's found in most of the Mughlai dishes is saffron. This one ingredient is enough to make the dish taste rich. Along with saffron, cashew nut paste, almond paste, poppy seed paste are also added to make it creamy and delicious.
This is an absolutely delicious Mughlai chicken curry, I am going to warn you that you are going to be a slave of this dish, it's that delish!
Flowers from my graden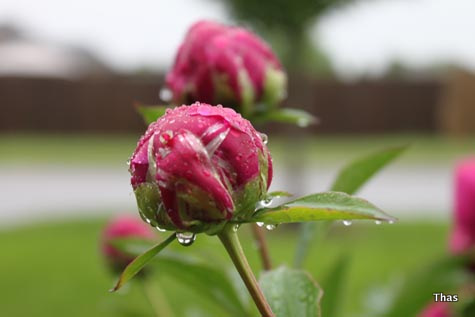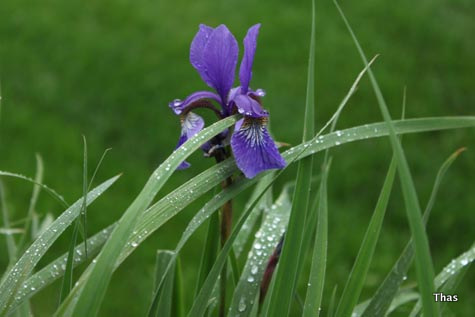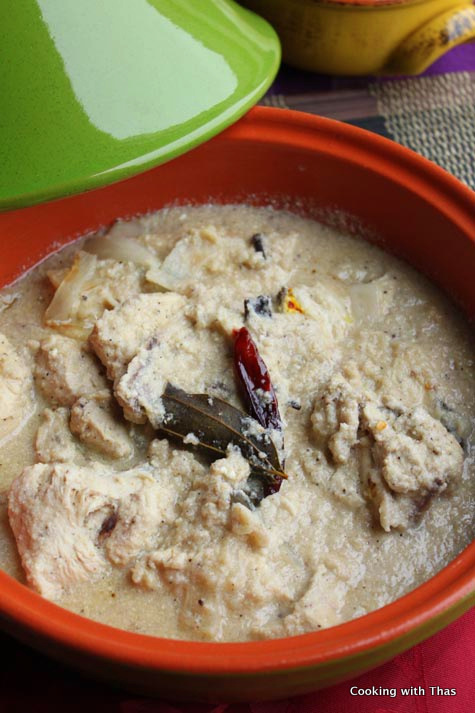 Preparation Pictures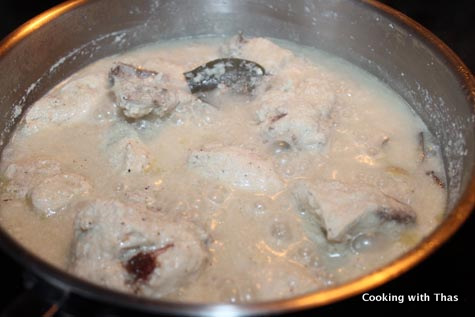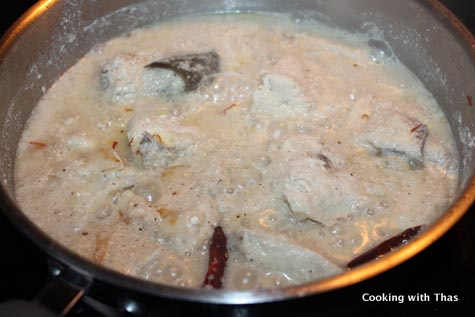 Mughlai Chicken or Chicken Rezala - Chicken in Onion Almond Saffron Sauce
Ingredients
For Marinating chicken
Chicken, bone-in- 8 pieces
Ginger-garlic paste- ½ tbsp
Ground white pepper- ½ tsp
Salt- 1 tsp
To grind
Cashew Nuts or Almonds- 3 tbsp
Poppy seeds, soaked in water- 1½ tbsp
For cooking
Ghee- 2 tbsp
Cardamom, whole- 2
Cloves, whole- 2
Cinnamon, whole- 2 inch slice
Dried Bay leaves- 2
Ground Onion- Paste of 1 onion
Ginger-garlic paste- ½ tbsp
Ground white pepper-1/2 tsp
Green chili, chopped- 1
Yogurt or Curd- 1 cup (non-sour)
Garam masala- ½ tsp
Saffron- 2 pinches, soaked in ½ tbsp water
For seasoning
Ghee- 2 tbsp
Whole dry red chili- 2
Onion, cut into wedges- 1 small onion
Instructions
In a large bowl, combine chicken along with ginger-garlic paste, ground pepper and salt, marinate for an hour.
Soak 1½ tbsp poppy seeds in 3 tbsp water for 5 minutes, drain water.
In a blender, grind poppy seeds and cashew nuts along with 2 tbsp water to a smooth paste, Keep aside.
In a blender, grind 1 large onion with 3 tbsp water to a smooth paste.
Place a large pan over medium heat, add ghee.
Add whole cardamom, cloves, cinnamon and bay leaves to ghee, saute till aromatic for 3 minutes.
Add the onion paste, and ½ tsp salt, saute for a few minutes.
Add ginger-garlic paste, saute till the raw smell of onion/ginger-garlic paste goes away.
Add green chilies and ground pepper, combine well.
Add the ground almond/poppy seed paste, cook for a few minutes.
Add the marinated chicken, combine well.
Add yogurt, combine well.
Add ½ cup water and cook covered over medium-low flame till the chicken has cooked well.
Open the lid, sprinkle garam masala, combine well.
Taste and add salt or ground pepper if needed.
Soak saffron in water, let stand for 3 minutes. Add saffron to the chicken rezala.
Cook till the gravy has thickened.
Heat a frying pan, add ghee.
Add dried red chili, saute for a minute.
Add onion wedges, sprinkle a little salt, saute till onion turns light golden brown in color.
Add this to the chicken gravy, combine well.
Remove from the heat and Keep covered for sometime.
Serve this delicious chicken rezala with paratha, naan, basmati rice etc.