Beet leaves turned into a delicious pulissery…
Pulissery is a popular Kerala-style vegetarian dish, a variety of veggies & fruits can be used for making pulissery & cooked with ground coconut & yogurt.
Vegetables like beetroot, cucumber, pumpkin, okra & fruits like plantain, pineapple, apple, and mango can be turned into pulissery.
Pulissery is also one of the side dishes served in Kerala Sadya. The bite of veggies or fruits along with the goodness of coconut & the slightly tangy taste of yogurt makes pulissery a comforting & delicious vegetarian dish & is enjoyed with rice.
Beet leaves harvested from my garden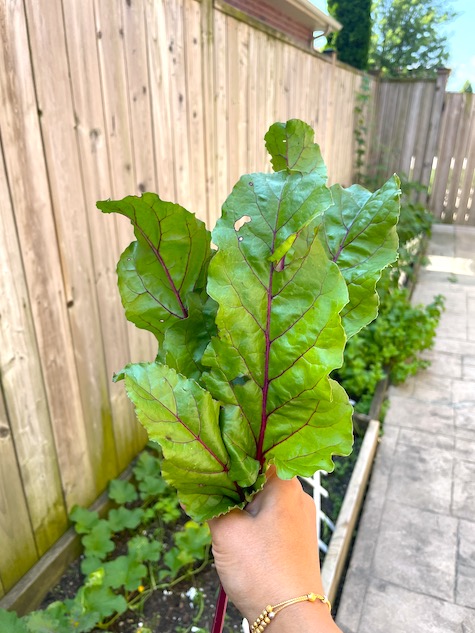 Beetroot Leaves Pulissery- Cooked With Coconut & Yogurt
Ingredients
To grind
Coconut, grated- 1 cup
Ginger- 1-inch slice
Green chili- 1
Fenugreek seeds- ½ tsp
Cumin seeds- 1 tsp
Beetroot leaves, chopped- ¼ cup
Water- ½ cup
For cooking
Coconut oil- 1 tbsp
Mustard seeds- 1 tsp
Dried red chilies- 2
Curry leaves- 8 leaves
Shallot, chopped- 1 large shallot or 3 small/pearl onions
Beetroot leaves, chopped- 1½ cups
Salt- 1½ tsp
Yogurt- 1½ cups
Instructions
To a blender jar, add all the ingredients mentioned 'to grind'. Grind to a smooth paste.
I've used beetroot leaves for making this, beet leaves can be replaced with spinach, swiss chard or even kale leaves.
I cooked the pulissery in a claypan, or use a regular saucepan.
Place the claypan over medium heat, let turn hot.
Add coconut oil, let turn hot.
Add mustard seeds, let them splutter.
Add dried red chilies & curry leaves, saute for a few seconds.
Add shallots, season with 1 tsp salt.
Cook till shallots turn golden in color.
Add beetroot leaves, saute for a few minutes till the leaves turn soft.
Add the ground coconut, combine well.
Rinse the blender jar with ½ cup water & add that.
Cook for a few minutes.
In a bowl, take the yogurt & combine well using a whisk.
Take the pan off the heat & add the yogurt; combine well thoroughly.
Don't add yogurt when the pan is placed on the heat, the yogurt will curdle if the mixture is hot.
Keep the pulissery covered for a few minutes.
Serve as a side dish with rice.