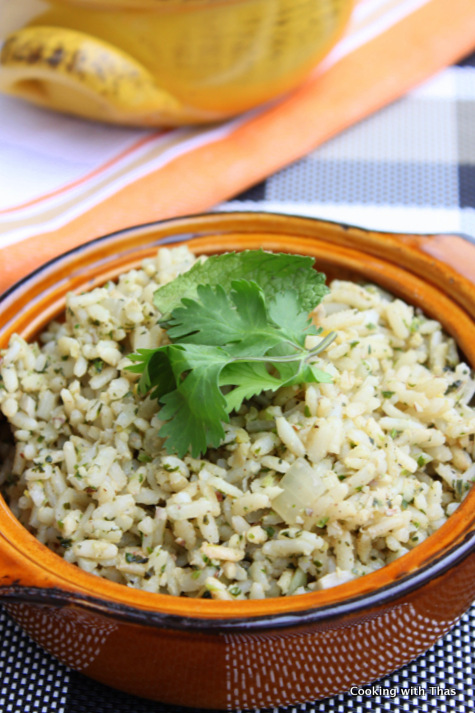 Refreshing and aromatic cilantro and mint rice…
After the Victoria long weekend, going back to the grind was a bit difficult. Glad that this week is short and it's already Thursday. We had some guests over, so I cooked some dishes for them, roamed around the city and had a fun filled long weekend. Before we knew it all came to an end, sigh!
After the freezing winter we welcome Spring whole heartedly. However, Spring allergies can make a lot of people sick including my man. Even I've started to feel sick as my sinus gets worse in warm weather. Apparently, my body is designed to live in cold weather, hence I enjoy Winter a lot. I've been brewing Chukku Kaapi or homemade herbal Basil Coffee almost twice everyday, in deed a great remedy for cold, flu, headaches etc.
Also, my bird feeding is going on well. I clicked some pictures of the beautiful little birds that comes to our backyard everyday. Here is the collage, those yellow birds are my favorites.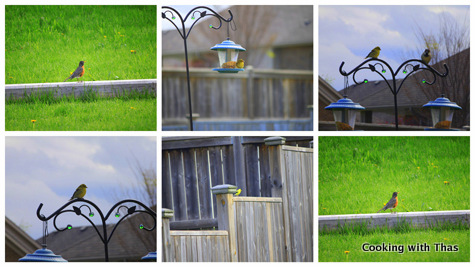 One of the easiest dishes to make is Rice, which can be served with almost any kind of curries. The other day, I tried to enhance the regular basmati rice and ended up making this aromatic and flavorful Cilantro-Mint rice. The refreshing aroma from the mint leaves and the flavor from the cilantro made this rice taste extremely delicious.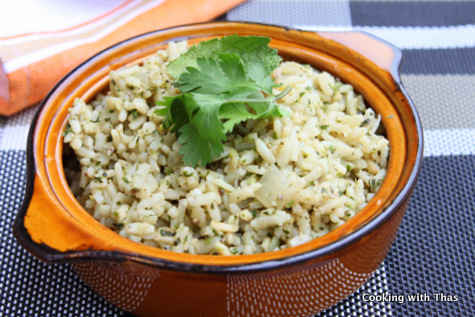 Cilantro- Mint Rice Recipe- Refreshing Rice
Ingredients
To grind coarsely
Mint leaves, chopped coarsely- ¼ cup
Cilantro, chopped coarsely- ½ cup
Ground pepper- ½ tsp
Lemon zest, grated- 2 tsp
Almonds or Walnuts, chopped- 2 tbsp
Salt- to taste
For cooking
Oil- 2 tbsp
Onion, chopped small -1
Garlic, chopped- 2 cloves
Cooked Basmati Rice- 2½ cups
Salt- to taste
Instructions
Cook 1¼ cups of basmati rice in a rice cooker along with 2 cups water and a couple of pinches of salt. Keep aside.
In a food processor, grind coarsely the above mentioned ingredients "to grind coarsely". Keep aside.
Place a wok over medium heat, add oil.
Add onion, season with salt and saute till it turns light golden in color.
Add garlic, saute for a minute.
Add the coarsely ground cilantro and mint, saute for a few minutes till it gets aromatic and slightly fried.
Add 2½ cups of cooked rice, combine well and stir fry for a couple of minutes.
Taste and add more salt or ground pepper if needed.
Serve this rice along with your favorite curries.