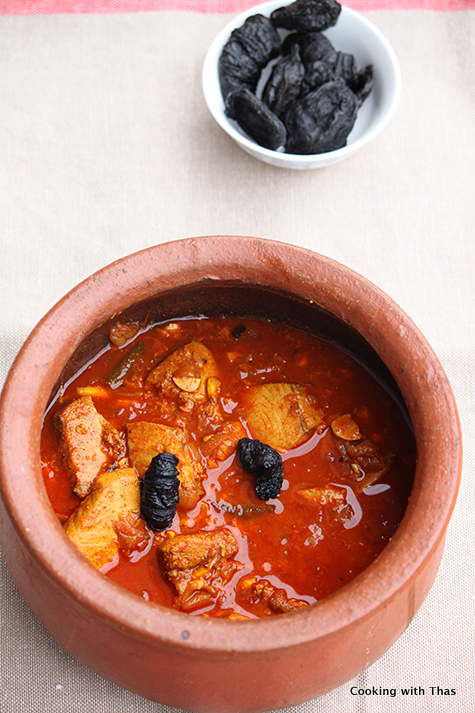 Kerala style King fish curry made with Kodampuli or Gambodge or Malabar Tamarind.
I'm enjoying this Summer with my parents and making every moment memorable. The best part is that when I'm back from work, dinner will be ready on the dining table: this happens only if my mom is with me. Today, she made this finger licking Kerala style fish curry along with coconut rice.
Kerala style fish curries are spicy and tangy. Tamarind added will impart the tangy taste. The speciality about this fish curry is that Kodampuli or Gambodge is added. Kodumpuli imparts a smoky sour flavor with a hint of sweetness.
Kodampuli has a lot of health benefits: promotes digestion, reduces cholesterol, for weight loss, increases immunity etc.
Next time, if you come across kodampuli at any Indian store, be sure to buy it and make this fish curry.
Kodampuli or Gambodge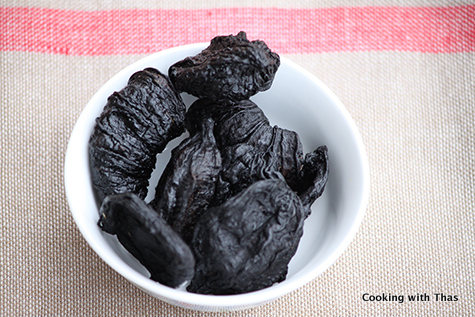 Fish curry with Kodampuli or Gambodge
Ingredients
Coconut oil- 2 tbsp
Mustard seeds- 1 tsp
Fenugreek seeds- ½ tsp
Small onions, chopped- 6
Garlic, chopped- 3 cloves
Ginger, chopped- 1 inch
Green chilies, chopped- 2
Curry leaves- 10 leaves + 1 sprig
Kashmiri red chili powder- 2 tsp
Turmeric powder- ¼ tsp
Coriander powder- 2½ tsp
Ground black pepper- ½ tsp
Kodampuli or Gambodge- 3 pieces soaked in ¼ cup water
Water- 1 cup
King fish pieces- 12 (marinated with chili powder- ¼ tsp, turmeric powder- ⅛ tsp, salt ¼ tsp)
Salt- 1½ tsp
Roasted fenugreek seeds- ½ tsp
Instructions
Soak the Kodampuli or Gambodge in ¼ water for 10 minutes.
To the king fish pieces, add ¼ tsp chili powder, ⅛ tsp turmeric powder and ¼ tsp salt and let marinate for 15 minutes.
If you have claypot, use that to make this curry. If not use a non-stick saucepan.
Place a claypot or saucepan over medium heat, let turn hot.
Add coconut oil, let the oil turn hot.
Add mustard seeds, let them splutter.
Add fenugreek seeds, let it turn golden brown. Don't burn the seeds.
Add small onions, ginger, garlic, green chilies and curry leaves, saute till golden in color.
Add Kashmiri chili powder, turmeric powder, coriander powder and ground black pepper, saute for 2 minutes till the spices get roasted. Make sure not to burn the spices.
Add the soaked kodampuli along with the water it was soaked in, combine well.
Add 1 cup water, combine well and let the gravy come to a rolling boil.
Add the marinated king fish pieces and cook covered for 25 minutes till the gravy thickens.
Taste and add more salt if needed.
Roast ½ tsp fenugreek seeds in a frying pan, grind the roasted seeds into a fine powder.
After 25 minutes of cooking, add the ground-roasted fenugreek seeds over the fish curry.
Add 1 sprig curry leaves.
Cover the pan and take if off the heat, keep it covered for a few minutes.
Enjoy with rice, chapati, appam, idiyappam, puttu, etc.
King fish curry