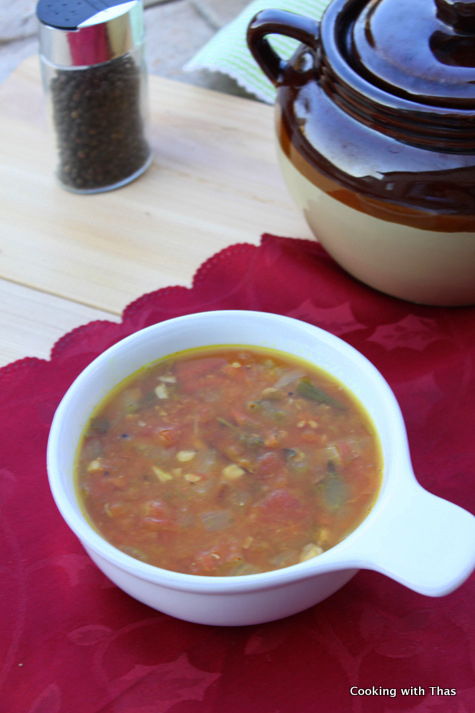 South Indian spicy and tangy curry known as Rasam, this is the most delicious rasam I've ever tasted…
This is one of the vegetarian dishes commonly found in South India and a must dish for Sadya. This is also served as a soup at some restaurants. However, in South India this is usually served as a side curry along with rice, it is poured over rice and is combined with it. Since it's spicy and tangy this curry gives a good kick and helps to open up the senses. Hence, this is good to have while having cold and also helps in digestion.
One of my favorite ways of having rasam is by combining it with rice and fish curry, tastes phenomenal.
Rasam is made differently at different places, I've tried a few versions of it and so far this is the most delicious rasam I've ever tasted.. One of the main ingredients that gives  rasam its tangy taste is tamarind.
Other Rasam recipes that I'd posted before
Recipe Courtesy: Vahchef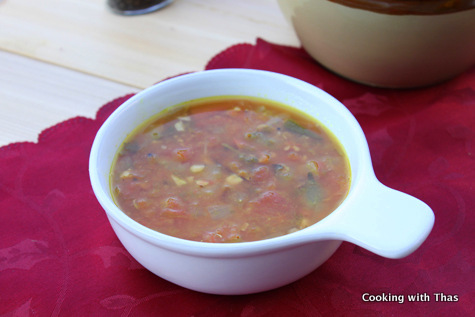 Preparation Pictures
Cooking rasam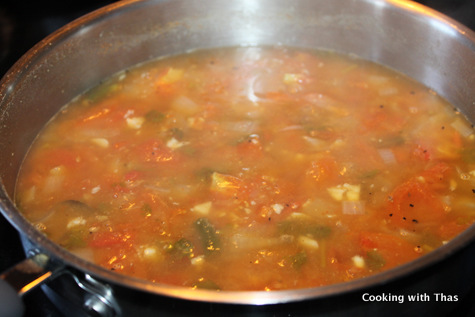 After adding the tempering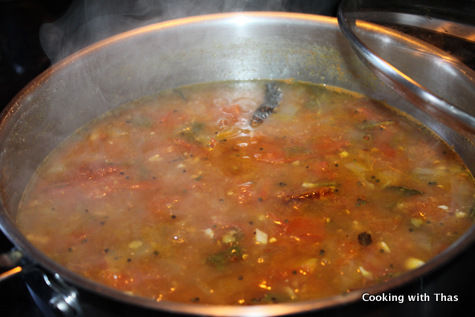 Rasam Recipe - Spicy and Tangy Curry
Ingredients
To crush in mortar and pestle
Whole black pepper corn- ½ tsp
Cumin seeds- ½ tsp
Garlic- 2 cloves
For cooking
Water-2½ cups
Tomatoes, chopped-2 large
Onion, chopped-1 small
Green chili chopped- 1, large
Garlic, chopped- 3 cloves
Chili powder-1 tsp
Coriander powder-1½ tsp
Cumin powder-1/2 tsp
Salt- to taste
Sugar- a couple of pinches
Cilantro, chopped- ¼ cup
Tamarind fresh- 3 inch slice soaked in 6 tbsp luke warm water
For tempering or seasoning
Ghee- 2 tbsp
Whole dry red chili- 2
Mustard seeds- ½ tbsp
Fenugreek seeds- 1 tsp
Urad dal- ½ tbsp
Asafetida- ¼ tsp
Curry leaves- 1 sprig
Turmeric powder- ¼ tsp
Instructions
Using a mortar and pestle crush together the whole pepper corns, cumin seeds and garlic. Or coarsely grind these in a blender. Keep aside.
Soak the fresh tamarind in luke warm water for 3 minutes, combine well in water and strain the juice from it. Discard the seeds and fibers.
In a large pot, add the ingredients for cooking: water, tomatoes, onion, green chili, garlic, chili powder, coriander powder, cumin powder, salt, sugar and cilantro.
Place the pot over medium heat and cook it.
Add the tamarind juice, combine well and cook till the tomatoes have mashed up for about 20 minutes.
Don't add too much tamarind juice as the rasam will turn very tangy, so add little by little, taste it and add accordingly.
In the meantime, let's make the tempering. Place a small frying pan over medium heat.
Add ghee, let it melt.
Add mustard seeds, let it splutter.
Add dry red chilies, fenugreek seeds and urad dal, saute till light golden.
Add curry leaves, saute for a second.
Add asafetida and turmeric powder, combine well.
Add the crushed peppercorns/cumin seeds/garlic mix, saute for a few minutes.
Do not burn the ingredients.
Immediately pour the seasoning over the cooked rasam, combine well. Cook for 5 more minutes.
Remove the pan from the heat and let stand covered for sometime.
Serve warm as a soup or along with rice.
Leftover rasam can be refrigerated, it tastes better the next day.