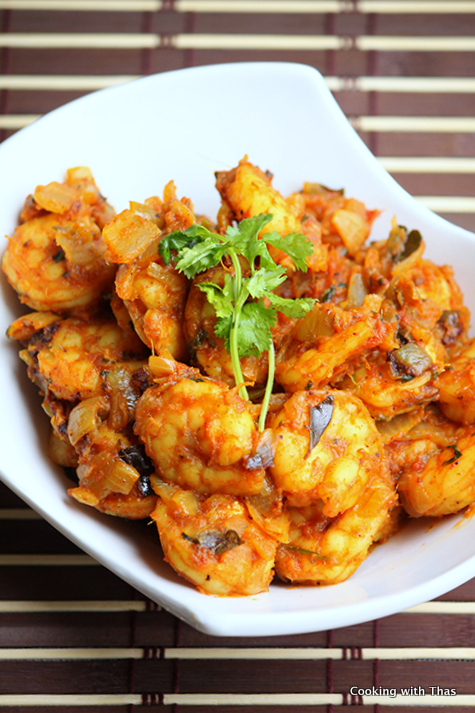 Shrimp or Prawns Masala Chettinad style…
This is an aromatic and flavorful dry dish, shrimp is roasted over high heat till it's coated with the masala and turns light brown, tastes delicious and can be served with rotis or rice.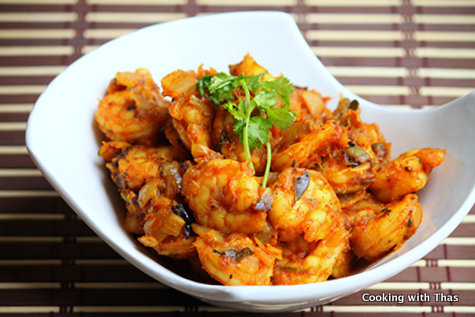 Recipe adapted from here

Chettinad Shrimp or Prawns Masala
Ingredients
To grind
Garlic- 2 cloves
Ginger- 1 inch slice
Whole Cardamoms- 2
Whole Cloves- 2
Whole cinnamon- 1 inch
Green Chili- 1
Red dry Chili- 1
Anise seed- 1 (optional)
Fennel seeds- ¼ tsp
Cumin seeds- ¼ tsp
Whole peppercorns- ¼ tsp
Water- ¼ cup
For cooking
Oil- 1tbsp
Ghee-1/2 tbsp
Onions, chopped- 2
Curry leaves- 1 sprig
Tomato, chopped- 1
Kashmiri red chili powder- ¾ tsp
Coriander powder- 1 tsp
Turmeric powder-1/8 tsp
Shrimp or Prawns, de-veined- 20
Fresh Tamarind- 2 inch slice soaked in 3 tbsp water, drained
Cilantro, chopped- ¼ cup
Lemon juice- 1 tbsp
Salt- to taste
Instructions
Into a blender, add all the ingredients mentioned 'to grind' along with ¼ cup water and grind to a paste. Keep aside.
Soak 2 inch fresh tamarind in 3 tbsp water for 5 minutes. Using your finger, squeeze the soaked tamarind in water, drain the juice and discard the skin.
Place a non-stick pan over medium heat, add oil and ghee.
Add onions and curry leaves, season with salt and cook till onions turn soft.
Add chopped tomato, cook till mashed.
Add the ground paste, combine well and cook for a few minutes.
Add Kashmiri red chili powder, turmeric powder, coriander powder and enough salt to taste, combine well and cook for a minute.
Add the shrimp, combine well.
Add tamarind juice and cook covered till shrimp has cooked well.
Open the lid, turn the heat to high and stir fry till the masala coats well on shrimp, all the liquid has dried off and shrimp turns golden brown.
Add chopped cilantro and drizzle with lemon juice.
Stir fry for a minute and remove the pan from the heat.
Keep covered for a few minutes.
Serve this with roti, chapati or rice.