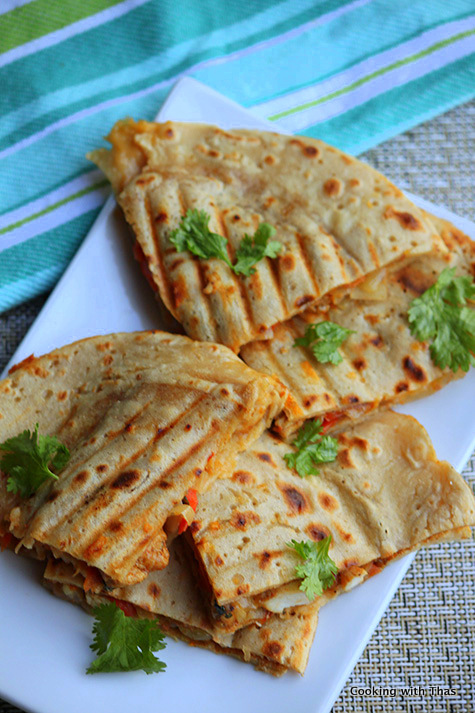 Quesadilla- Indian style and made with homemade wheat crepes…
One of my favorite Mexican dishes is Quesadilla- the crunchy and grilled tortilla along with cheese and the chicken filling, together it's a delicious dish.
I made Indian style Quesadilla by making chicken filling seasoned with Indian spices and stuffed the filling between wheat crepes and grilled them till crispy. It tasted yummy.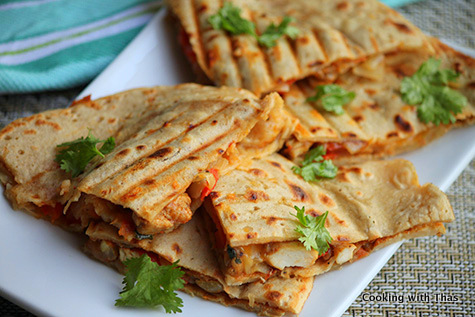 Indian Style Quesadilla- Using Wheat Crepes
Ingredients
For marinating Chicken
Chicken breasts, diced- 2
Chili powder- ½ tsp
Fennel powder- ½ tsp
Coriander powder- 1 tsp
Garam Masala- ½ tsp
Salt- a few pinches
For making Chicken Filling
Oil- 1 tbsp
Onion, chopped- 2
Tomatoes, chopped- 2
Red pepper, chopped- 1
Garam masala- ½ tsp
Coriander powder- 1 tsp
Salt- to taste
Cilantro, chopped- 2 handfuls
For making Wheat Crepes
Wheat flour- 2 cups
Water- enough to make a smooth batter
Salt- 2 pinches
Other ingredients
Instructions
In a bowl, combine all the above mentioned ingredients for marinating chicken.
Place a saucepan over medium heat, add the marinated chicken and cook covered till chicken has cooked well and the water has dried off. At this point, you could even add 1 tbsp oil and stir fry the chicken till golden brown. Keep aside the chicken.
Place a wide cooking pan over medium heat. Add oil.
Add onion, season with salt and saute till translucent.
Add tomatoes, cook covered till tomatoes are mashed up.
Add red pepper, cook for a few minutes.
Add garam masala, coriander powder and salt to taste, combine well.
Add cooked chicken, combine well and cook for a couple of minutes.
Add chopped cilantro, combine well.
Remove the pan from the heat and keep covered.
Making Wheat crepes
In a blender, add wheat flour and enough water and grind to a smooth batter.
Pour the batter into a bowl, add salt and combine well.
Place a non-stick cooking pan over medium heat, grease with non-stick cooking spray.
While pouring the batter, remove the pan from the heat.
Pour one large spoonful of batter onto the pan, using the back of the spoon spread the batter into round shape.
Place the pan over the heat and let bottom side turn golden.
Flip it over and let the other side cook and golden brown blisters form.
Remove the wheat crepe from the pan. Keep aside on a platter.
Making Quesadilla
Place a wheat crepe on a plate. Evenly spread the prepared chicken filling over the crepe, spread cheese over the chicken filling. Top with another wheat crepe, press it down.
Place the stuffed crepes on a panini maker or grill and grill till the cheese has melted.
If you don't have a panini maker: Place the stuffed crepes on a non-stick pan at low heat, cover with the lid and cook till the cheese melts and crepes turn slightly crispy.
Cut into wedges and serve warm along with sour cream, salsa etc.