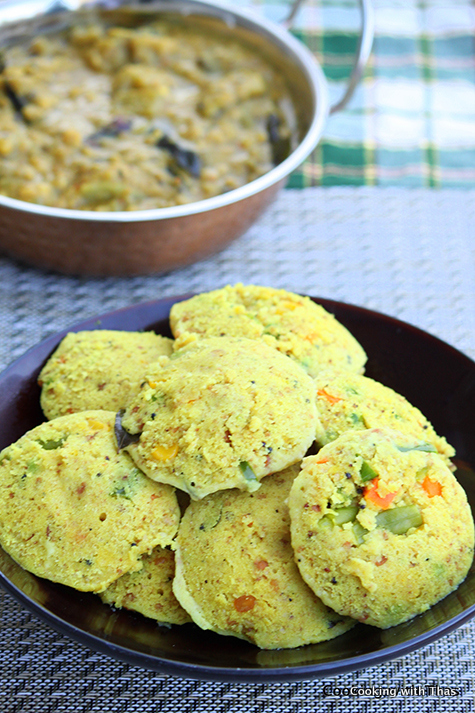 Oats Idli or steamed oats cake, by adding oats idlis got a healthy makeover…
One of the popular South Indian breakfasts is Idli. Traditionally, the idli batter is made by grinding soaked rice and urad dal which is then allowed to ferment overnight, the batter is then poured onto idli molds and is steam cooked. It resembles a soft and spongy round cake so it can be also called steamed rice cakes.
Idli batter can be made with different ingredients like semolina or soji, rice flakes or aval, etc. Making idlis are quite easy, the only time-consuming part is the fermentation of the batter which takes about 7 to 8 hours. But, if you add Eno (fruit salt) or baking soda to the batter it will instantly ferment the batter.
I love oats and the thought of making idlis with oats was exciting. Oats are roasted and powdered, then it's combined with semolina, mixed veggies, tempering, yogurt, and water. Eno or baking soda was added to speed up the fermentation and to make the batter airy which will, in turn, make the idlis spongy.
I served the oats idlis with Tomato-green pepper-cilantro chutney.
Recipe for making traditional rice/urad dal idli, Click here
Recipe for Roasted Coconut Chutney, Click here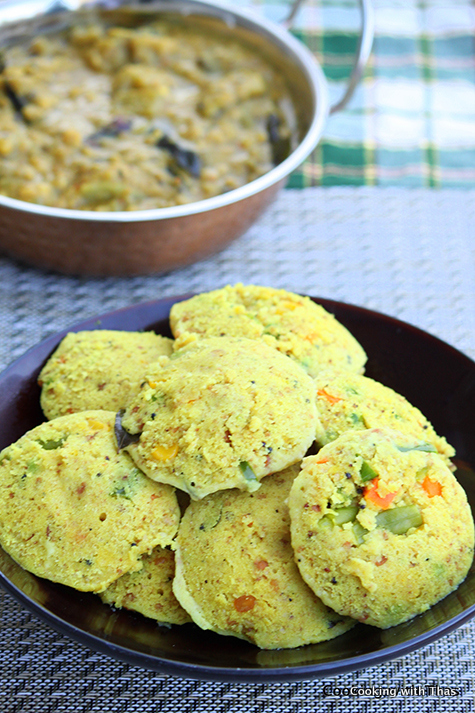 Cooking Video
Easy Instant Oats Idli - Steamed Savory Oats cake - Healthy Idli
Ingredients
Instant Oats- 2 cups
Semolina or soji or rava- 1 cup
Coconut Oil- 2 tbsp
Mustard seeds- 1 tsp
Chana dal- 1 tbsp
Urad dal- ½ tbsp
Curry leaves- 1 sprig
Ginger, grated- 1 tbsp
Green chilies, chopped- 1 tbsp
Mixed veggies- 1 cup
Turmeric powder- ½ tsp
Yogurt or curd- 1 cup
Water- 1½ cups (enough for making thick batter)
Lemon juice- 1 tbsp
Cilantro, chopped- 2 tbsp
Eno (fruit salt) or baking soda- 1 tsp
Salt- 1 tsp
Instructions
In a food processor, grind the instant oats to a coarse powder.
In a large bowl, combine ground oats & semolina. Keep aside.
Place a large pan over medium heat, add oil.
Add mustard seeds, let it splutter.
Add chana dal and urad dal, saute till they turn light golden in color.
Add ginger, green chilies and curry leaves. Saute for a minute.
Add mixed veggies, season with salt, cook for 2 to 3 minutes.
Add turmeric powder, combine well.
Cook for 2 minutes.
Remove the pan from the heat.
Add the roasted veggies to the oats & semolina.
Add yogurt, water, lemon juice, cilantro and salt.
Add baking soda or fruit salt, combine well.
The batter shouldn't be too watery nor too thick. It should have the idli batter consistency.
I've added baking soda, that's why the idlis are not that porous. Adding eno will make idlis very porous.
Grease the idli molds with oil.
Pour the batter to each mold, stack up the idli plates.
I've cooked the idlis in the Instant Pot.
Can be cooked in steam cooker or idli cooker.
Add 1 cup water to the stainless steel pot. (Don't add more than 1 cup water, water level should be lower than the idli plate at the bottom)
Place the stacked up idli plates onto the water.
Close the pot with the lid.
Select pressure cook setting, set time to 3 minutes at high pressure.
Click start if using Instant Pot Ultra model.
After 3 minutes of pressure cooking, let pressure release naturally for 5 minutes and then do a quick pressure release.
Open the lid.
Remove the idli plates from the stainless steel pot.
Let cool down for a minute.
If there is liquid on the plate, gently drain the liquid.
Enjoy warm along with Chutney or Sambar, YUM!
Notes
You could use baking soda instead of eno, however the idlis wouldn't be that spongy and porous.