Boiled and pan fried potatoes cooked in a flavorful yogurt gravy, vegetarian delicacy…
Every time I try a new vegetarian dish, I fall more in love with the vegetarian food world. Even though I make non-vegetarian dishes on a daily basis, I do appreciate and enjoy many vegetarian dishes, especially Kerala dishes. For the last few days, I'd been trying new vegetarian dishes and now I'm tempted to try more. So, stay tuned for some vegetarian madness on my blog.
In this dish, small potatoes are first boiled in water and then pan fried. A flavorful gravy was made with onion, tomatoes, Indian spices and yogurt. Potatoes are allowed to cook in the gravy till they absorbed the gravy and was well incorporated. A tasty vegetarian potato dish that can be served with rotis or rice.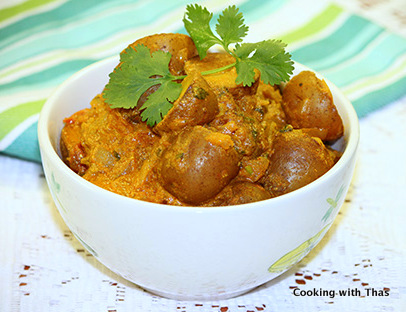 Potato Masala- Potato in Yogurt gravy
Ingredients
Potatoes, small- 10 (if using big ones, use 5 and quarter them)
Oil- 3 tbsp, for pan frying potatoes
For making Gravy
Oil- 1 tbsp
Cardamom whole- 2
Cloves- 2
Bay leaves- 2
Onion, chopped small- 1
Ginger-Garlic paste- ½ tbsp
Tomatoes, chopped- 3, medium sized
Kashmiri Chili powder- 1½ tsp
Turmeric powder- ⅛ tsp
Cumin powder- ½ tsp
Coriander powder- 1½ tsp
Salt- a few pinches
Water- ½ cup
Beaten Yogurt- ½ cup (not sour)
Cilantro, chopped- 2 handfuls
Dried Fenugreek leaves- 1 tsp ( or use dried oregano)
Instructions
I used small potatoes, if using big ones- quarter the potatoes.
Cook the potatoes in boiling water till they have turned slightly soft- do not over cook them.
Drain the water and let cool down a bit.
Half the small potatoes (if using small potatoes).
Place a non-stick pan over medium heat, add 3 tbsp oil. Place the halved potatoes on the oil and pan fry till golden brown in color.
Transfer to a plate lined with kitchen paper towel. Keep aside.
Place a saucepan over medium heat, add 1 tbsp oil and let it turn hot.
Add whole cardamom, cloves and bay leaves, saute for a few seconds.
Add onion, season with salt and saute for a few minutes.
Add ginger garlic paste, saute till onions turn golden in color.
Add tomatoes, cook till mashed up.
Add Kashmiri chili powder, turmeric powder, cumin powder, coriander powder and salt. Combine well and cook for a few seconds.
Add water, combine well.
Add yogurt that's beaten well using a whisk (this is to prevent curdling), combine well and let gravy come to a slight boil.
Add pan fried potatoes. combine well and cook covered for a few minutes.
If you want more gravy, you could add some more water to thin down the gravy and cook for a few minutes.
Add chopped cilantro and dried fenugreek leaves, combine well and cook for a minute.
If you don't have dried fenugreek leaves, add dried oregano instead.
Remove the pan from the heat, keep covered for a few minutes.
Serve along with roti or rice and enjoy.
Notes
You can replace potatoes with paneer, hard tofu, cauliflower, boiled eggs etc.