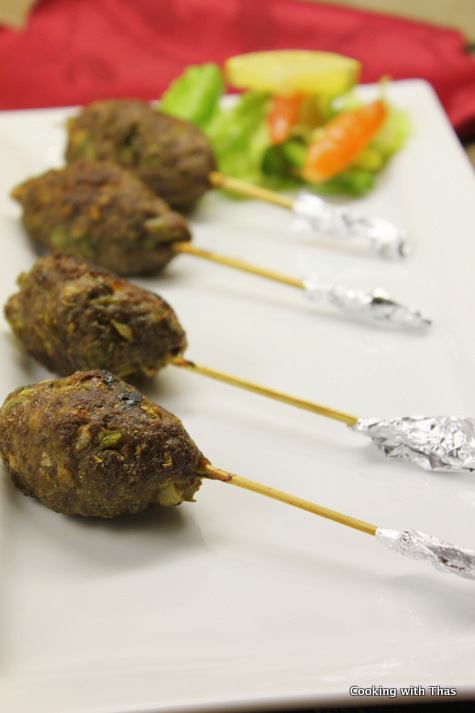 Easy to make kebabs, it's baked too…
Doesn't it look like beef lollipops??? Beef lollipop does sound fancier than kebabs. No matter how you call it, these kebabs are super easy to make and tastes delicious too. Just combine all the ingredients, roll it over the skewers and pop it in the oven. This will make a perfect appetizer or finger food, or can be served as a main dish served over a bed of rice, couscous or salad.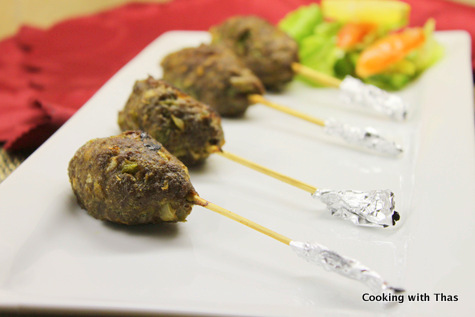 Preparation pictures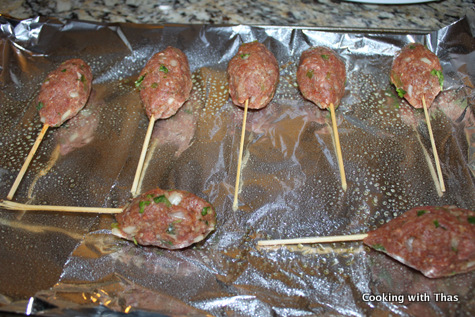 Baked Ground Beef Kebab Recipe
Ingredients
Ground beef- ½ lb or ¼ Kg
Onion, minced- 1, small
Green pepper, minced- 1, small
Jalapeno, pickeled minced- 7 slices (optional)
Paprika- 1 tsp
Ground cumin- ½ tsp
Coriander powder- 1½ tsp
Ground black pepper- ½ tsp
Garam Masala- ½ tsp
Bread crumbs- 2 tbsp
Salt- to taste
Instructions
Preheat oven to 375 F.
Soak the skewers in water for 15 to 20 minutes, this will prevent them from burning.
In a large bowl, combine all the above mentioned ingredients.
Make sure to mince the onions and green peppers.
If using a long skewer, cut into halves.
Make a round shape out of the ground beef mixture, roll it over the skewer, spread it well.
Place all the skewers on a baking sheet lined with aluminum foil and greased with non-stick cooking spray.
Spray the cooking spray over the beef mixture as well.
Bake for 30 minutes, remove the baking sheet from the oven, flip the beef skewers over and bake for another 10 to 15 more minutes.
Serve warm over a bed of rice or couscous or with salad.