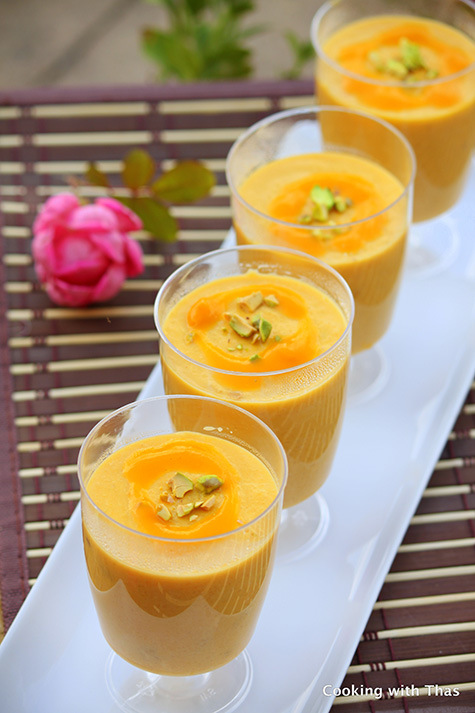 Mango Phirni- an incredible chilled dessert made with ripe mangoes…
When mangoes are in season, you gotta make mango phirni- it's an easy to make dessert, rich, creamy and tastes delicious. For me, any dessert that has ripe mangoes in it are delicious. Here is yet another easy mango dessert that you can try: mango pudding.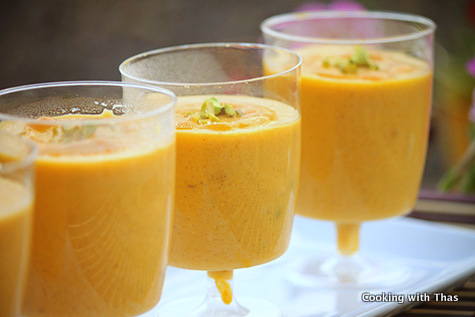 This is an Indian dessert- thickened milk, ground rice and dried nuts are first cooked well and then mango puree is added to it and chilled. Ground rice when cooked will make this dessert thick, it will resemble to custard. Tastes incredible when chilled, an absolute favorite dessert for summer.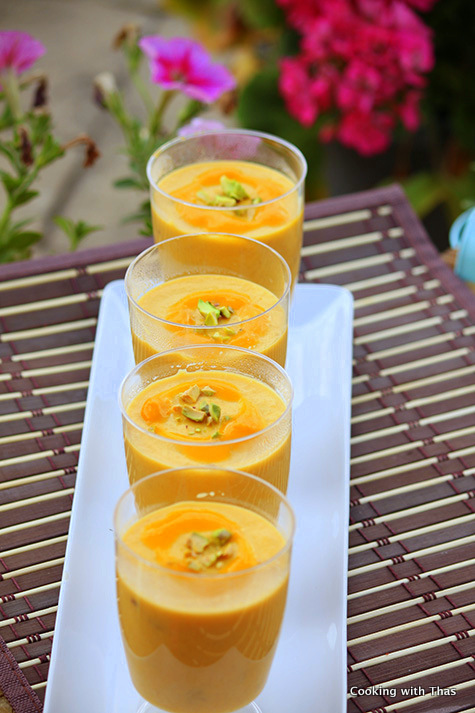 Easy to make Mango Phirni
Ingredients
Whole milk- 4 cups
Basmati rice- ¼ cup soaked in water for 30 mins
Sugar- ¾ cup (or use ½ cup condensed milk)
Cardamom powder- ¼ tsp
Saffron- 2 pinches soaked in 1 tbsp water
Dried nuts, chopped- ¼ cup (I used almonds & pistachios)
Mango puree- 1 cup
Pistachios, chopped- to garnish
Instructions
Soak basmati rice in water for 30 minutes till it turns soft.
Soak 2 pinches saffron around 10 strands in 1 tbsp water.
Grind the soaked rice along with ¼ cup water or milk to a coarse grainy paste. Keep it aside.
Place a wide non-stick cooking pan over medium heat, add 3¾ cups milk, let it come to a slight boil.
Simmer and cook till milk has thickened and reduced to half its original quantity.
Add ground basmati rice, combine well.
Add cardamom powder, saffron and sugar or condensed milk.
Combine well and keep stirring till the rice has cooked well, keep stirring else lumps will form.
Add dried nuts, cook for a few minutes.
Lower the heat, add mango puree and combine well till well incorporated.
Remove the pan from the heat. Let cool down for sometime.
Pour into dessert bowls and chill in the refrigerator for an hour.
While serving, garnish with chopped pistachios. If you want you could also drizzle mango puree on top. Enjoy.