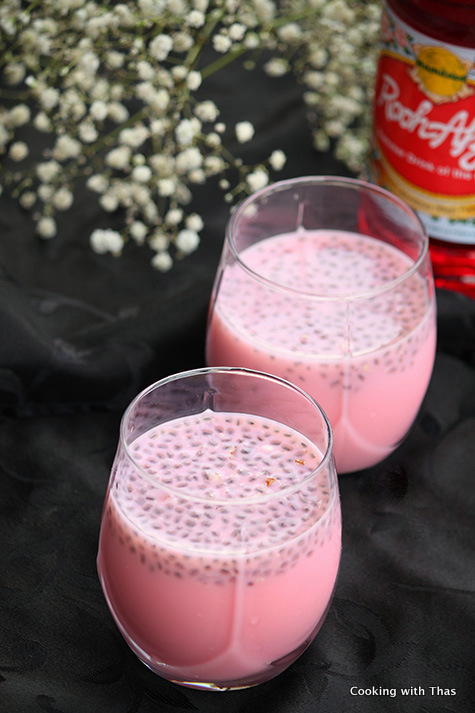 Chilled Rooh Afza milk with basil seeds- refreshing summer drink…
Rooh Afza is a staple drink for most people in India, Pakistan and Middle East during Ramadan and Summer. It has a nice aromatic rose flavor and cooling ingredients that make it a perfect thirst quencher for Summer. My grandfather is a huge fan of this and this was the only thing he had asked me to take it for him when I visited him. In North America, you will find this in most Indian and Middle Eastern stores.
Not just adding the syrup to water or milk, you can even make different kinds of sweets and desserts with this. I'd made panna cotta after flavoring the heavy cream with rooh afza syrup.
Rose-Raspberry Panna Cotta: recipe click here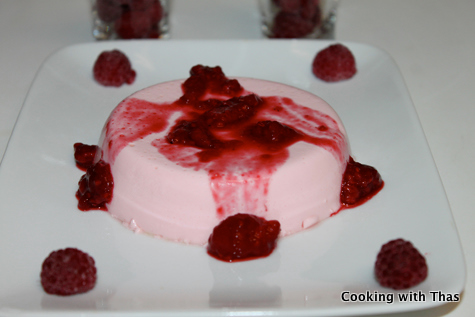 Falooda with Rooh Afza Recipe: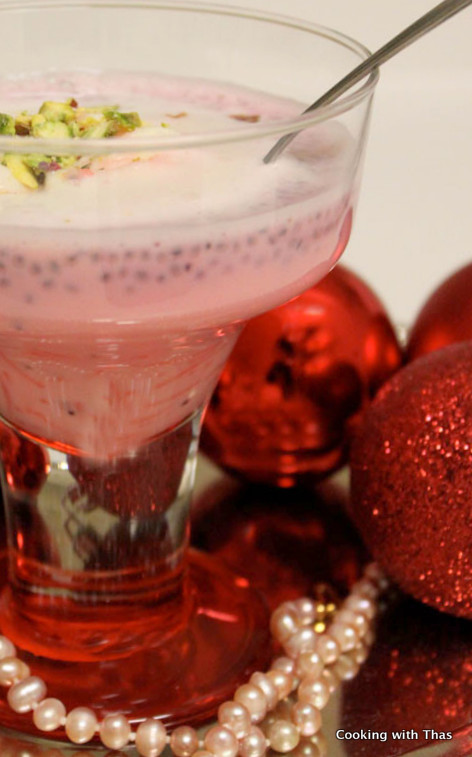 Drizzle rooh afza over ice cream, custard, falooda or puddings, enhances the taste greatly. Next time, when I make a cake, I'm going to add this while whipping the cream and make a delicious frosting. Fillings for macarons, so many idea I'm getting. Stay tuned for all the recipes…
I love the addition of basil seeds, hence I tend to add that to most of my drinks. I also added cardamom powder and mixed nuts, together this chilled milk tasted delish.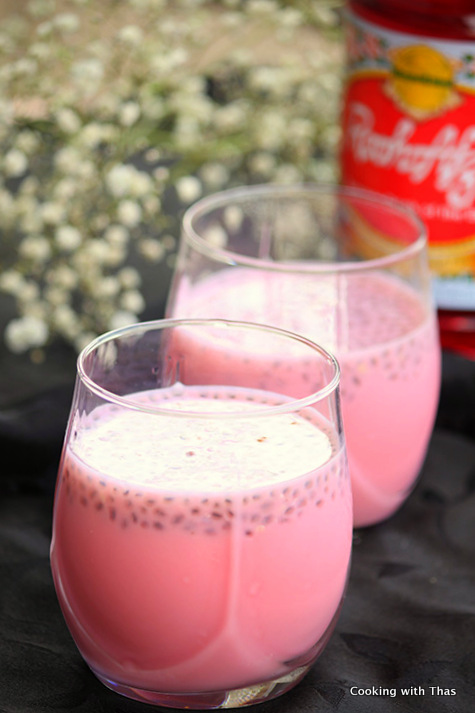 Chilled Rooh Afza Milk
Ingredients
Chilled Milk- 1½ cup
Basil seeds- ½ tbsp soaked in ¼ cup water
Rooh Afza Syrup- 2 to 3 tbsp
Cardamom powder- 2 pinches (or add 1 smashed whole cardamom) (Optional)
Mixed nuts, chopped- 3 tbsp (almonds, cashew nuts, pistachios etc)
Instructions
In a bowl, soak basil seeds in water for 10 to 15 minutes till they have plumped well.
In a mixing bowl, combine all the ingredients well.
Add rooh afza syrup according to your sweet level.
Adding cardamom powder is optional, it gives a nice aroma.
Pour into glasses and enjoy this aromatic and cooling drink.