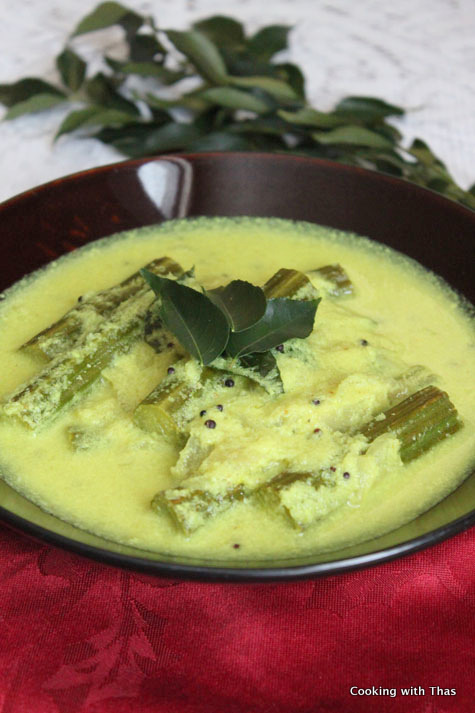 A simple vegetarian curry…
At my parent's there is a huge drumstick tree which stands tall at the front yard, they make a lot of drumsticks year round. Last time, when I'd visited my parent's, my mom had made many dishes with drumstick. I am not talking about chicken drumstick, this is vegetarian drumstick which looks like drumsticks, hence the name. It's widely available in South India, I don't think it's available in North India. However, I am so glad that fresh drumsticks are always seen at the Indian store in my city. Not just the vegetable, the leaves are used for cooking too. In fact, the leaves are rich in Iron and other essential vitamins and minerals. Unfortunately, I haven't seen leaves being sold in US and Canada.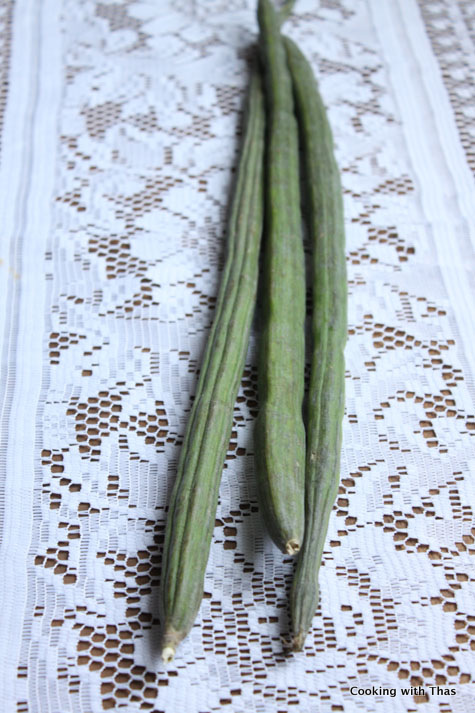 Cut drumsticks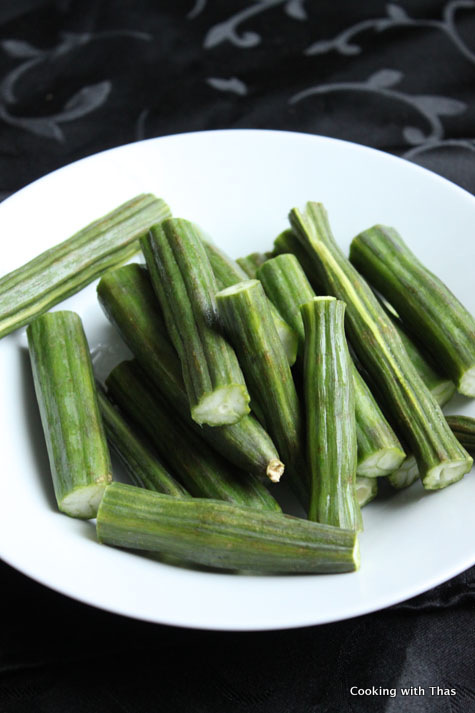 The other day, when I went shopping at the Indian store I couldn't resist buying the fresh and crisp drumsticks. Drumsticks shouldn't be kept for long as it will dry up fast. You can freeze it, but it doesn't taste that good when kept in the freezer. So, I always try to cook it right away. I made this simple drumstick and coconut curry. This curry is usually served along with spicy fish curry and rice; this mild tasting curry compensates the very spicy fish curry.
Health benefits of Drumstick leaves:
Cook the drumstick leaves in water along with ground pepper and salt. Strain the water and drink it. It helps to increase the haemoglobin level in our body.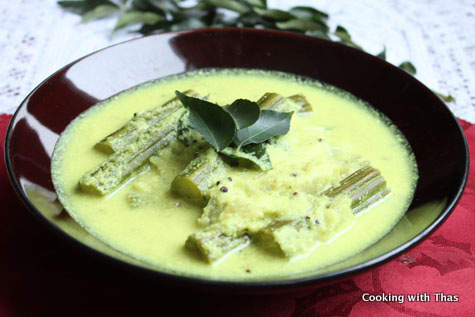 Drumstick Coconut Curry or Muringakka Thenga ozhichu kootan
Recipe type:
Vegetable Curry
Ingredients
For grinding
Coconut, grated- 1 cup
Green chilies, chopped- 2 or 3
Turmeric powder- 1 tsp
Cumin seeds- ¼ tsp
Small onions, chopped- 3
Water- 1 cup
For making curry
Oil- 1 tbsp
Mustard seeds- 1 tsp
Curry leaves- 1 sprig
Small onions, cut long- 10 (or use 4 large shallots)
Drumsticks, cut 3 inch long- 3
Salt
Instructions
Combine all the above mentioned ingredients "for grinding" in a blender and grind to a smooth paste.
Place a saucepan or clay pot over medium heat.
Add oil, let it turn hot.
Add mustard seeds, let it splutter.
Add curry leaves, small onions and a few pinches of salt, saute till translucent.
Add drumstick and add ¼ cup water. Cook covered for 5 minutes till drumsticks turn tender.
Open the lid, add the ground coconut paste.
Add some water to thin down the gravy, combine well.
Add salt to taste.
Cook covered for 5 to 7 minutes.
Remove the pan from the heat and keep covered.
Serve with rice, this curry is usually served along with spicy fish curry.
Step by Step Pictures