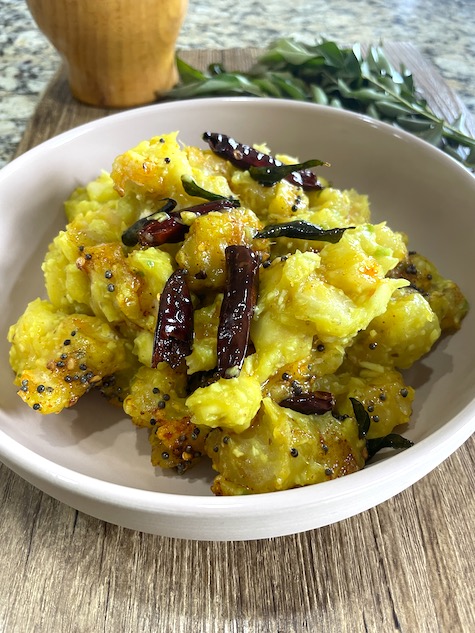 Tapioca cooked with ground coconut, it's a Kerala vegetarian delicacy…
Kappa Puzhukku is a popular traditional dish from the South Indian state of Kerala. It is a simple and delicious dish made with boiled and mashed tapioca (also known as yuca or cassava) mixed with grated coconut, green chili, garlic, and a few other spices. Sharing the recipe for Kappa Puzhukku. This is usually enjoyed with fish curry. I also have it with chicken or beef curries as well, tastes delish.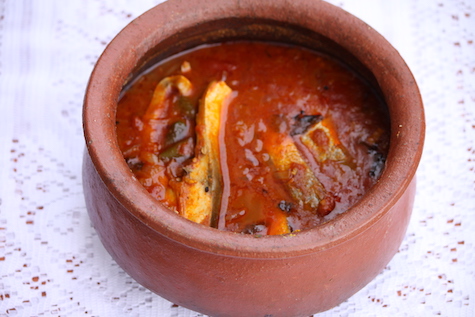 Kerala Style Kappa Puzhukku- Tapioca Or Yuca With Coconut | Instant Pot Recipe
Ingredients
Raw tapioca, diced- 4 cups
Salt- 1 tsp
Water- 1½ cups
For grinding
Grated coconut- 1½ cups
Garlic cloves- 2
Green chilies, halved- 2 or 3
Cumin seeds- 1 tsp
Turmeric powder- ¼ tsp
Water- ¼ cup
For making tempering
Coconut oil- 2 tbsp
Mustard seeds- 1 tsp
Dried red chilies, halved- 3
Curry leaves- 10 leaves
Kashmiri chili powder- ½ tsp (optional)
Instructions
I've taken 3 raw tapiocas, peel off the skin & dice them up; there will be around 4 cups.
You can also use frozen tapioca, available in Indian stores. Rinse the frozen tapioca in water.
I'm using my Instant Pot for pressure cooking the tapiocas. You can use a regular pressure cooker or cook over the stovetop.
Add the diced tapiocas to the stainless steel pot.
Season with 1 tsp salt & add 1½ cups water. Combine well.
Close the pot with the lid.
Select pressure cook setting, set the time to 12 minutes at high pressure.
If cooking over stovetop: add water to a large pot & let come to a slight boil, add the tapioca & salt & cook for 20 to 25 minutes till the tapioca has turned fork tender.
After 12 minutes of pressure cooking, let the pressure release naturally for 5 minutes & then do a quick pressure release.
Open the lid, the tapioca will be cooked perfectly & fork-tender.
There will be some liquid in the pot, drain the liquid.
Using a spoon gently mash the tapioca, don't mash up completely.
Into a blender jar, add the above-mentioned ingredients 'for grinding' & grind to a coarse paste.
Add the ground coconut to the cooked tapiocas, combine well.
Rinse the blender jar with ¼ cup water & add that to the tapioca, mix well.
Turn on saute setting at medium or normal temperature.
Season with ½ to 1 tsp salt.
Cook for a few minutes till the raw smell of coconut & garlic goes away.
Cancel saute setting & keep it covered.
For making tempering: place a small frying pan over medium heat, add coconut oil & let oil turn hot.
Add mustard seeds, let splutter.
Add dried red chilies & curry leaves, saute for a few seconds.
Take the pan off the heat & add ½ tsp Kashmiri chili powder. This is optional.
Combine well & immediately pour over the cooked tapioca with coconut.
Keep it covered for some time so that all the aroma will infuse into the dish.
In Kerala, this is enjoyed with fish curry- pour spicy fish curry over the tapioca & enjoy.
I also enjoy this with chicken or beef curries, tastes delish.