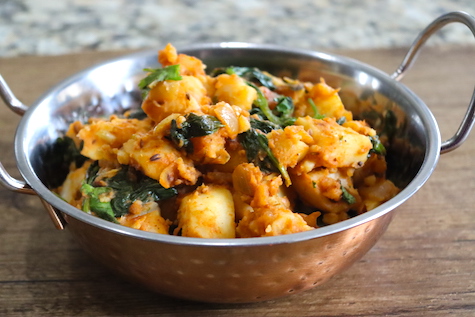 Delicious potato spinach curry cooked in the Instant Pot…
Aloo palak is a popular Indian dish made with spinach and potatoes. "Aloo" means potato in Hindi, and "palak" means spinach. The dish is usually prepared by cooking potatoes and spinach together with a blend of spices and seasonings.
I'm sharing the Instant Pot version, this curry can be enjoyed with rice or chapati.
Potato Spinach Curry Vegetarian Dish | Aloo Palak Indian Recipe - Instant Pot
Ingredients
Potatoes- 3, diced into large chunks
Oil- 2 tbsp
Cumin seeds- 1 tsp
Garlic, chopped- 2 cloves
Dried red chili flakes- 1 tsp
Onion, chopped- 1
Tomatoes, chopped- 2
Chili powder- 1 tsp
Turmeric powder- ¼ tsp
Coriander powder- 1 tbsp
Garam masala- 1 tsp
Salt- 1½ tsp
Tomato paste- 2 tbsp
Spinach leaves- 2 cups
Water- ¼ cup
Lemon juice- ½ tbsp
Cilantro, chopped- ¼ cup
Instructions
Dice the potatoes into large chunks.
Add the potatoes to the stainless steel pot along with ½ tsp salt & 1½ cups water.
Close the pot with the lid.
Select pressure cook setting, set the time to 2 minutes at high pressure.
After 2 minutes of pressure cooking, do a quick pressure release.
Open the lid & drain the water.
Transfer the potato to a bowl & keep it aside.
Turn on saute setting at medium or normal temperature.
Let the pot turn hot.
Add oil, cumin seeds & garlic, saute till garlic turns golden in color.
Add chili flakes, saute for a few seconds.
Add onions, season with 1 tsp salt.
Cook till onions turn golden brown.
Add tomatoes, cook for a minute.
Add all the spices, combine well.
Add ¼ cup water & combine well.
Add tomato paste, combine well.
Add spinach & cook for 2 minutes.
Add the cooked potatoes, cook for a few minutes.
Add the lemon juice, combine well.
Garnish with cilantro.
Enjoy with rice, roti or chapati.