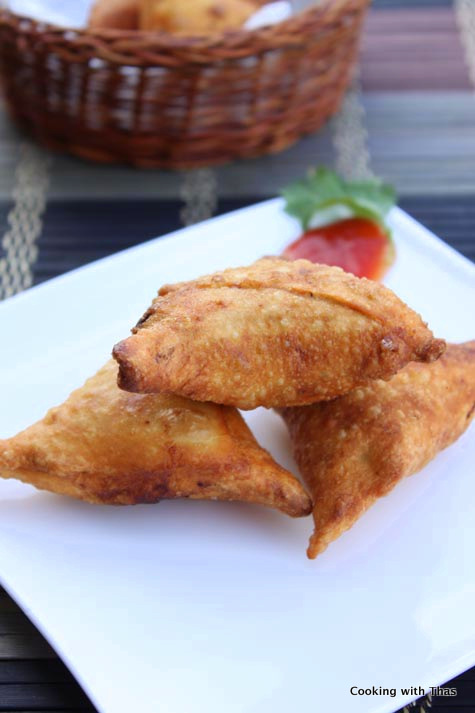 Crispy and crunchy chicken samosas, none can possibly resist this…
I had a long day today, on my way back home I thought I shouldn't cook anything tonight. Instead I should dine out or carry out or make my man cook etc etc, so many thoughts I had. After I reached home, I tried to go with my plans and to sit on the couch doing nothing. After a few minutes of resting, I just went into the kitchen to take something. I did spend more time than I needed, I am not sure why I took a few more things out of the pantry and the refrigerator. Nothing happend as I planned, things were out of my control and I came out of the kitchen with these crispy, crunchy and of course delicious chicken samosas. I couldn't be happier and my man couldn't be happier.
I literally cannot remember the last time I'd made samosas,  I know it doesn't sound that good when I say this as samosas are such delicious snacks that are very very hard to resist. Whenever, I got the craving for samosas I used to get from a small homely Indian restaurant in my city, they even custom baked the samosas for me. That's how I succumbed to my cravings. So, today unknowingly I fried some samosas, it was so delicious.
Chicken Samosas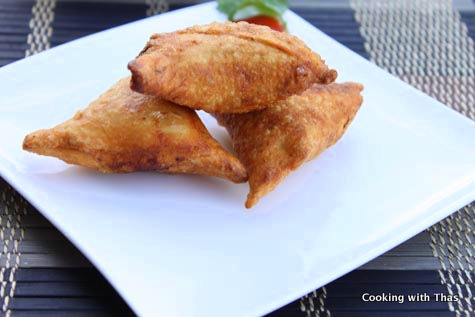 Chicken Samosa Cooking Video
Step By Step Pictures
Warming up the dough- Do not cook the dough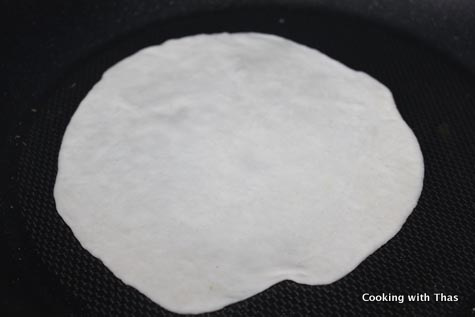 Stuffing with chicken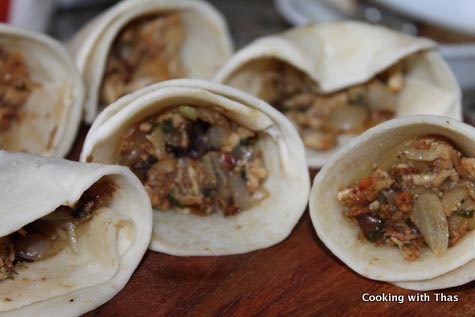 Edges are glued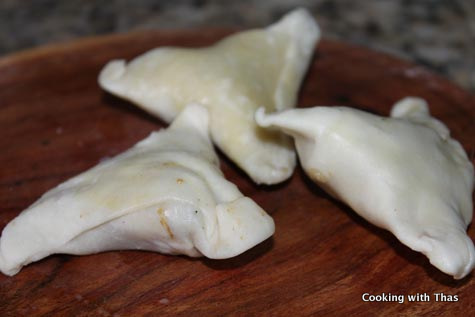 Frying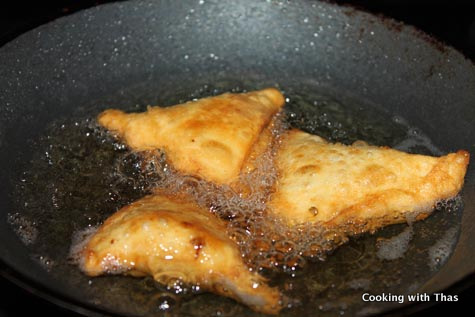 Fried crunchy Samosas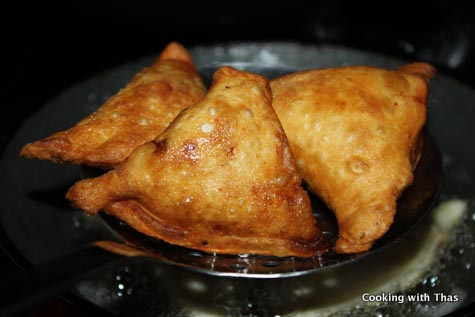 Chicken Samosa - Crispy Samosas
Ingredients
For cooking chicken
Chicken breasts, diced small- 2 chicken breasts
Chili powder- 1½ tsp
Turmeric powder- ⅛ tsp
Garam masala- 1 tsp
Fennel powder- 1 tsp (optional)
Coriander powder- 2 tsp
Ground black pepper- ½ tsp
Salt- 1 tsp
Making Filling
Oil- 2 tbsp
Onions, chopped small- 3
Ginger-garlic paste- 1 tbsp
Green chilies, chopped- 1 or 2
Cilantro, chopped- ¼ cup
Salt- 1 tsp
For making dough
Maida or all-purpose flour- 1½ cups (Or use a combination of all purpose flour & wheat flour)
Salt- ¼ tsp
Water- ¾ cup (add little by little while kneading)
Other ingredients
Egg, beaten- 1 (optional)
All-purpose flour or maida - 2 tbsp mixed with 2½ tbsp water
Oil- to deep fry samosas
Instructions
In a saucepan, combine the chicken with all the above mentioned ingredients "for cooking chicken". Cook covered till the chicken has cooked well and turns light brown. Using a wooden spoon, slightly shred the cooked chicken. Keep aside.
Heat a non-stick pan, add oil, let oil turn hot.
Add, onions chopped small, season with salt, saute till translucent.
Add ginger-garlic paste and green chili, saute till onions turn light brown in color.
Add the cooked chicken to the onions, stir fry for a few minutes.
Have a taste, add more salt or chili powder/ground pepper for spice if needed.
Add cilantro, cook for a minute, remove the pan from the heat, keep aside.
In a large bowl, combine flour, salt and add water little by little as you knead the dough. Add water till you get a soft and smooth dough. Knead for a few minutes. I added ¾ cup water for 1½ cups flour.
Make 8 balls out of the kneaded dough.
Place the dough ball on a wooden board or a clean surface, sprinkle some flour over the dough, using a rolling pin roll the dough to a thin round shape. Repeat with other dough balls.
Place a non-stick pan over low heat, place the flattened dough onto the pan, slightly warm up the flattened dough for a few seconds, don't let it cook. This is not to cook the dough it's just to warm it up. The warmed flattened dough should be soft, don't let it firm up or turn hard.
Keep them aside.
Make a paste using 2 tbsp flour and with 2½ tbsp water.
Using a knife, cut the warmed up flattened dough into 2 equal halves.
Make a cone shape out of one of the halves, spread the flour paste along the edges of the cone and seal it.
Add the chicken filling into the cone, don't over stuff it.
To close the cone, spread the flour paste on the edges and glue it together.
In a small bowl, beat the egg well.
Using a pastry brush, evenly coat the beaten egg over the unfried samosa pastry.
By coating with egg, samosa will have a beautiful golden color.
Place a frying pan over medium heat. Add enough oil for deep frying.
Place the stuffed pastry into the oil. It should be submerged in the oil.
Fry over medium heat till the samosas turn golden brown in color.
Do not fry over high heat, the inside of the pastry will be uncooked.
Transfer to a kitchen paper towel.
Seve warm along with tomato ketchup or your favorite dipping sauce.
Notes
Instead of adding all the spices, you could even cook the chicken using store bought meat masala.
The stuffed unfried dough can be refrigerated for a few days, thaw well before frying.