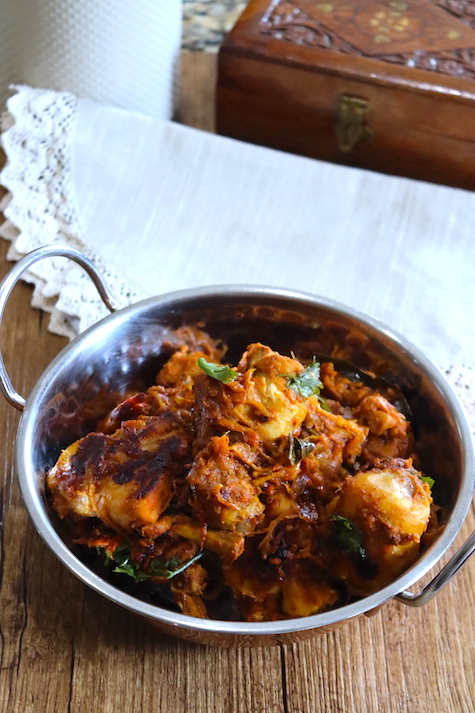 Aromatic chicken roast with caramelized onions, Kerala style…
One of the dishes I make quite often with chicken is this chicken roast. This is the easiest version & is my way. Marinated chicken is combined with onions & tomatoes, cooked covered in a saucepan. While cooking, onions & tomatoes are not sauteed first, everything is cooked together till the chicken has cooked well. After that, stir-fried over high heat till the onion has turned brown & golden brown spots are formed on the chicken. This is a dry roast without any gravy.
Absolutely delicious chicken roast, can be enjoyed with chapati, appam, pathiri, palaada, idiyappam, etc.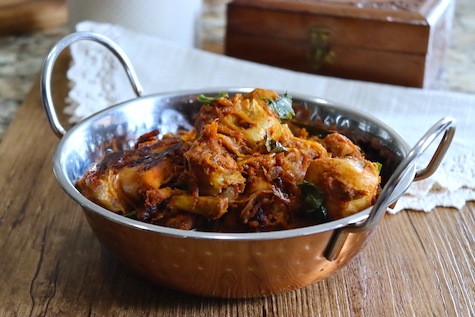 Kerala Chicken Roast | One Pot Dish With Onions & Tomatoes
Ingredients
For marinating chicken
Chicken, bone-in pieces- 10
Kashmiri chili powder- 1 tsp
Regular hot chili powder- 1 tsp
Turmeric powder- ⅛ tsp
Coriander powder- 1 tbsp
Fennel powder- 1 tsp
Garam masala- 1 tsp
Salt- 1½ tsp
For cooking
Onions, sliced thin- 3
Tomato, chopped- 2
Curry leaves- 1 sprig
Marinated chicken
Water- ¼ cup while cooking
Coconut oil- 1 tbsp
White vinegar- 1 tbsp
Cilantro, chopped- ¼ cup
Instructions
For making this, bone-in chicken pieces have to be used.
To a bowl, add the chicken along with all the ingredients mentioned for marinating chicken.
Combine well & let marinate for 30 minutes.
To a large saucepan, add sliced onions, tomatoes, curry leaves &. marinated chicken. Combine well.
Don't have to add water at this point.
Place the saucepan over medium heat.
Close the pan with the lid & cook covered till the onions turn soft & chicken has cooked well.
Add ¼ cup water & combine well.
Stir fry over high heat till the onions have turned golden brown & golden spots form on the chicken.
Add 1 tbsp coconut milk, stir fry for a few minutes.
Add white vinegar, stir fry for 2 minutes.
Garnish with chopped cilantro.
Take the pan off the heat, keep it covered for some time.
Enjoy this chicken roast along with chapati, poori, appam, palaada, idiyappam, etc.