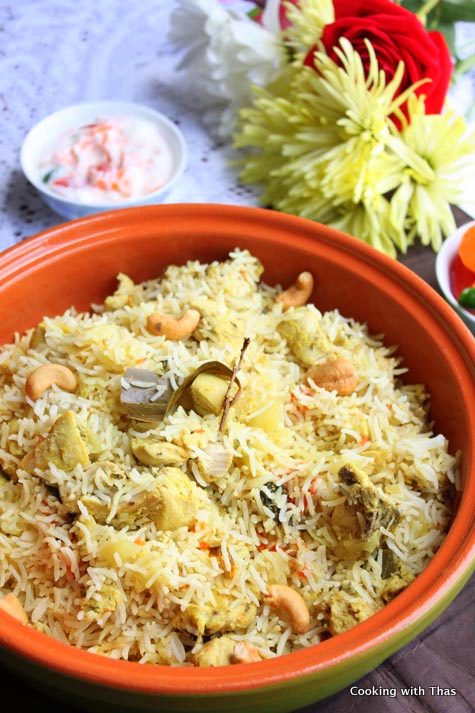 Easy to make hassle free biryani…
Fun weekend became more eventful when we had a mini tornado in the evening. It was unbelievably cloudy since morning and we expected heavy rain in the morning.  However, it started to rain only in the evening accompanied by hails and thunderstorm and a mini tornado. I didn't miss clicking the pictures, I was hoping to see a rainbow as it got brighter after the rain but in vain.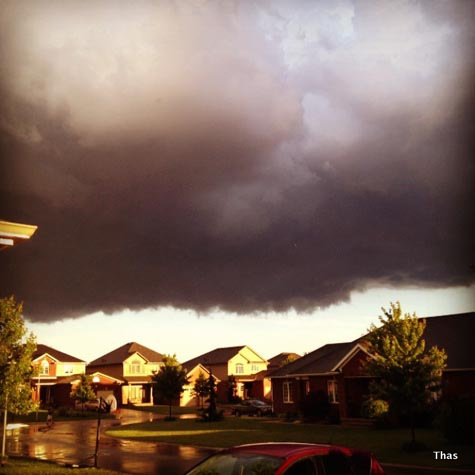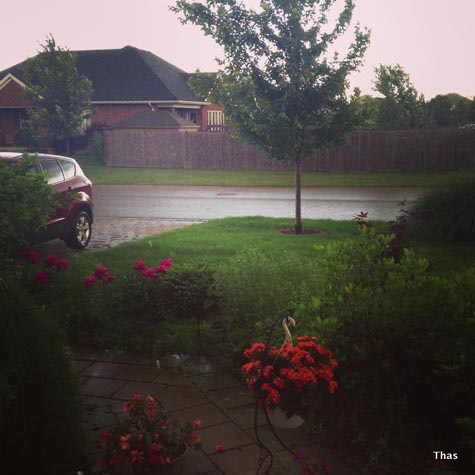 For lunch, I wanted to make something different and so I started thinking wild. However, nothing clicked and I kept thinking and thinking. When I felt that nothing is going to happen, I settled down on this express biryani. Such a hassle free recipe, and tasted delish too.
Express Chicken Biryani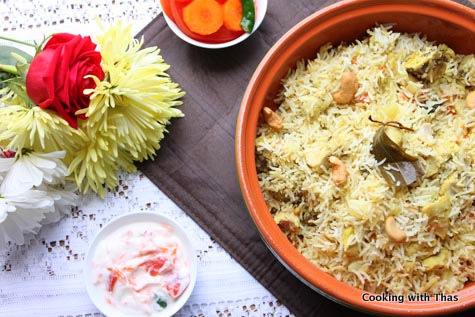 Express Chicken Biryani Cooking video
Preparation Pictures
Chicken combined with all spices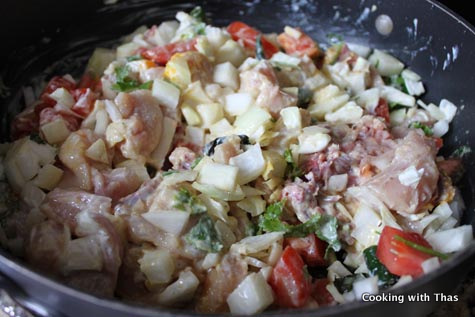 Cooked Chicken
Express Chicken Biryani
Ingredients
For cooking Chicken
Chicken diced, bone-in- 12 pieces
Green chili, chopped- 3
Ginger-Garlic paste- 1 tbsp
Onion, chopped- 3, large
Tomato, chopped- 1
Chili powder- 1 tsp
Turmeric powder- ¼ tsp
Fennel powder- 2 tsp
Garam masala- 1 tsp
Salt- ½ tsp
Lemon juice- 1 tbsp
Yogurt- 3 tbsp
Mint Leaves- 7 leaves
Cilantro, chopped- 2 handful
For cooking rice
Basmati Rice- 2½ cups
Cumin seeds- 1 tsp
Whole cardamom- 2
Whole cloves- 2
Bay leaves- 2
Water- 2 cups
Salt- ½ tsp
Ghee- 1 tbsp
For Garnishing
Ghee- 2 tbsp
Saffron- 2 pinches, soaked in 1 tbsp water
Cashew nuts, roasted in ghee- ¼ cup
Fried onion- 1 onion fried in oil till golden brown (tastes better with fried onion)
Instructions
Combine the rice along with cumin seeds, whole cardamom, whole cloves, bay leaves, salt, ghee and water. Cook rice in a rice cooker. Keep aside.
In a large cooking pan, combine all the above mentioned ingredients for cooking chicken. Cook covered till chicken has cooked well and the water has dried off- about 35 minutes.
Add the cooked rice to the cooked chicken, combine well.
Add the ghee and combine to the rice.
Drizzle the saffron over the rice.
Add roasted cashew nuts and fried onion, combine well.
Remove from the heat and keep covered for a few minutes.
Serve warm with raita and salad.