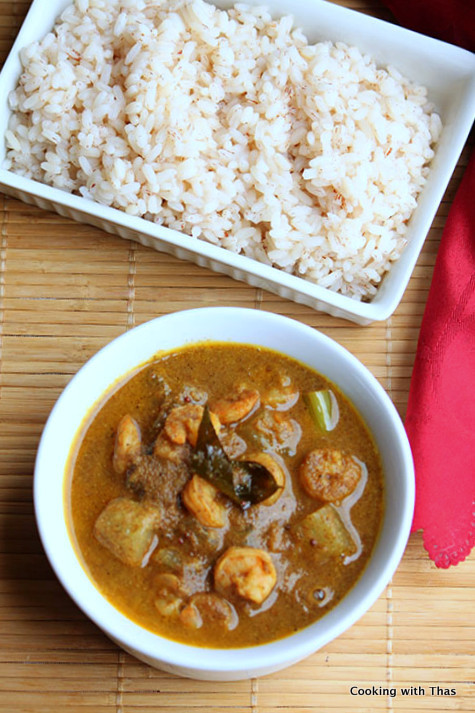 Shrimp cooked in roasted coconut gravy or prawns theeyal, an authentic Kerala dish…
Theeyal is a Kerala dish in which grated coconut is roasted till it's browned and is pureed along with water. To the ground coconut, veggies like okra, small onions, eggplant, drumstick or even shrimp is added and cooked in the coconut gravy. The smokey roasted flavor of the coconut, the aroma of the spices and the sourness from the tamarind juice, makes this dish taste extremely delicious.
Though theeyal is commonly made with veggies, one of my favorite ways of making theeyal is by adding shrimp or prawns. It tastes absolutely delicious when served with orotti, pathiri, chapati, idiyappam, appam or even rosematta or kuthari rice.
Here is the recipe for making Okra or Lady's finger theeyal, click here.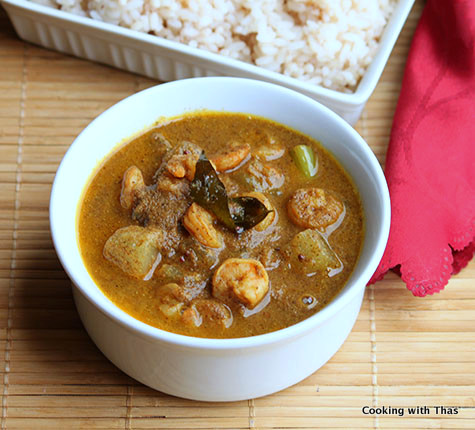 Preparation Pictures
Shrimp in Roasted Coconut Gravy- Prawns Theeyal Recipe
Ingredients
For roasting coconut
Oil- 1 tbsp
Grated coconut- 1 cup
Small onions, halved- 4
Curry leaves- 1 sprig
Chili powder- 1 tsp
Turmeric powder- 1/ 8 tsp
Coriander powder- 2 tsp
Fennel powder- 1 tsp
Ground cumin- 1/ 2 tsp
Salt- to taste
For making Theeyal
Oil- 1 tbsp
Mustard seeds- 1 tsp
Cucumber, diced- 1/ 2 of a cucumber
Shrimp, deveined- 20
Green chilies, halved- 2
Fresh tamarind juice- 2 inch slice soaked in 3 tbsp luke warm water
Curry leaves- 1 sprig
Salt- to taste
Instructions
Place a non-stick pan over medium heat, add oil.
Add grated coconut along with halved small onions and curry leaves, saute till coconut starts to turn golden brown in color. Keep stirring constantly for even roasting.
Add chili powder, turmeric powder, coriander powder, fennel powder, ground cumin and salt. Saute for a few seconds and remove the pan from the heat, let cool down.
In a blender, grind the roasted coconut along with ¾ cup water to a smooth paste.
In a small bowl, soak fresh tamarind in 3 tbsp luke warm water for 5 minutes, squeeze the soaked tamarind in water to release the juice, drain the juice and discard the skin. Keep aside the juice.
Place a saucepan over medium heat, add oil let the oil turn hot.
Add mustard seeds, let it splutter.
Add the roasted coconut paste into the oil, saute for a minute.
Add the green chilies and curry leaves.
Add diced cucumber and shrimp.
Finally, add the tamarind juice, combine well and season with enough salt.
Add more water to thin down the gravy.
Cook covered till the coconut gravy starts to boil.
Taste, add more salt or chili powder for spice according to your needs.
After that, lower the heat and cook for a few more minutes till cucumber has turned tender (don't over cook them), shrimp has cooked through and the gravy has thickened.
If you want more gravy add some water to thin down and cook for a couple more minutes.
Remove the saucepan from the heat and keep covered for sometime.
This curry goes really well with orotti, pathiri, idiyappam, appam, chapati or rice.