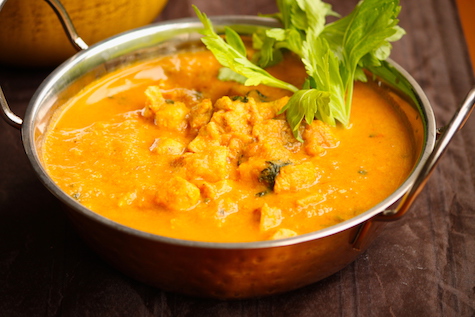 15 minutes of cooking in the Instant Pot, you will get to enjoy the best tasting butter chicken…
Butter chicken is one of the Indian dishes that need no introduction as even the non Indians are familiar and enjoys whole heartedly. I don't think there would be any North Indian restaurant without butter chicken being served.
Butter chicken is a North Indian dish originated from Punjab. So, if you dine at an authentic South Indian restaurant the chances are they might not have butter chicken on their menu. I've tried butter chicken at several Indian restaurants around the world. Easily, this is one the favourite Indian dishes for most.
Butter chicken can be made effortlessly in the Instant Pot. It took only 15 minutes; chicken was pressure cooked for 7 minutes. Butter chicken tastes delicious when served with basmati rice, naan or chapati.
Cooking Video
Instant Pot 15 Minute Butter Chicken- The Best Tasting Butter Chicken
Ingredients
For marinating chicken
Chicken, boneless breast cubed- 2 breasts
Chili powder- 1 tsp
Turmeric powder- ¼ tsp
Coriander powder- 1½ tsp
Cumin powder- ½ tsp
Garam Masala- ¾ tsp
Salt- ½ tsp
Cook and Grind
Butter- 1 tbsp
Onion, chopped- 2
Salt- ½ tsp
Tomatoes, chopped- 2
Garlic, grated- 2 cloves
Ginger, grated- 1 inch slice
Water- 1 cup
For Cooking
Tomato Ketchup- 2 tbsp
Milk Cream or Cream of Coconut- ¼ cup
Cilantro, chopped- ¼ cup
Butter- 1 tbsp
Garam Masala- ½ tsp
Salt- ¼ to ½ tsp
Instructions
In a bowl, combine all the ingredients mentioned 'for marinating chicken'. Keep aside.
Turn on Instant Pot. Select Saute Mode, Medium Temperature.
Let HOT sign appear on the display.
Add butter, let melt.
Add onions, season with ½ tsp salt. Cook for 2 minutes.
Add tomatoes, combine well.
Add garlic and ginger. Cook for 3 minutes.
Remove the stainless steel pot from the main pot. Cancel Saute Mode.
Transfer the cooked onions/tomatoes into a blender. Add 1 cup water and grind to a smooth paste.
Pour the ground onion/tomato mixture into the stainless pot. Rinse the blender jar with ¼ cup water, add that as well.
Add the marinated chicken, combine well.
Add tomato ketchup, combine well.
Close the pot with its lid.
Select Pressure cook mode, high pressure, TIME 7 Minutes.
After 7 minutes pressure cooking, do a quick pressure release.
Open the lid.
Select Saute mode, set to LOW Temperature.
Add milk cream or coconut cream, combine well and cook for a minute.
Add garam masala, combine well.
Add chopped cilantro and butter. combine well.
Taste and add salt accordingly- ¼ to ½ tsp.
Serve this delicious butter chicken along with basmati rice or naan.