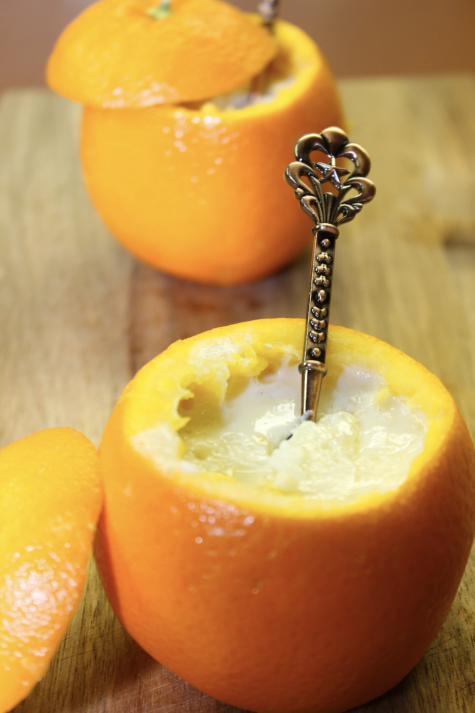 Refreshing, light, and melt into your mouth orange pudding…
I'm a pudding freak as it's a dessert that can be whipped up pretty easily and effortlessly. I literally have only one pudding recipe and I make different kinds of pudding using that. I try with different pureed fruits, nuts, etc each time; best part is it will turn out to be the best tasting pudding every single time.
In this recipe, I have added orange juice to the cooked milk and condensed milk. I use agar agar or china grass as the thickening agent in most of my puddings and desserts. Agar agar is basically a sea weed and is 100% vegetarian and I like that fact.
Instead of ground agar agar, I use agar agar strands: 1/2 cup strands that are cut into 2 inch long are cooked in 1/2 cup water until dissolved well. Agar agar strands are available at most Indian or Asian stores. During my India or Dubai visit, this is one thing on my must buy list and they sell the best quality agar agar.
If you don't have agar agar, you can use gelatin instead.
This is an easy breezy recipe, very important to keep in mind is that orange juice shouldn't be added to hot or warm milk as it will curdle. Hence, let the milk/condensed milk/agar agar mixture cool down before adding the orange juice. That's all you have to make sure.
Serving the orange pudding in the orange bowls will make it look appealing, stand out and will turn into a star dessert for all parties.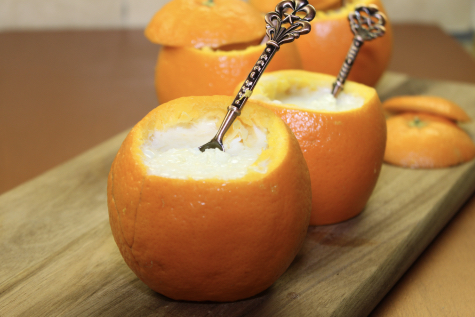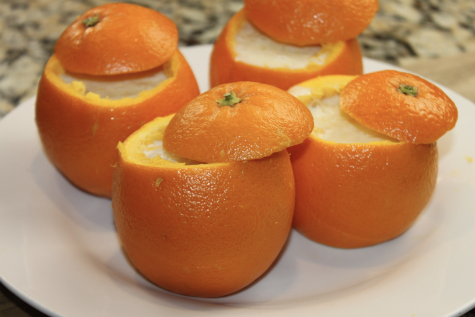 Cooking Video
Easy and best Orange Pudding- How to make orange bowls
Ingredients
Milk- 2 cups
Sweetened condensed milk- ½ to ¾ cup
Agar agar strands- ½ cup (cut into 2 inch long)
Water- ½ cup
Fresh Navel Oranges- 4 (makes 1 cup orange juice)
Instructions
To make the orange bowls
To have a stable bottom for the orange bowls, cut ½ inch off the bottom so that it sits well.
Cut 1 inch off the top of the oranges.
Using a spoon, gently scoop out the fruit into a bowl.
Make sure you don't scoop the bottom part as there should be some flesh left at the bottom. (watch the video).
Keep aside the orange bowls.
Using your hand, squeeze the flesh taken in the bowl to release the orange juice.
Drain the juice and discard the skin. Makes about 1 cup orange juice.
If using agar agar strands, cut 2 inch long strands. We need ½ cup.
Place a saucepan over medium heat, add milk and condensed milk. Let cook for a few minutes.
I added ½ cup condensed milk (150mL). As per your sweet level you can add, upto ¾ cup should be good.
Don't let the milk and condensed milk come to a boil.
Into another saucepan, add ½ cup agar agar strands and ½ cup water, cook over medium heat. Let agar agar strands dissolve completely in water.
Add the dissolved agar agar into the milk/condensed milk mixture. Combine well.
Remove the saucepan from the heat.
Let the mixture cool down for a few minutes.
Very important: before adding orange juice, make sure milk/condensed/agar agar mixture has cooled down. If you add orange juice to the hot or warm milk, it will curdle.
Add orange juice to the cooled down milk/condensed milk mixture. Combine well.
Pour the pudding mixture into the orange bowls.
Remaining pudding mixture, pour into ramekins.
Place in the refrigerator, let set well- takes an hour to 2 hours.
After an hour, check the pudding if it has set well you can enjoy the pudding. If not, let set for another hour.
Enjoy this light, refreshing and delicious pudding.
Notes
If using Gelatin- Sprinkle 2½ tsp gelatin over 3 tbsp cold water and let stand for 5 minutes till gelatin softens. This can be added to the milk/condensed milk mixture.