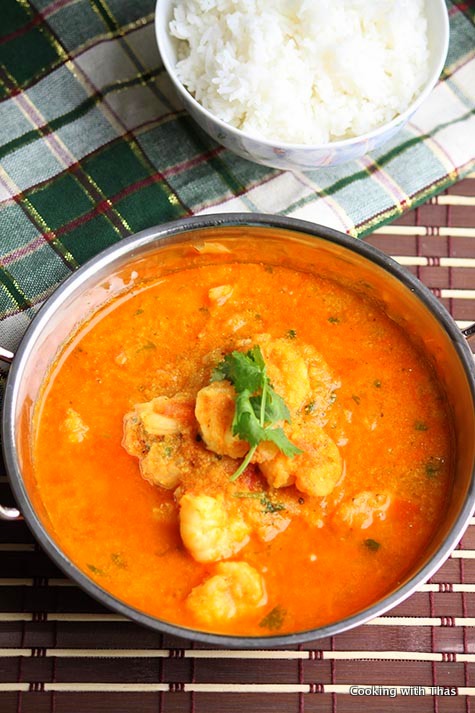 This is a Goan delicacy made with shrimp…
I haven't been to Goa yet, hopefully during my next India vacation I'll have to plan a visit to Goa. Goan cuisine is very similar to Kerala cuisine as in both, the staple foods are rice and sea food. Also, the use of coconut is another similarity.
One of the popular Non- Veg Goan dishes is Vindaloo, it's spicy and tangy. This can be found on the menu of most Indian restaurants in North America.
The other day, I tried making Goan shrimp curry following Vahchef's recipe. In this recipe, coconut is ground with other ingredients to make a paste and and the shrimp is cooked in coconut gravy. Spice level can be adjusted based on your needs, I made it medium spice. This curry tasted good and can be served with rice.
Recipe Courtesy: Vahchef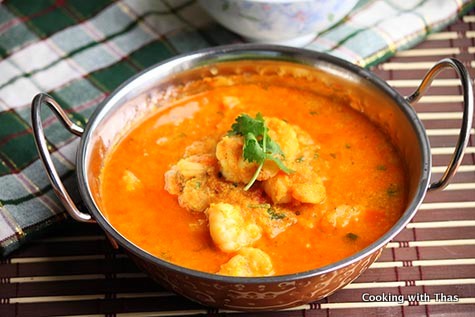 Goan Shrimp Curry
Ingredients
Shrimp, shelled and deveined- 20
To soak for 15 minutes
Dry whole red chilies- 3
Cumin seeds- 1 tsp
Vinegar- 1½ tsp
Warm water- 3 tbsp
To grind into a paste
Grated coconut- 1 cup
Mustard seeds- ½ tsp
Chopped tomatoes- 2
Shrimp- 3
Water- enough to make a smooth paste
For cooking
Oil- 2 tbsp
Bay leaves- 2
Whole cardamom- 2
Whole cloves- 2
Whole cinnamon- 2 inch slice
Onion, chopped- 1
Ginger-Garlic paste- 1 tbsp
Turmeric powder- ¼ tsp
Coriander powder- 1 tbsp
Ground pepper- ½ tsp or more according to your spice level
Green chilies, chopped- 2 (optional)
Cilantro, chopped- 2 handfuls
Salt- to taste
Instructions
In a bowl, soak dry whole red chilies and cumin seeds in vinegar and warm water for 15 minutes.
In a blender, grind the soaked dry red chilies, cumin seeds, add vinegar and water as well, along with coconut, mustard seeds, tomatoes and also add 3 shrimp and grind to a smooth paste.
Place a non-stick pan over medium heat, add oil. Let oil turn hot.
Add bay leaves, whole cardamom, cloves and cinnamon, saute for a few seconds.
Add onion, season with salt, and cook till onions turn translucent.
Add ginger-garlic paste, saute till raw smell goes away.
Add turmeric powder, combine well.
Add the ground paste, combine well and cook for a few minutes till the paste turns dry and oil oozes out of it.
Add coriander powder and ground pepper, cook for a minute.
Taste and add salt accordingly.
Add 1½ cups water, combine well and cook till the gravy comes to a slight boil.
Add shrimp and cook covered till shrimp has cooked well for 10 to 15 minutes.
Add chopped green chilies if you need this curry to be spicy. Cook for a minute.
Add chopped cilantro, combine well and remove the pan from the heat.
Serve this Goan shrimp curry along with rice.