Rice kheer made with basmati rice, a popular Indian dessert…
If you want to whip up a quick yet delicious dessert, you gotta make rice kheer. Rice kheer is a traditional Indian dessert; basmati rice, milk, nuts, saffron, and cardamom are pressure cooked perfectly, then coarsely mashed and more milk is added to thin down the consistency. It's rich, creamy, aromatic and super delicious.
Basmati rice is a very flavourful rice, along with ghee, saffron, and cardamom this kheer will have an incredible fragrance and taste.
In the Instant Pot, you can make the best tasting kheer that will beat restaurant style. All you have to do is sauté the basmati rice in ghee for a minute. Throw in all the ingredients and pressure cook in the Porridge mode for 20 minutes. Do a natural pressure release, takes about 15 minutes. After that, mash the perfectly cooked rice using the back of the spoon. Add some more milk to thin down the consistency and finish it off with ghee.
This is the perfect dessert to make when you have a sudden sweet craving or when you want a delicious dessert to be whipped up quickly. One of my favourite desserts to make in the Instant Pot. Absolutely delicious and made effortlessly.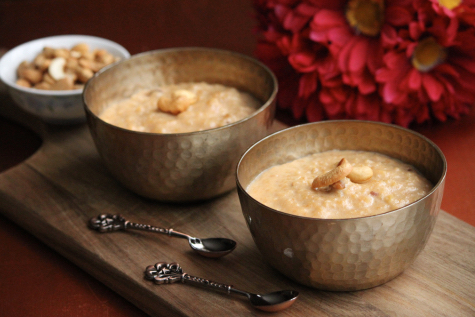 Cooking Video
Instant Pot Best Tasting Rice Kheer- Easy Rice Kheer Recipe
Ingredients
Ghee- 2 tbsp + ½ tbsp
Basmati Rice, rinsed- ½ cup
Sugar- ¾ cup
Milk- 3 cups + 1½ cups
Whole cardamoms, crushed- 2 (or add ¼ tsp ground cardamom)
Saffron strands- 2 pinches soaked in 1 tbsp water
Cashew nuts- 10
Almonds, crushed- 10
Raisins- 2 tbsp
Instructions
Soak 2 pinches saffron strands in 1 tbsp water, set aside for 5 minutes.
Turn on the Instant Pot. Select Saute Mode- Medium Temperature.
Let Hot sign display on the screen.
Add 2 tbsp ghee.
Add rinsed basmati rice. Don't have to soak the rice.
Saute the rice for a minute.
Add sugar, 3 cups milk, cardamoms, saffron, cashew nuts, almonds & raisins. Combine well.
Close the pot with its lid.
Cancel Saute mode.
Select porridge mode, default time is 20 minutes and high pressure.
After 20 minutes of pressure cooking, do a natural pressure release- takes about 15 minutes.
Open the lid, rice will be perfectly cooked.
Using the back of the spoon, coarsely mash the cooked rice. Don't mash up completely.
Add 1½ cups of milk, combine well. Cook for 2 minutes.
If you want the kheer to have a thinner consistency, add more milk accordingly. Combine well.
Finally, add ½ tbsp ghee; combine well.
Remove the stainless steel pot from the main pot.
Keep covered and let cool down.
Can be served warm, tastes better when chilled. Enjoy.
Notes
This recipe will make 4 bowls, increase the amount of the ingredients accordingly to make more.
Sugar can be adjusted according to your sweet level; ½ cup to ¾ cup sugar works well.
Basmati rice has to be used, other white rice won't make this kheer delicious.