Seasoned mixed veggies and cheese stuffed into the omelette, now that's what I call a killer breakfast…
An egg based dish for breakfast definitely leads to a great day start. Stuffed omelette is one of my favourite egg dishes. I usually have this for breakfast at the resort or hotel when I go on a vacation. At most resorts and hotels, they make different kinds of egg dishes for breakfast and we can customize the ingredients according to our needs. My favorite has always been the mixed veggies and cheese stuffed omelette.
I made this in my kitchen and I cannot get over it. I have always felt that paprika and dried oregano are great seasonings for eggs. Hence, seasoned the beaten eggs with paprika and stir fried the mixed veggies with paprika and dried oregano. Topped with cheddar cheese, the taste of this stuffed omelette is just phenomenal.
Makes a killer breakfast and will turn into everybody's favourite. The best part is that you can customize the ingredients accordingly- more eggs, more egg whites, less yolks, different veggies, cheese etc etc. Give it a try.
Cooking Video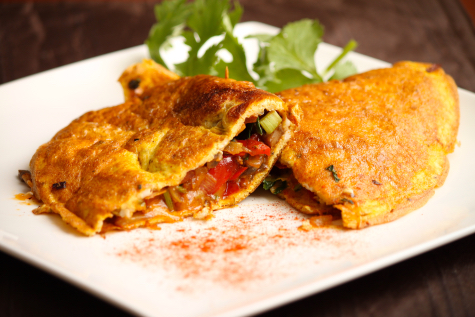 Veggie and Cheese Stuffed Omelette- Perfect Keto Breakfast
Ingredients
For mixing with eggs
Eggs- 3
Ground pepper- a few pinches
Salt- a few pinches
Paprika- ½ tsp
For making stuffing
Oil- 1 tbsp
Onion, minced- ¼ cup
Red pepper, chopped small- ¼ cup
Mushrooms, chopped small- ¼ cup
Paprika- ½ tsp
Dried Oregano- 1 tsp
Ground pepper- a few pinches
Salt- ¼ tsp
Green onions, chopped- 2 tbsp
Cilantro, chopped- 2 tbsp
Other Ingredients
Instructions
In a bowl, using a fork beat the eggs along with ground pepper, salt and paprika, keep aside.
Place a non-stick pan over medium heat, add oil.
Add onion, sauce for 3 minutes.
Add red pepper and mushrooms, saute for a few minutes.
Add paprika, dried oregano, ground pepper and salt. Saute for 3 minutes.
Add green onions and cilantro, combine well and cook for a minute.
Remove the pan from the heat, keep aside the stuffing.
Place a pan over medium heat, grease with non-stick cooking spray.
Pour the beaten eggs, swirl the pan.
Let the top of the omelette cook well, takes a few minutes.
Spread the top with the veggie stuffing, spread cheese over it.
Fold the omelette and let cook for 2 minutes.
Flip it over and cook for another 2 minutes.
Transfer to a plate.
Enjoy while it's warm, perfect for breakfast or brunch.