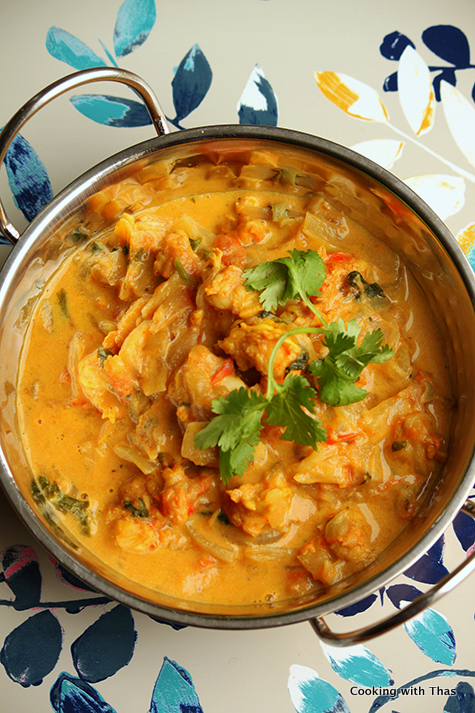 Tiger shrimp tastes like lobster and this Korma curry tasted heavenly…
I am a huge shrimp fanatic and I love it made anyway…well, fried shrimp being the most delicious. The other day, I bought tiger shrimp and wanted to grill or fry them. However, I ended up making a delicious korma with them. Tiger shrimp is huge so I diced each shrimp into 3 pieces, marinated with some Indian spices and cooked them in onion/tomato masala and at the end added coconut milk. I also added mint leaves along with cilantro, that really imparted a nice aroma to this korma.
Amazingly delicious, this can be served along with rotis, rice, poori etc.
Tiger Shrimp Korma- Shrimp in coconut milk
Ingredients
For marinating shrimp
Tiger shrimp, shelled- 8, each shrimp diced into 3 pieces (or use regular 15 shrimp)
Chili powder- 1 tsp
Turmeric powder- ⅛ tsp
Garam masala- ½ tsp
Coriander powder- 1½ tsp
Salt- ½ tsp
For crushing in mortar and pestle
Garlic, cloves- 3
Ginger- 1 inch slice
Green chilies- 2, chopped
Cumin seeds- ½ tsp
For cooking
Coconut oil or Vegetable oil- 1 tbsp
Onion, sliced thin- 2
Tomatoes, chopped- 2
Coconut milk- ¾ cup
Water- ½ cup
Mint leaves, chopped- 5 leaves
Coriander leaves, chopped- 2 handful
Instructions
Use shelled tiger shrimp, I diced each shrimp into 3 pieces. Or you could use regular shrimp.
Place the diced tiger shrimp in a large bowl, add chili powder, turmeric powder, garam masala, coriander powder and salt. Combine well and keep aside for 5 minutes.
In a mortar and pestle, crush the garlic, ginger, green chilies and cumin seeds. Or coarsely grind in a food processor. Keep aside.
Place a large non-stick pan over medium heat, add oil, let oil turn hot.
Add the crushed ginger/garlic/green chilies/cumin seeds, saute for a minute.
Add onions, season with a few pinches of salt and saute till onions turn golden brown.
Add tomatoes, combine well and let tomatoes cook well.
Add the marinated shrimp, combine well and cook covered for 10 minutes.
Open the lid, combine well and add coconut milk and water, give it a good mix.
Add mint leaves and coriander leaves, combine well and let cook for 2 to 3 minutes.
Remove the pan from the heat and keep covered for some time.
Serve this aromatic and delicious tiger shrimp korma with roti, rice, poori etc.