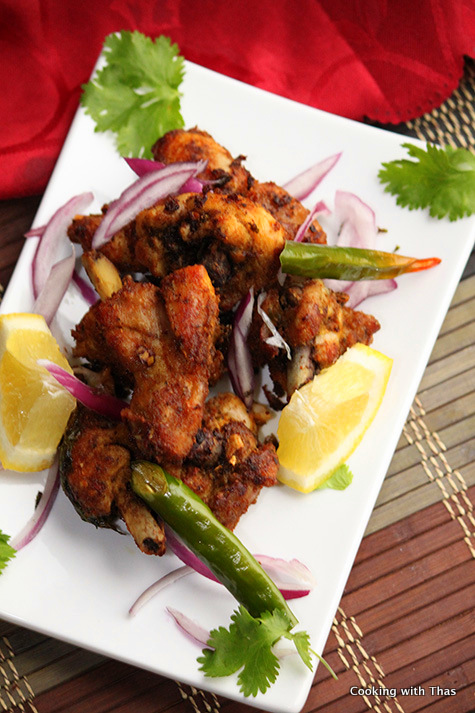 Chicken pieces marinated in an aromatic and flavorful marinade and fried to perfection…Totally my way!
If people in N.America go crazy for chicken wings, hard core non-vegetarians in Kerala go crazy for chicken fry. And, I proudly belong to the chicken fry fanatic group. May be I can become the captain of that group. I can resist a lot of food but chicken fry.
The other day, I had a huge craving for chicken fry and I was thinking about it even at work. I eagerly waited to reach home and to succumb to my craving.
The key ingredient for a delicious and irresistible chicken fry is the marinade. The chicken should be coated well with the marinade and allowed to rest for a few hours or overnight so that the masala will be absorbed well into the chicken.
I always make my own homemade marinade, it's really a breeze to make it. You just need to put all the ingredients into the blender and grind into a smooth paste. The marinade can also be kept in the refrigerator for a few days.
This time, I added one more step: added whole spices, mint leaves and curry leaves into the hot oil before frying the chicken. This infused a lot of flavor and aroma into the oil and enhanced the taste of the fried chicken.
My man and I couldn't wait any longer, we attacked the fried chicken the moment it was out of the oil.
You gotta try this to enjoy the taste. This is going to be a true winner!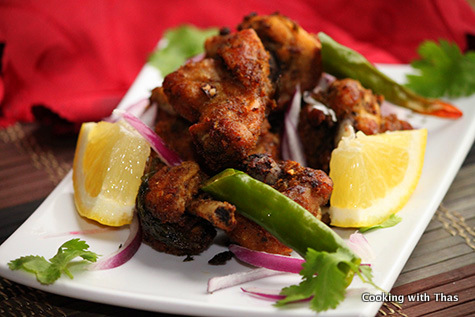 Preparation Pictures
Marinated chicken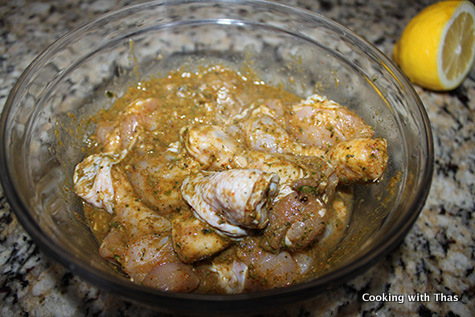 Frying chicken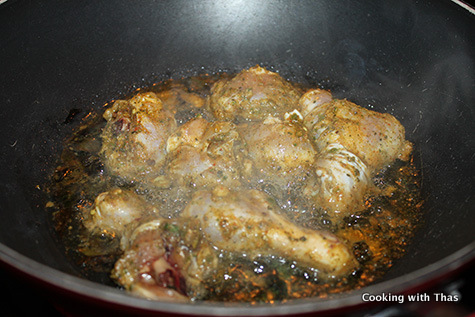 Fried chicken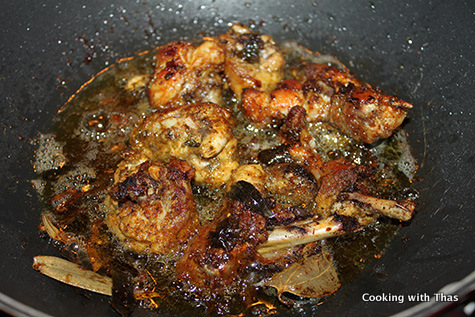 Most Delicious Chicken Fry- With Homemade Aromatic Marinade- Kerala Style Chicken Fry
Ingredients
Bone-in Chicken pieces- 12 ( or use halved chicken legs)
To make the marinade
Whole cardamom- 3
Whole cloves- 2
Whole cinnamon- 2 inch slice
Ginger, chopped- 2 inch slice
Garlic, chopped- 3
Fresh Cilantro- 2 handfuls
Fresh Mint leaves- 10 leaves
Fresh Curry leaves- 15 leaves
Green chilies, halved- 3
Chili Powder- 2 tsp
Coriander Powder- 1½ tsp
Fennel Powder- 1½ tsp
Lemon juice- juice of ½ lemon
Salt- to taste
Water- ¼ cup
To add into the hot oil
Oil- enough for deep frying
Whole cardamom- 2
Whole cloves- 2
Bay leaves- 2
Mint leaves- 5 leaves
Curry leaves- 10 leaves
To garnish
Red onions- cut thin and long
Green chilies, halved- 2
Cilantro- a few
White Vinegar- 1 tsp
Salt- a few pinches
Lemon wedges
Instructions
Use bone-in chicken pieces. Or cut the chicken legs horizontally into two halves.
Using a sharp knife, put gashes or lines on the chicken pieces. This way the marinade will be absorbed well into the chicken pieces.
Into a blender, add all the ingredients mentioned for making the marinade along with ¼ cup water. Grind into a smooth paste.
Spread the marinade over the chicken pieces taken in a bowl and coat it evenly.
Cover the bowl with a plastic wrap and keep in the refrigerator for 2 hours or overnight the better.
Place a frying pan over medium heat, add enough oil for deep frying.
When the oil turns hot: add whole cardamom, cloves, bay leaves, mint leaves and curry leaves.
Place the marinated chicken pieces without crowding and deep fry till both sides have fried well and turns brown in color. Fry over medium heat else the outside of the chicken will brown fast.
Remove the fried chicken using a slotted spoon and place them on a kitchen paper towel and let cool down.
While serving, place the fried chicken on a platter.
In a bowl, combine red onions, green chilies, cilantro, white vinegar and salt together.
Garnish the fried chicken with these and squeeze some lemon juice over it.
Enjoy without any guilt.
Notes
It's important that the marinade should have enough salt added to it else the chicken fry will taste bland. To test the salt level: First fry one small chicken piece and taste it, if you need more salt, add some more over the marinated chicken, combine well and fry them.