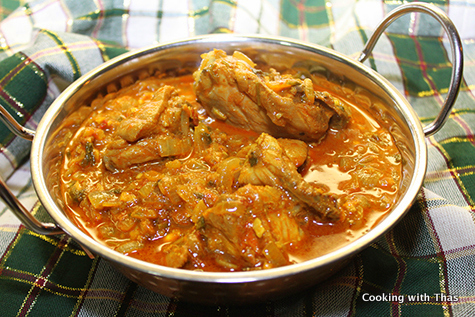 Chicken curry made by my mom and it's the best tasting chicken curry…
It's so hard for me to replicate my mom's taste, even if I follow her recipe the taste will be always different. Chicken curry is a common dish in India served along with roti, chapati, naan or rice. This is an easy to make chicken curry, by marinating the chicken with all the spices makes it more flavorful and then cooking over medium heat along with onion and tomatoes makes a fabulous curry.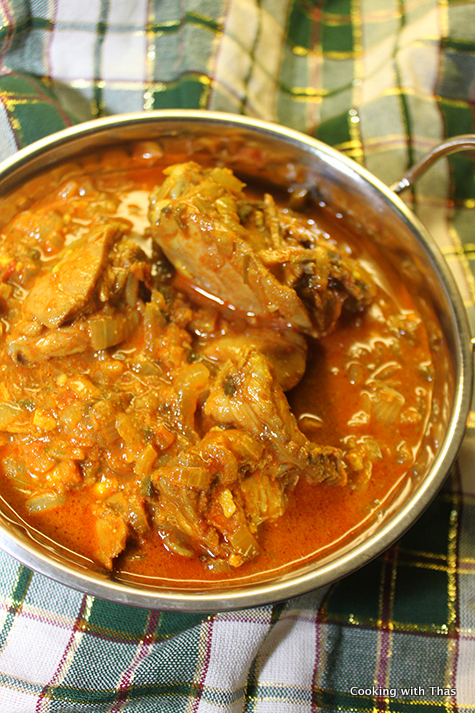 Easy Chicken Curry Recipe
Ingredients
For marinating chicken
Chicken, bone-in pieces- 12
Kashmiri Chili powder- 2 tsp
Turmeric powder- ½ tsp
Coriander powder- 2½ tsp
Fennel powder- 2 tsp
Whole Cardamom- 4, Whole cloves- 3, Cinnamon- 2 inch slice- Crush in mortar-pestle
Salt- ½ tsp
For cooking
Coconut Oil- 2 tbsp
Onion, chopped- 2
Ginger, minced - 2 inch slice
Garlic, minced- 3 cloves
Green chilies, chopped- 2
Curry leaves- 1 sprig
Tomatoes, chopped- 2
Warm Water- 1 cup
Cilantro, chopped- 2 handfuls
Salt- ½ to ¾ tsp
Instructions
Crush Whole Cardamom- 4, Whole cloves- 3, Cinnamon- 2 inch in a mortar and pestle or grind them together.
In a bowl, combine the chicken along with the above mentioned ingredients 'for marinating chicken' and let marinate for 30 minutes.
Place a non-stick cooking pan over medium heat, add oil.
Add onions, season with ½ tsp salt and saute till translucent.
Add minced ginger, garlic, chopped green chilies & curry leaves; combine well & cook till onions turn light golden in color.
Add tomatoes, cook till they turn soft.
Add the marinated chicken, combine well and cook for 2 minutes.
Add water, combine well and cook covered till chicken has cooked through, about 20 minutes.
Open the lid, combine well and cook till the gravy thickens.
Taste and add more salt if needed.
Garnish with cilantro, remove the pan from the heat and keep covered for a few minutes.
Serve this chicken curry along with roti, chapati, naan or rice.
Notes
You can make this curry in a pressure cooker as well.