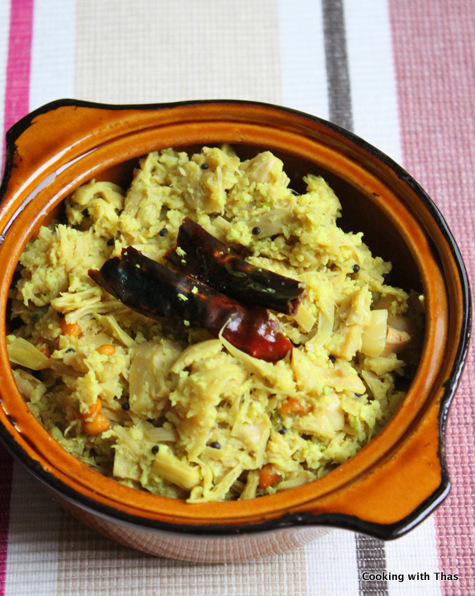 Young jackfruit when stir fried with coconut tasted delicious, this makes a perfect vegetarian side dish…
Jackfruit is widely available in Kerala. Jackfruit season in India is during March to June. Since, I'd visited India in November I missed having ripe jackfruits that's plucked right from the tree and also my grand mother's jackfruit chips. I go crazy for jackfruit chips (raw jackfruit cut into wedges and fried in oil), nothing can beat homemade jackfruit chips. I finish a huge bag of chips in just one sitting, it's truly hard to stop munching on it. My sister had visited Kerala recently and she got to pluck fresh jackfruit that's grown in her husband's parent's backyard. She did make jackfruit fries and my niece loved it, she was more like me munching on it non-stop. We: aunt and niece have similar likes when it comes to food 🙂
In Kerala, some people make young jackfruit thoran or stir fry with coconut. The jackfruit is plucked when it's still tender and is cooked. However, it wasn't made in my house;  I have no idea why. Here, I have seen canned young jackfruit at most Indian and Asian stores. I got curious and bought a couple of cans. It had been sitting in the pantry for quite sometime. I wanted to make something out of it. Making thoran was in my mind and so tried it a few days ago. I really loved the taste of this young jackfruit stir fry. This makes a perfect veggie side dish along with rice or roti.
If you have raw jackfruit, don't miss frying it. It's so crunchy and delicious. Recipe for making Jackfruit chips, click here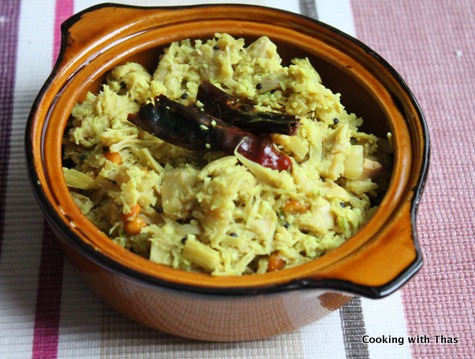 Preparation Picture
Cooking young jackfruit with coconut
Young Jackfruit Stir fry - Or Thoran with Coconut
Ingredients
For Cooking young jackfruit
Young jackfruit, canned- 1 large can
Turmeric powder- ⅛ tsp
Salt- a few pinches
To grind
Coconut, grated- ¾ cup
Cumin seeds- 1 tsp
Green chili- 1 (or 2 if you need more spice)
Curry leaves- 5 leaves
Turmeric powder- ⅛ tsp
For stir frying
Oil- 1½ tbsp
Mustard seeds- 1 tsp
Chana dal- 1 tbsp
Whole dry red chili- 2
Curry leaves- 1 sprig
Instructions
I used canned young jackfruit, available at Indian stores.
Drain the water from the can and rinse the jackfruit under running water.
You could discard any small seeds from it.
In a saucepan, combine the rinsed young jackfruit, turmeric power, salt along with ¼ cup water.
Cook covered over medium heat till the jackfruit turns tender.
Remove the saucepan from the heat and let it cool down.
Using a fork, shred the cooked young jackfruit. Discard any thick pieces which will be the core of the jackfruit. Keep aside the shredded jackfruit.
In a blender, coarsely grind the above mentioned ingredients "to grind" along with a couple of tablespoons of water. Keep aside.
Place a saucepan over medium heat, add oil.
When oil turns hot, add mustard seeds, let it splutter.
Add chana dal and saute till it turns golden in color. I love the bite of cooked chana dals.
Add dry red chilies and curry leaves, saute for a few seconds.
Add the cooked and shredded young jackfruit, stir fry for a few minutes.
Add the coarsely ground coconut mixture, combine well and stir fry till the water dries off and the coconut has cooked well.
Taste and add more salt to taste.
Stir fry till the mixture turns dry.
Remove from the heat and keep covered for a few minutes.
Serve as a side dish along with rice or roti.
Notes
Canned young jackfruit will have a slight sour taste.