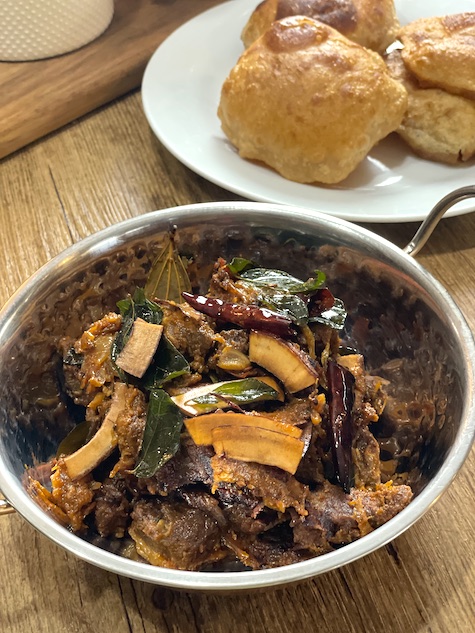 Kerala-style beef roast is a delectable South Indian dish known for its bold and aromatic flavors. It's truly an emotion for most hard-core non-vegetarian Keralites.
Stew-cut beef is marinated in a blend of spices and then pressure-cooked till the beef has turned fork tender. For better taste, can also be slow-cooked, it's a time-consuming process though.
Cooked beef is then stir-fried with caramelized onions, tomatoes, green chilies, and curry leaves until the beef has browned. The beef roast is then garnished with roasted coconut slices, dried red chilies & curry leaves & then kept covered for some time so that the aroma will infuse into the dish.
What sets Kerala beef roast apart is its rich, dark brown color and the perfect balance of spices. The cooking process allows the spices to infuse into the meat, creating a symphony of flavors that range from slightly spicy to subtly tangy. The addition of coconut oil makes it aromatic & enhances the overall taste.
Served as a star dish in Kerala's traditional cuisine, beef roast is often enjoyed with flaky Kerala parottas, steamed rice, or even as a side with appam.
I truly enjoy this beef roast with puffed-up pooris, tastes out of this world. The bold, robust flavors make it a favorite among meat lovers and a must-try for anyone exploring Kerala delicacies.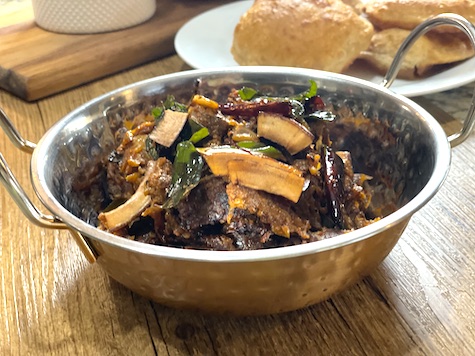 Kerala Beef Roast Recipe Garnished With Roasted Coconut Slices | An Ultimate
Ingredients
For marinating beef
Beef, stew-cut pieces- 1 lb or ½ Kg
Kashmiri chili powder- 2 tsp (for more spice also add 1 tsp regular chili powder)
Turmeric powder- ½ tsp
Coriander powder- 1 tbsp
Garam Masala- 1 tsp
Fennel powder- 1 tsp
Cumin powder- ½ tsp (optional)
Salt- 1½ tsp
For cooking
Coconut Oil- 2 tbsp
Dried bay leaves- 2
Onions, sliced thin- 5, medium-sized or 3 large sized
Salt- 1 tsp
Ginger, grated- ½ tbsp
Garlic, grated- ½ tbsp
Curry leaves- 1 sprig
Green chilies, halved- 2
Tomatoes, chopped- 2
Garam Masala- ½ tsp
Coriander powder- 1 tsp
Fennel powder- 1 tsp
Salt- ½ to 1 tsp (if required)
White Vinegar- 1 tbsp (or add lemon juice)
Cilantro, chopped- ¼ cup
Coconut oil- ½ tbsp
For garnish
Coconut oil- 1 tbsp
Coconut slices- 2 tbsp
Dried red chilies, halved- 2
Curry leaves- 8 leaves
Instructions
I've taken ½ kg stew cut beef pieces, that's the best cut for making this beef roast.
To a bowl, add the beef along with the ingredients mentioned 'for marinating the beef'.
If you want this beef roast to be very spicy, add 1 tsp regular hot chili powder & 1 tsp Kashmiri chili powder.
Combine well & let marinate for 30 minutes.
I used my Instant Pot pressure cooker for cooking the beef. You can also use a regular pressure cooker.
Add the marinated beef to the stainless steel pot, rinse the bowl with ¼ cup water & add that to the beef.
Close with the lid.
Select pressure cook setting, set the time to 20 minutes at high pressure.
In regular pressure cooker, you might have to add ½ to 1 cup water and pressure cook until 3 to 4 whistles till the beef has turned fork-tender.
Beef can also be slow-cooked in a saucepan along with water over stovetop, will take around 45 minutes to an hour.
After 20 minutes of pressure cooking in the Instant Pot, let the pressure release naturally for 10 minutes & then do a quick pressure release.
Open the lid, beef will be perfectly fork-tender, there will be ½ cup liquid in the pot (in the Instant Pot, steam will not release while pressure cooking so the liquid that oozed out of the beef will remain in the pot). Keep the cooked beef along with the liquid aside.
For making this, thinly sliced onions have to be used.
I used by food processor, slicer blade to slice the onions.
I've taken 5 medium-sized yellow onions, or use 3 large-sized onions.
Place a large saucepan or cast iron skillet over medium heat.
Add 2 tbsp coconut oil, 2 dried bay leaves.
Add the sliced onions, season with 1 tsp salt, combine well.
Add grated ginger-garlic or ginger-garlic paste, curry leaves, green chilies; saute till onions turn golden in color.
Add the chopped tomatoes, cook till the tomatoes have mashed up.
Add the cooked beef along with the liquid.
Increase the heat to high & cook till the liquid has dried off.
At this point, add garam masala, coriander powder, fennel powder & ½ tsp more salt; combine well.
Stir fry over high heat till brown spots form on the beef, keep stirring else onions will be stuck to the bottom & will burn.
Add 1 tbsp white vinegar, or addd freshly squeezed lemon juice. Stir fry for a couple of minutes.
I love the addition of vinegar, imparts a nice taste to the beef roast.
Garnish with chopped cilantro.
Finally, drizzle ½ tbsp coconut oil & stir fry for a minute.
The aroma from this is just mesmerizing, you'll be seen taking deep breaths in.
Take the pan off the heat & keep it covered.
Making the garnish, this is optional. If you don't want to add coconut slices can be skipped.
Place a small frying pan over medium heat, add coconut oil let turn hot.
Add coconut slices, fry till golden brown.
Add dried red chilies & curry leaves, saute for a few seconds.
Immediately, pour the garnish over the beef roast & keep it covered for some time, let the aroma of the garnish infuse into the beef roast.
Serve with poori, Kerala parotta, appam, idiyappam, pathiri or ghee rice.
Absolutely finger licking delish. Enjoy!