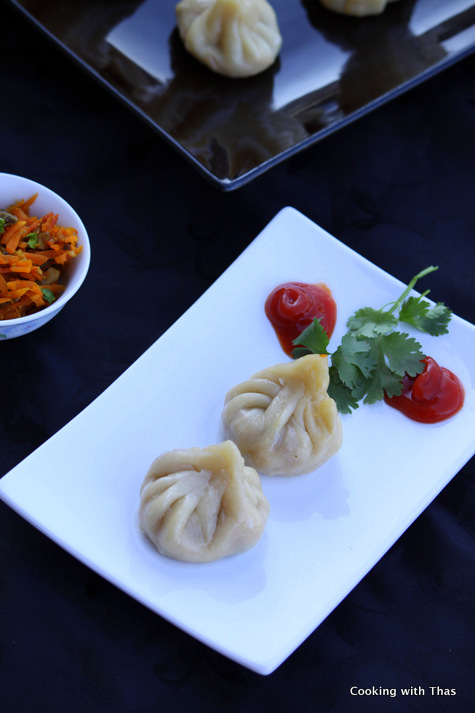 Momos or steamed dumplings are a traditional delicacy of Nepal…
I was introduced to momos by my sister, she had tried it a few months ago and highly recommended it to me. I've tried Dim Sums at Chinese restaurants and I love them. Momos looks very similar to dim sums but they are different. Making momos was on my top to-do list and finally I was inspired to make momos in my kitchen.
Momos can either be steamed or fried. Definitely, steamed ones are much healthier than the fried ones, so I chose to steam them. Usually, I make chicken filling if I need to stuff something, but this time I made a veg filling. I even loved the taste of veggie filling, soy sauce and hoisin sauce were added to flavor the shredded veggies.
Since, this was the first time I'm making momos, I felt very excited. Making the filling and the dough was real simple, the fun part was wrapping or folding the momos. If you know how to make pleats while draping the saree, then you will do a great job wrapping the momos.
You could use any kind of filling to stuff the momos. Momos should be eaten right away while it's still warm, else it will get sticky and a bit hard.
For the recipe for making chicken filling, click here.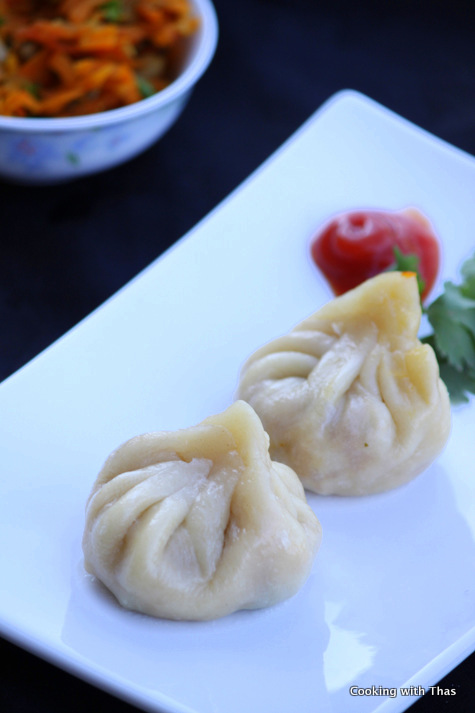 Preparation Pictures
Veg filling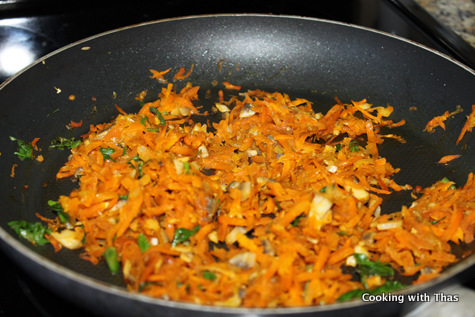 Dough for making momos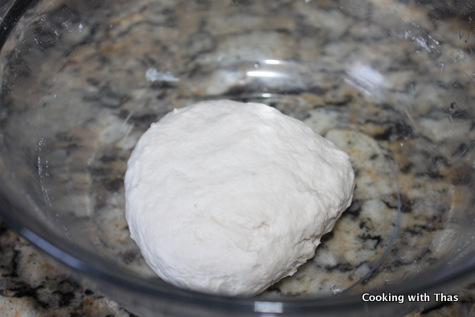 Rolled dough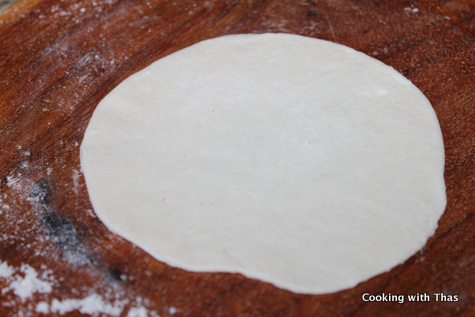 Place veg filling on center of rolled dough
Now the fun part: Making pleats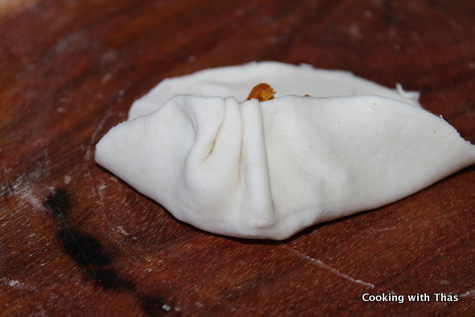 Keep making the pleats all around in circle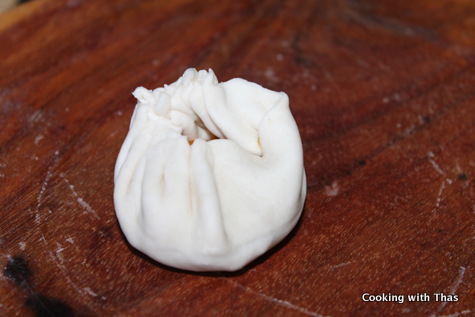 Squeeze the top part of the dough with your finger and join them, resembles to a bag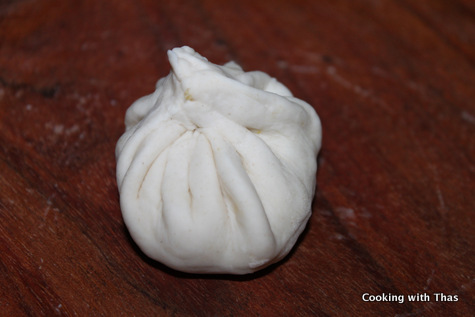 Place on a steamer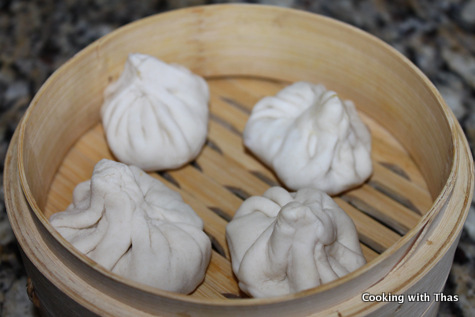 Steam cooking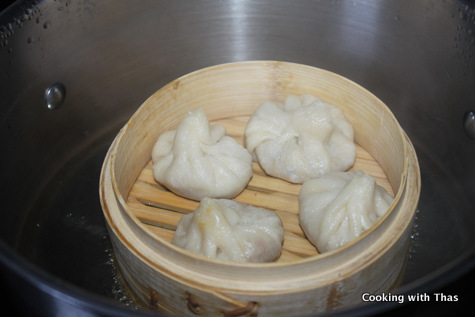 Vegetarian Momos - Steamed Veg filled Dumplings
Ingredients
For making Veg filling
Oil- 1 tbsp
Ginger, minced- 2 tsp
Garlic, minced- 2 cloves
Carrot, shredded- 2
Onion, shredded- 1
Mushroom, chopped very small- ½ cup
Soy sauce, low-sodium- 1 tbsp
Hoisin sauce- ½ tbsp (optional)
Ground black pepper- ¼ tsp
Spring onions, chopped- 2 stalks
Cilantro, chopped- 1 handful
For making Dough
All purpose flour or Maida- 1 cup
Water- ¼ cup + 1 tbsp (or just enough to make a soft dough)
Salt- a few pinches
Oil- ½ tbsp
Instructions
Making the Veg Filling
Place a non-stick pan over medium heat, add oil.
Add minced ginger and garlic, saute till light golden in color.
Add shredded carrot, onion and mushrooms. Season with little salt.
Add ¼ cup water and cook covered till the veggies have almost cooked.
Add soy sauce, hoisin sauce and ground pepper, combine well and cook for a minute.
If there is any water in the mixture, cook over high heat till the water dries off.
Add spring onions and cilantro, saute for a minute.
The mixture should be dry. Remove from the heat and keep aside.
Adding hoisin sauce is optional.
In a bowl, combine: flour, salt and oil.
Add water in small amounts and knead well till you get a soft dough.
Keep aside for 5 minutes.
Make very small balls out of the prepared dough.
Place the small dough ball over a wooden board used for rolling chapati or use a cutting board.
Dust with flour and roll using a rolling pin to a thin small round shape.
The rolled dough should be very thin.
Place 1 tbsp of prepared veg filling on the center of the rolled dough.
Lift the end of the rolled dough facing you and make pleats (just like saree pleats), keep making pleats in circle till you come to the starting point.
Squeeze the top part using your finger so that it joins together and it resembles to a bag.
Repeat the same process with the other dough balls.
How to steam cook Momos:
I placed the uncooked momos on a bamboo steamer. Or place it on a steel plate without crowding them.
Add 1½ cups water to a large pan that has a lid. Place the pan over medium heat and let water come to a slight boil.
The bamboo steamer I used had a lid too, so I closed it and placed it on the water.
If using a steel plate cover with an aluminum foil.
Close the pan with its lid and steam cook for 6 to 7 minutes.
Remove the steamer from the pan, be careful as it's very hot.
Transfer to a plate and serve when it's still warm.
You could serve with tomato ketchup or chili sauce or any of your favorite dipping sauce.
Notes
You could use any kind of filling:
chicken
or other meat filling instead of veg filling.