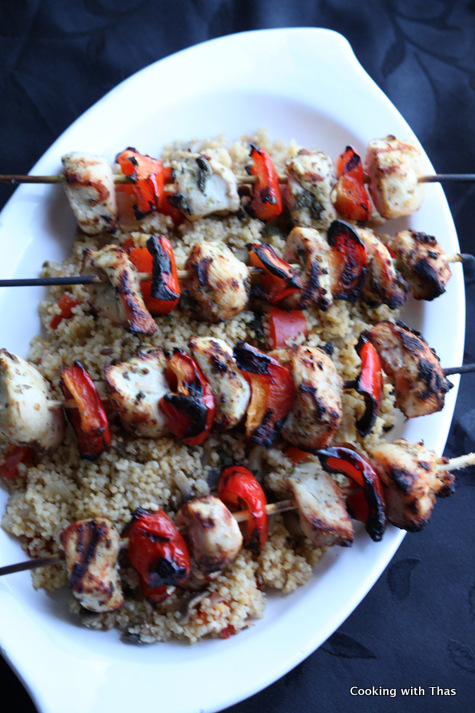 The best tasting chicken souvlaki, these are popular Greek fast food…
There are a lot of Mediterranean and Middle Eastern restaurants in my city-London, ON and I often dine at these restaurants. I order kebabs from Middle Eastern restaurants and Souvlaki from Greek or Mediterranean restaurants. I'd been waiting for Summer to make Souvlaki so that I can do outdoor grilling.
Souvlaki resembles to kebabs and in making both cubed chicken or beef or lamb or other meat are used. However, the ingredients used in souvlaki is different from those used in kebabs. For marinating the meat while making souvlaki, dried oregano, mint, red wine vinegar and lemon juice are used. While in kebabs, more spice and less acid are added.
I find souvlaki to be more flavorful and aromatic. It is very important that the meat has to be marinated for at least 30 minutes or overnight the better, so that the flavors will get into the meat.
After marinating the chicken, it was inserted in skewers along with red pepper and was placed on the grill. As soon as the chicken started to grill, a nice aroma started to spread the whole backyard, it smelled so refreshing.
I served the souvlaki along with couscous. This is in deed a healthy dish. You could even bake this, if you have a grill I would recommend grilling it, tastes much better.
Recipe adopted from Jamieoliver.com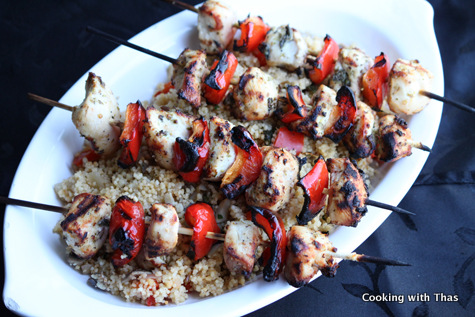 Preparation Pictures
Marinated Chicken inserted in skewers along with red pepper
On the grill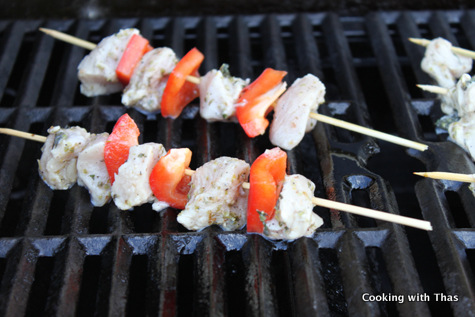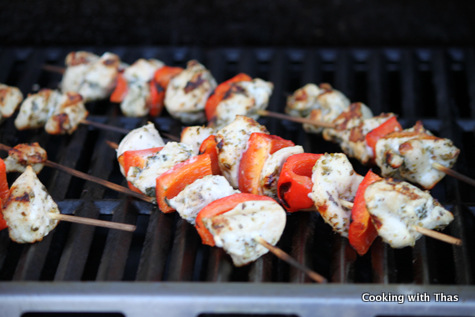 Chicken Souvlaki Recipe- Greek Souvlaki
Ingredients
For marinating chicken
Chicken breasts, thick cubes- 3 breasts (or use cubed beef or lamb)
Dried Oregano- 1 tbsp
Fresh Mint leaves, minced- 1 tbsp
Garlic, grated- 2 cloves
Lemon juice- juice of 1 lemon
Red wine vinegar- 1 tbsp
Ground pepper- ¼ tsp
Salt- a few pinches
Olive oil- 3 tbsp
Other ingredients
Instructions
Soak the wooden skewers in water for 15 minutes, this will prevent them from burning.
In a bowl, combine the cubed chicken with all the above mentioned ingredients "for marinating chicken" cover the bowl with a plastic wrap and refrigerate for 30 minutes or longer, or marinate it overnight.
Preheat the grill at medium-high heat.
Pat dry the soaked skewers.
Insert the marinated chicken into the skewer, alternate with cubed red pepper, leave enough space between the chicken and pepper so that the chicken will cook evenly.
Grease the grill with non-stick cooking spray.
Place the skewers on the grill, cover the grill and grill for 10 minutes or so, turning occasionally until all the sides are cooked evenly.
If the chicken is turning brown fast without cooking inside, move it to the low heat area on the grill and cook.
Serve with rice, couscous or pita bread along with salad.