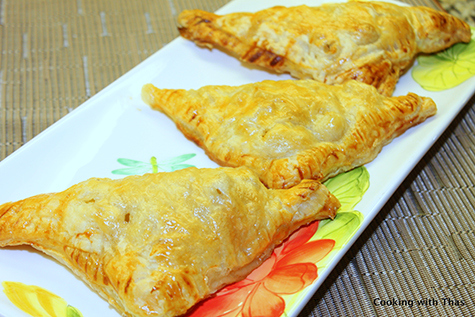 Turn apples into a delicious dessert…
Turnovers are pastry, sweet or savoury fillings are folded into puff pastry dough and baked till golden and crispy. I used apples as the filling as apples are always found in my refrigerator. Made this pastry effortlessly by using store bought puff pastry, in 20 minutes these were ready to be devoured.
You could literally use any kind of fillings: mixed fruits, cheese, spinach and cheese, nuts and fruits, egg etc etc.
These turnovers make a perfect dessert or can be served for weekend breakfast…Yum!
Cooking Video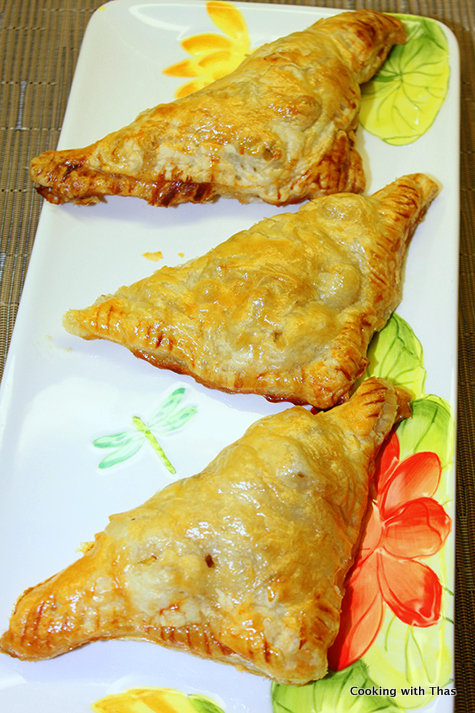 Apple Turnovers
Ingredients
Puff Pastry sheets- 2
Apples, diced- 3
Orange juice- 3 tbsp
Raisins or dried cherries- 2 tbsp
Sugar- 3 tbsp
Ground cinnamon- ¼ tsp
All purpose flour- 1 tbsp
Egg, beaten- 1
Instructions
If using frozen puff pastry dough, let it thaw for an hour over the counter top. If you thaw longer, it can get very soft and will be hard to work with it.
Preheat the oven to 400 F or 200 C.
Dice up the apples. I used gala apples, any apple variety can be used.
Take the diced up apples in a bowl.
Add orange juice, this will prevent the apples from turning brown. Combine well.
Add raisins, sugar, ground cinnamon, flour; mix well. Keep aside.
Place the puff pastry dough on a cutting board.
Cut into squares: half the dough and then quarter the dough.
It should be fairly large square.
Beat an egg in a bowl.
Place 2 tbsp of prepared apple filling on the center of the squared puff pastry dough.
Using a pastry brush, spread the beaten egg on the sides of the dough.
Fold into triangular shape.
Using a fork, gently press on the sides of the dough to have the fork impression.
Repeat with other dough.
Place on a baking sheet lined with parchment paper.
Just before baking, do an egg wash: brush the egg all over the stuffed puff pastry dough.
Pop the baking sheet in the oven and bake for 20 minutes till golden and crispy.
After 20 minutes, take the baking sheet out of the oven.
Enjoy these delicious apple turnovers immediately while they are warm. Yum!!!