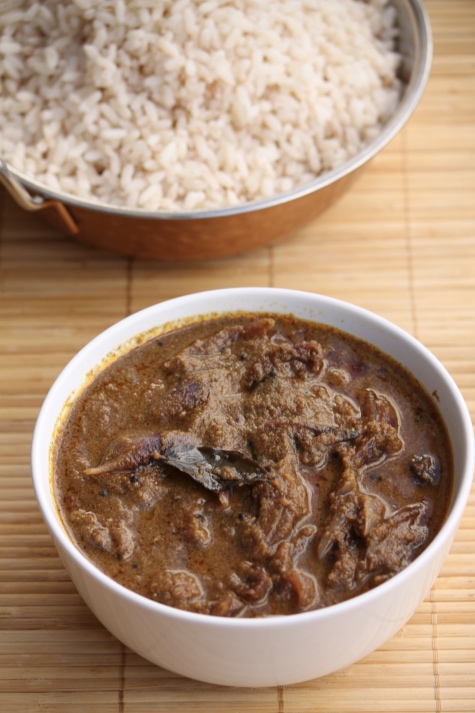 Kerala style Ulli Theeyal or small/pearl onions cooked in roasted coconut gravy…
Theeyal is a Kerala dish, grated coconut is roasted till golden brown and seasoned with aromatic spices, pureed till smooth. Different kinds of ingredients can be used for making Theeyal: okra, eggplant or brinjal, small onions, mixed veggies, shrimp etc. This time, I made Theeyal with small or pearl onions. This makes a perfect vegetarian gravy based dish that can be served with rice, chapati, appam, orotti etc.
Recipe for making prawns or shrimp Theeyal, click here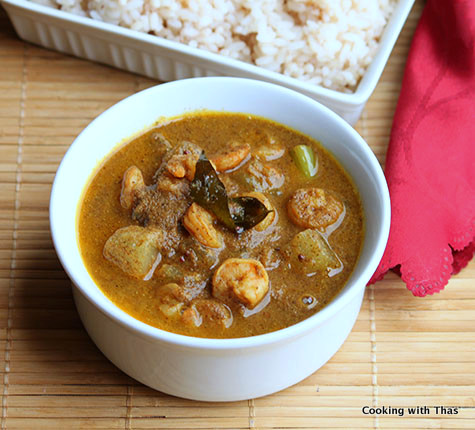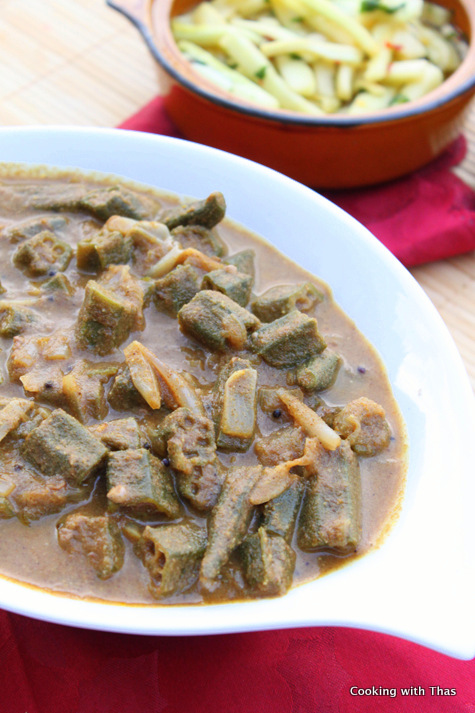 Ulli Theeyal
Cooking with Thas
Ulli Theeyal- Small Onions cooked in Roasted Coconut Gravy
Ingredients
For roasting coconut
Coconut oil- 2 tbsp
Grated coconut- 1 cup
Curry leaves- 1 sprig
Dried red chilies- 3
Chili powder- 1 tsp
Turmeric powder- ¼ tsp
Coriander powder- 2 tsp
Ground black pepper- ½ tsp
Water- 1½ cups
While cooking
Oil- 1 tbsp
Mustard seeds- 1 tsp
Dried red chilies- 2
Curry leaves- 1 sprig
Fenugreek seeds- ½ tsp
Small onions, halved- 15
Salt- ¾ tsp
Tamarind, freshly squeezed- ½ cup ( 2 inch slice soaked in ½ cup lukewarm water for 5 mins)
Instructions
Place a non-stick cooking pan over medium heat, add oil and add grated coconut, dried chilies and curry leaves to it.
Stir fry the coconut frequently till it turns light brown in color.
Don't leave it unattended as the coconut will burn pretty fast, so keep stirring it.
After the coconut has turned light brown, add chili powder, turmeric powder, coriander powder and black pepper powder. Stir fry for a minute.
Remove the pan from the heat, let the coconut cool down.
In a blender, puree the roasted coconut along with 1½ cups water to a smooth paste, keep aside.
For making Theeyal
Soak 2 inch slice fresh tamarind in ½ cup lukewarm water for 5 mins. Squeeze the tamarind in water to extract the juice, strain the tamarind extract and discard the skin. Keep aside.
Heat a pan over medium heat, add coconut oil and let it turn hot.
Add mustard seeds, let it splutter.
Add dry red chilies and curry leaves, saute for a few seconds.
Add fenugreek seeds, saute for 2 seconds.
Add small onions, saute for 2 minutes.
Add the ground coconut mixture. Combine well and cook covered till small onions turn soft.
Add salt to taste.
Add the tamarind extract, combine well and cook for a few more minutes.
Remove the pan from the heat and keep covered for sometime.
This can be served along with rice, chapati, appam, orotti etc.
Leftover Theeyal can be stored in the refrigerator for 2 days.