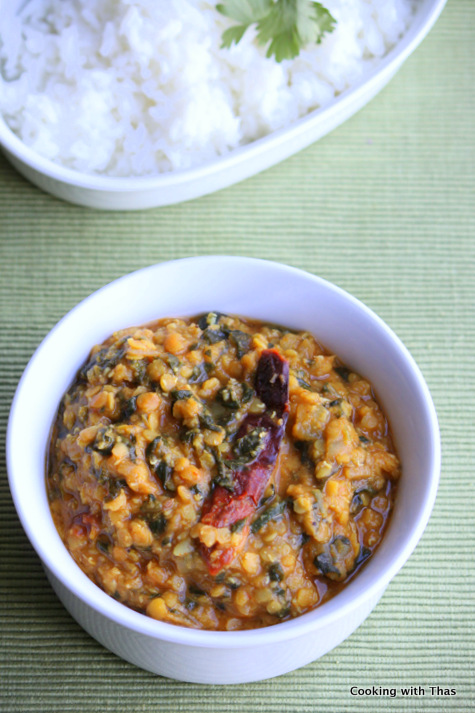 A healthy, nutritious and delicious vegetarian curry with spinach and red lentil…
I am obsessed with red lentils. Hence, I tend to add them to almost all dishes. Even, I enjoy making soups out of it. It's just red lentils cook faster and would make any curries taste more delicious. This curry was made with red lentils and spinach and has been one of my favorite veggie curries. This can be served with rice, chapati, appam, orotti etc.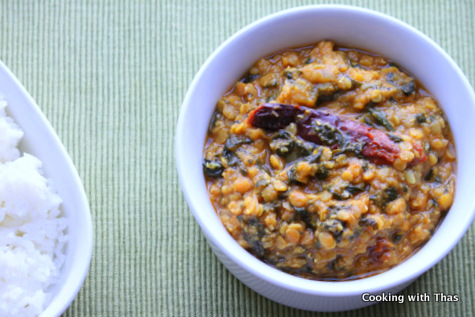 Spinach and Red Lentil Curry
Ingredients
Oil- 1½ tbsp
Cumin seeds- 1 tsp
Whole red dry chilies- 2
Onion, chopped- 1
Ginger-garlic paste- ½ tbsp
Red lentil- 1 cup
Spinach, chopped- 1½ cups
Chili powder- 1 tsp
Coriander powder- 1½ tsp
Ground Cumin- ½ tsp
Garam masala-1/2 tsp
Tomato paste- 4 tbsp
Water- ½ cup + ¼ cup
Ground pepper- ½ tsp
Cilantro, chopped- 2 handfuls
Salt- to taste
Instructions
Place a non-stick pan saucepan over medium heat, add oil.
Add cumin seeds and whole red dry chilies, saute for a few seconds till aromatic.
Add onion, season with little salt and saute till translucent.
Add ginger-garlic paste, saute for a minute.
Add red lentils and add ½ cup water, cook covered till lentils are almost cooked.
Add spinach, cook covered for a few minutes.
Add chili powder, coriander powder, ground cumin, garam masala and salt. Combine well and cook for a minute.
Add tomato paste, combine well and cook for a few minutes.
If the gravy is too thick, add ¼ cup water to thin down the gravy and cook for a couple more minutes.
Taste and add more salt if needed.
Add ground pepper and cilantro, combine well and cook for a minute.
Remove the pan from the heat and keep it covered for sometime.
Serve this curry with rice, chapati, roti, orotti, appam etc.
Notes
You could replace spinach with any greens (kale, swiss chard).

To make it non-veg: add chicken after step 4, cook it covered and then add red lentils.